Welcome to my Fishtopia review!
I came across Fishtopia through a commercial depicting the game as an opportunity to cash out hundreds of dollars.
There was a PayPal logo at the top and a cash balance jumping from $0 to over $300 within just a few seconds.
In the end, the advert showed a PayPal dashboard with $100 payments from Fishtopia.
I must confess I was not excited the install the app and put it to the test. That's because I already played countless similar games that turned out to be fake!
Although the themes of these games differ, their core business practices are the same.
You can merge cats, dogs, cards, animals, and everything you can imagine. But the money only flows in one direction – from the advertisers to the developer's pockets!
So, is Fishtopia legit or fake? Will they pay you or not? Let's find out!
Before leaving this page, check out the step-by-step system that helped me generate $2,000+ per month and quit my job in 2019.
Fishtopia Review
Name: Fishtopia
Developer: Fludix
Availability: Worldwide
Price: Free
Payout threshold: $300
Overall Rating: 0/5
What is Fishtopia?
Fishtopia is a simple game where you merge identical fishes to unlock new ones and collect cash rewards.
It's almost identical to Dream Zoo, except you will be merging sea animals instead of dogs.
All you have to do is drag the fish with the same level and place them where you find the same fish.
The app has been installed over 100k times on Google Play, mainly by people who dream of making a quick buck.
By unlocking higher-level fishes, players will accumulate virtual cash redeemable via PayPal.
How Does Fishtopia Work?
Installation
Fishtopia can be played for free after quick installation on the Play Store.
The app is still in development, meaning players cannot leave reviews that could help others know the truth.
How to Play Fishtopia? 
The game is very straightforward. If you have two identical animals of the same level, drag one of them and combine it with the other.

As a result, both sea creatures will merge into a higher-level fish. Then, wait for new fish to appear in the empty places and keep merging!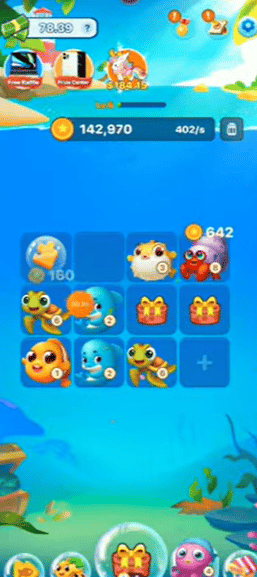 Note that each fish awards the player a specific number of coins per second, depending on their level. So the higher the level, the more coins you will get!
Use the coins to buy additional fish in the shop and make faster progress.
Now, here is the fun part! Every time you reach a level milestone, you will earn between $1 and $10.
This money is expected to be transferred to your PayPal account if you complete the requirements.
Remember that the reward is only credited to your account if you tap the "Claim" button and watch a commercial.
That is a clever method used by the developers to boost advertising income.
They claim you will receive money if you collect enough dollars, but you only earn virtual cash if you watch their videos.
Fishtopia also claims you can earn over $180 in dividends if you merge two Lv. 50 animals and win a Rainbow Unicorn.
Another option is to earn dividends by collecting five fortune Unicorns.
Withdrawing Your Funds
You can supposedly withdraw your money from the Fishtopia app if you accumulate at least $300.
When your cash balance reaches $300 or $400, select the amount you wish to withdraw and press the button.

Then you must provide your email address and wait for the funds to be paid into your PayPal account.
Win Big Prizes
Like many other money games, Fishtopia will give you puzzle pieces corresponding to smartphones, laptops, and many other prizes.
You can supposedly claim any eye-catching prizes if you get 10 or 20 fragments, depending on the product.
You can collect extra fragments by spinning or watching more videos in the "Bubble of Puzzles."
As you can see, the developer has gone the extra mile to lure you into watching countless adverts.

This reward platform is going viral! Cash out via PayPal, Visa, Gift Cards, and in-game currencies - Click here to find out how to generate an extra $10+ per day! 
The question is: will he transfer the money? That's what I will uncover next!

Is Fishtopia Legit? Does it Pay? 
No, it doesn't! You won't receive a dime even if you reach the minimum cashout requirement. The rewards are totally fake! 
Fishtopia is another marketing tool used to generate passive income for the developers while you waste time merging fish.
I've grown tired of exposing similar games where you merge animals only to waste your time and data.
The game will decrease your winnings as you get closer to the $300 mark. But even if you reach the goal, you won't get paid!
Regarding the Virtual Items on the end-user license agreement (EULA), the company states the following:
"We reserve the absolute right, at any time and at our sole discretion, to manage, regulate, control, modify or eliminate virtual items as we deem fit. 
"You have no other right, title, or interest in or to any such Virtual Items."
It's evident to me that the developer has no obligation to transfer real money to players.
Conclusion
Fishtopia is advertised as an opportunity to win an unrealistic amount of money just for playing a free casual game. 
They make it very appealing so that people bite the bait and end up watching their commercials.
I don't recommend playing Fishtopia since you won't be paid even if you play it for hours.
The dividends and other prizes are merely part of the deception illusion to have you spend even more time playing.
Earn a Full-Time Income Online
Imagine having an online business that you can operate from anywhere in the world!
This is exactly what you need if you dream of making money online and quit your 9-5.
In 1025, I joined this excellent step-by-step program where I learned how to set up a WordPress site and attract visitors.
It allowed me to go from $0 to over $2,000 per month and enjoy three years of uninterrupted travel with my wife.
Whatever your dreams are, an internet business may help you make them a reality.
As an online entrepreneur, you will no longer be tied to a strict 9-5 schedule.
This is infinitely better than a high-paying job that will suck up all your time, energy, and spirit.
Click here to learn more and start today! 

Final Words
Thanks for dropping by and reading my Fishtopia review! If you want to share your experience with this game, please leave a comment below.
Peace!