Welcome to my Note Counter review!
Note Counter's developers are enticing people to play their game by promising to make them rich.
The commercial depicts stacks of cash on the screen and claims you will get $100 daily.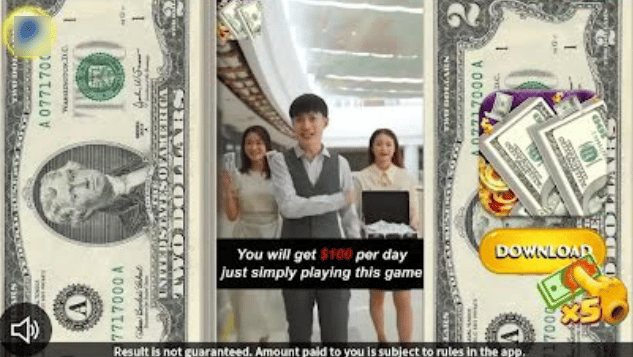 They don't say you can, but they do say you will make real money even though the small print states result is not guaranteed.
In the game, all you have to do is tap to count every single note and collect virtual dollars.
Are they cheating people out of their precious time? Is Note Counter legit or fake? Let's find out!
Before leaving this page, don't forget to check out the step-by-step system that helped me to generate $2,000+ each month and quit my job in 2019.
Note Counter Review
Name: Note Counter
Developer: OliviaThePlayer
Availability: Worldwide
Price: Free
Payout threshold: $14,999
Overall Rating: 

0/5
What is Note Counter?
Note Counter is another type of get-rich-quick simulation where you touch banknotes to amass virtual dollars.
There are many similar applications on Google Play, such as Money Storm and Neon Rain!
You will get PayPal or Amazon cash rewards that accumulate in your account. However, they say that this is a real cashout game from that you will withdraw money.
I've already tested several games that use the same gameplay and similar financial incentives to entice players.
Unfortunately, they were all fake apps with no genuine intention to pay.
How Does Note Counter Work?
Note Counter is available for free on Google Play and can be played immediately on your Android.
Right off the bat, they tell you that you must tap the money fast to get huge rewards.
You will collect the amount of money printed on the front of the banknotes every time you tap them.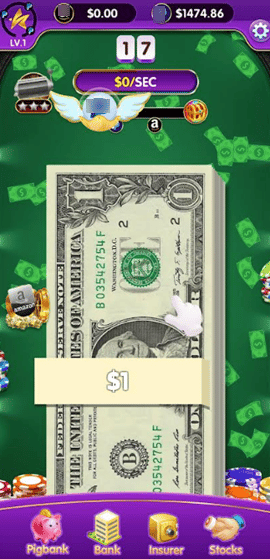 In the beginning, each note will give you $1. But you will earn more as you make progress in the game.
Bear in mind this currency is not redeemable and can only be used to get upgrades in the game.

Earning Cash Rewards
At the top of the dollar notes, there is a progress bar with three symbols: PayPal, Amazon, and gift.
It advances as you tap the notes, and you will get virtual dollars when it reaches one of the milestones.
However, like with any money game, you must hit the "button" and watch the commercial to qualify for the prize.
The amount of money they give you after watching one of those videos is ridiculous. It starts at over $1000! 
That is how the creators entice gamers to view a large number of videos that earn them money.
Note Counter is not only about tapping the virtual cash on your screen. You can also buy stocks, upgrade the bank, and get insurers to earn passive income.
Every time you upgrade and achieve a higher status in the game, you get the chance to earn more virtual dollars.
There are other ways to collect more rewThat'snd increase the earning potential with Note Counter. For example, you can use the auto-tap, piggybank, or lucky wheel.
How Do You Withdraw the Money? 
It's important to remember the developer is getting paid by advertisers to display videos to users.
Therefore, the longer you spend playing the game and watching them, the more money the app generates.
That's why Note Counter sets the minimum cash-out amount of $14,999!
Yes! You need to play until you reach $14,999 before withdrawing the money. It says all your money will be redeemed to your PayPal account.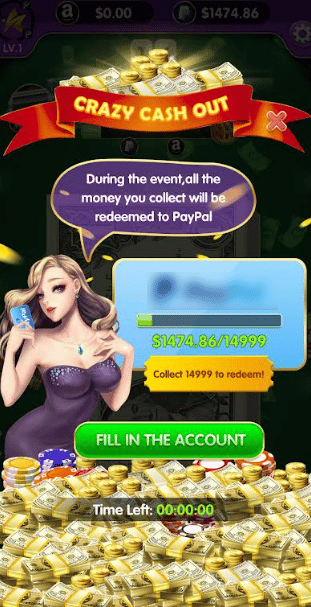 Keep in mind you need to input your actual PayPal account to receive the payment.
Just be careful here! Many people enter their email and password instead of writing their email twice.
If you entered your password by mistake, I urge you to change it immediately since the developer may have access to your PayPal account.
Is Note Counter Legit? Does it Pay? 

This reward platform is going viral! Cash out via PayPal, Visa, Gift Cards, and in-game currencies - Click here to find out how to generate an extra $10+ per day! 
No, it doesn't! Note Counter is another fake money game where everything is nothing but a get-rich-quick simulation.
The developers are just using your time to maximize profits through advertising. In other words, you are just a cog in their money-making machine.

As I said, they will give you $1000 for the first couple of commercials.
But after you reach $13,000 and think you are one step closer to becoming rich, your winnings start to dwindle.
It drops from $1000 to less than $100 very quickly, making you watch way more videos than you anticipated.
Most people won't give up at this point. After all, how long would they have to work for $14,999?
The caveat is that once you finally reach the payout threshold, they will ask you to view another 60 videos in 24 hours.
Please don't go for it, or you will be enticed to watch another 80 videos for nothing.
Conclusion 
Don't waste your time tapping your phone screen because Note Counter won't pay you a dime!
The monetary incentives are purely fictional, as no developer could afford to transfer this amount of money.
Think about it. Every time you watch the video, the app earns a few cents. So thousands of people playing this game can generate a decent income for the developer.
However, he could never pay $14,999 to every participant who meets the requirements.
Verdict: Not Recommended
Earn a Full-Time Income Online
Earning thousands of dollars per month involves far more than simply playing free games.
You need to provide helpful content that helps people solve their problems!
You can use different monetization methods to earn a steady income by attracting an online audience.
That's how I make a living working from my laptop and benefit from a reliable online income!
If you want to apply the same strategies and grow your own online business as I did, check out my #1 recommendation. 
Final Words
Thanks for reading my Note Counter review! If you want to share the experience you had with this game, drop us a comment below.
Peace!