Welcome to my Sugar Match review!
I found the Android game Sugar Match through a video advert on my phone.
It depicted a couple beaming with happiness and boasting about earning hundreds of dollars.
The guy reported earning $500 while matching cubes and having fun!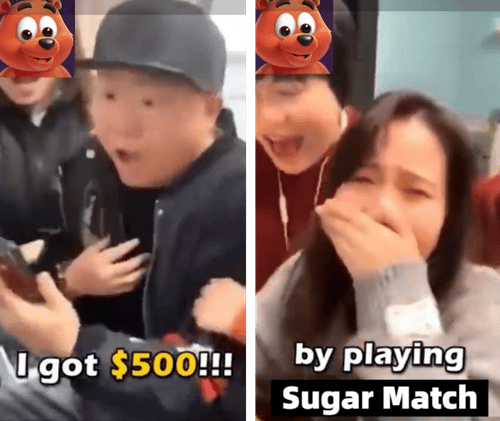 I see these unrealistic adverts almost every day while testing money games, so I didn't believe the hype.
However, I decided to install the game to write an in-depth review and warn as many people as possible.
So, is Sugar Match legit or fake? Does it pay or not? I didn't have to play it for more than one minute to find out.
Top recommendation: This step-by-step program helped me grow a lucrative site, generate 2,000+ US Dollars per month and quit my job in 2019. Join the Free membership here and start today!
Sugar Match Review
Name: Sugar Match
Developer: Super Sugar Studio
Eligibility: Worldwide
Payout Threshold: $500
Price: Free
Overall Rating: 0 stars
What is Sugar Match?
Sugar Match is another cube elimination game that claims to transfer real money to the player's account.
The goal is to eliminate as many sugar cubes as possible by matching match 2 or more identical cubes.
After you complete the level or reach milestones, you will earn virtual dollars. However, you can only cash out after you meet certain conditions.
Sugar Match is heavily promoted in other games as an easy way to make money.
Is it all an illusion to entice the player into watching numerous advertisements? That's what we will find out shortly!
How Does Sugar Match Work?
Upon launching Sugar Match on your Android, you will see the first page with the PayPal and Cash App logo.
Not only that, it encourages the player to complete the level with the promise of cashing out instantly.
How to Play Sugar Match?
The game features a 6 x 6 grid with sugar cubes of different colors.
Simply touch groups of two or more cubes of the same color to blast them and earn points.

Complete the level by eliminating as many cubes as possible. Note that a progress bar will advance with every move and eventually hit the star icon.
Every time you reach the star, you will earn at least $10!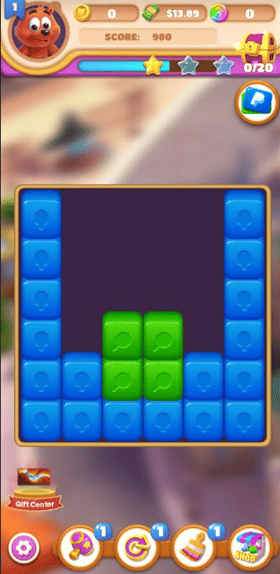 In the beginning, you have to tap the "Claim" button to multiply your reward and save it in your account.
After some time, though, they will only give you the money if you watch the video until the end.
This is a clever tactic to make you watch more videos and generate more adverting revenue.
Once you collect 20 stars, Sugar Mach allows you to open the gift box and collect cash or puzzle pieces.
Win Big Prizes
Sugar Match also entices players with excellent prizes if they collect 50 fragments.
You can get puzzle pieces by opening the gift boxes, watching videos, and playing the lucky spin.
Some of the best gifts available include a MacBook Pro, PS5, iPad Pro, 0.85 Bitcoin, and a Samsung Galaxy.
Heck, I almost forgot to mention the Tesla Model 2! Yes, the developer suggests you can get your hands on this luxurious car by playing Sugar Match.
The best part is that you can win all these fantastic prizes with no risks!

Withdrawing your Funds
Once your cash balance reaches $500, the small hand will point to the cashout icon.
Then, you will see this big PayPal logo and the cash out button. You can also choose to get paid via Cash App!
Great! It feels like you have finally found a virtual printing machine that will make you rich overnight.
However, Sugar Match won't transfer the money to your PayPal account after entering your valid email address!
I wasn't surprised because I'd played hundreds of games with identical tactics.
Keep reading to find out what will happen after you try to withdraw your money from Sugar Match.

This reward platform is going viral! Cash out via PayPal, Visa, Gift Cards, and in-game currencies - Click here to find out how to generate an extra $10+ per day! 
Is Sugar Match Legit? Does it Pay?

No, it doesn't! I am disgusted by Sugar Match and how developers advertise the game.
The app makes people believe they can cash out instantly once they reach $500.
But once they fulfill this requirement, the developer takes another one under his sleeve!
They tell players they have to complete 20 levels to approve the order within seven days. I reached this stage only to show you the proof. Here it is: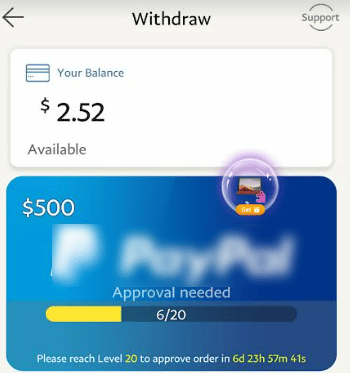 Unfortunately, players will waste time and data watching videos that only benefit the developer.
I urge everyone to stop playing Sugar Match with the expectation of earning big money since the dollars are totally fake!
Bitcoin Blocks is probably the only elimination game that pays. 
Conclusion
Sugar match doesn't pay a dime! Instead, they trick people into completing many levels with the pretense of instant payouts.
However, once you satisfy the first condition, they refuse to pay you, claiming that you must complete one more task.
Don't fall for these games anymore!
Be sure to download apps from reputable companies and avoid those with flashy PayPal logos and fake dollars.
If you want to get paid for playing games, there is no better option than completing offers from GPT sites like Prizerebel.
You can also check out my list of the best game apps here!
Final Words
I appreciate your interest in my Sugar Match review!
I hope this article helps you save time and avoid other fake money games. If you have any queries or want to share your opinions, please leave us a comment below.
Peace!