Welcome to my Bitcoin Cut Master review!
There has been a surge in mobile games promising to pay unrealistic amounts of crypto.
One of them is Bitcoin Cut Master, in which players throw knives to collect coins.
The commercial entices the audience with the opportunity to win $1000 every 15 minutes.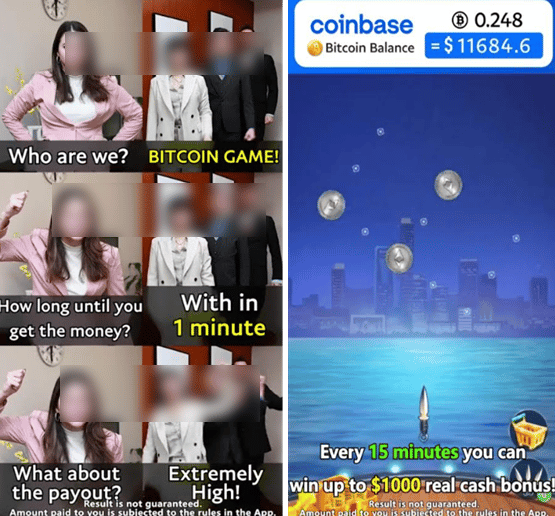 Not only that, but according to the same video, you can receive the money within 1 minute. Unbelievable!
Also, a Bitcoin balance of 0.50 = US$24141.8 is sitting right at the top to make it very appealing.
It's no wonder why so many people want to download and spend hours throwing knives.
But can you receive the reward as they advertise? Is Bitcoin Cut Master legit or fake? Let's find out!
Top recommendation: This step-by-step program helped me grow a lucrative site, generate 2,000+ US Dollars per month and quit my job in 2019. Join the Free membership here and start today!
Bitcoin Cut Master Review
Name: Bitcoin Cut Master
Developer: Perrty Ann
Eligibility: Worldwide
Payout Threshold: 0.1 BTC
Price: Free to play ($2 to withdraw; $5/week to receive cash rewards)
Overall Rating: 0 stars
What is Bitcoin Cut Master?
Bitcoin Cut Master is another knife-throwing game in which players need to slice Bitcoin symbols flying across the screen.
The app was developed by Perrty Ann and is very similar to Royal Cut Money.
The main difference is that you can redeem not only cash but also Bitcoin and many other cryptocurrencies.
Bitcoin Cut Master is trying to sell you a VIP membership by promising to pay you $25 for every video you watch.
This is a big red flag since not oven Tesla could afford to pay $25 for video views. It's so unrealistic!
How Does Bitcoin Cut Master Work?
Bitcoin Cut Master is available on Google Play Store for Android devices.
Even though the app is free to play, it's selling a suspicious VIP membership for $5 per week. 
It gives players the opportunity to win excellent cash rewards and a game free from advertisements.
Upon launching Bitcoin Cut Master, they congratulate you for being a lucky user and propose a deal – Watch 20 videos and earn you will 0.25 BTC!
Next, they encourage you to cut 300 coins to transfer crypto to your wallet.

Just tap on your screen to throw the knives and hit the flying coins.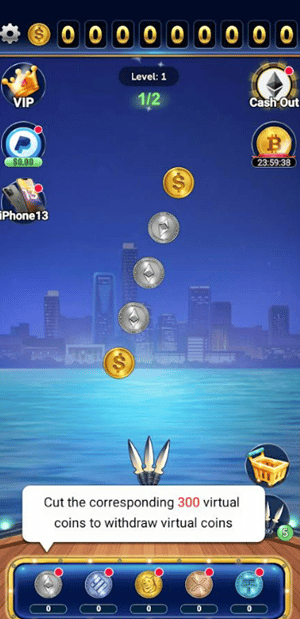 Earning Tokens
By hitting the flying coins with the dollar sign, you will get tokens that accumulate in your account.
That large number on the top represents the total number of tokens you have accumulated.
You can supposedly trade them for a 0.1 BTC, 1.5 ETH, 4000 BUSD, 30000 DOGE, 5000 XRP, or 4500 USDT when your account reaches 1 million coins.
The equivalent amount in US dollars is currently $4,500.
Whenever you eliminate all the targets, you will receive many tokens.
Besides, you can tap the "Multiple Claim" button and watch the video to multiply your earnings by up to 10 times.
Once you reach the payout threshold, click "Cash out" and select the cryptocurrency you want to withdraw.
As previously stated, Bitcoin Cut Master lures the player into watching 20 videos in exchange for 0.25 BTC.
Earnings Virtual Cash
Another crazy thing about Bitcoin Cut Master is that every time you watch a commercial, you will get $25.
Once your cash balance reaches $1000, you can withdraw it through PayPal. Besides, there is no limit to how many times you can cash out!

If this was the case, I am sure everyone would be eating caviar and drinking champagne tonight!
It is essential to mention that this opportunity is an exclusive benefit function for VIP users.
Users who don't pay $5 per week cannot exceed the $200 mark. Hence, they are not allowed to withdraw.
Win an iPhone 13 Pro
If thousands of dollars didn't convince you to play Bitcoin Cut Master, then maybe an iPhone 13 Pro will!
The developers claim this phone will be yours if only you clock in for three days.

This reward platform is going viral! Cash out via PayPal, Visa, Gift Cards, and in-game currencies - Click here to find out how to generate an extra $10+ per day! 
It can't get any better than this. So, what is the catch?
Keep reading to find out!

Is Bitcoin Cut Master Legit? Does it Pay?
No, it doesn't! Bitcoin Cut Master is a fake reward game that only exists to exploit people's time.
Just because the app is available on Google Play and displays the PayPal logo doesn't mean these companies are endorsing it.
So, this is how the game behaves:
After completing a few levels, you will accumulate 1 million coins in less than 30 minutes!
Then, you select your crypto and proceed to the cash-out page.
After entering your Coinbase email, you need to activate the order by paying 1,200,000 coins within 24 hours.
Or, you can pay a $2 service fee so that it will transfer the money immediately.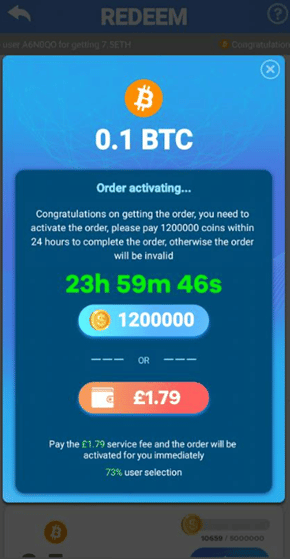 That's when you realize that paying £1.79 to transfer 0.1 BTC makes no sense. What if this was all a trap to get your money?
You are right! The developers won't pay you a dime even if you purchase the VIP membership.
Forget about earning crypto, cash, and iPhone 13 by playing Bitcoin Cut Master because it's just a pipe dream.
I checked many reviews and found what I expected from such a get-rich-quick simulation: Lots of frustration and outrage!
Conclusion
Don't play Bitcoin Cut Master with the illusion of earning real money via PayPal.
This game will waste your time and trick you into parting with your hard-earned money.
It's falsely advertised as a money-making game to lure people into watching videos that only benefit the developers.
All games that promise an unrealistic amount of cash and instant payouts are fake!
Final Words
Thanks for reading my Bitcoin Cut Master review! Have you played this game and completed all the cashout requirements? How was your experience? Let us know in the comment section.
Peace!