Welcome to my Crazy Balls Review!
Crazy Balls is advertised as an opportunity to earn lots of PayPal money by shooting balls.
Have you seen their advert where a woman throws stacks of cash on a table?
It also shows a quick sample of the game with a cash balance reaching $200 in just a few seconds. 
Lots of people install it even though they suspect it's fake. That's because the developers make it seem very tempting and convincing!
If that's you, I urge you to read this review and think twice before wasting your time on the game.
Is Crazy Balls legit? Will it transfer the money once you meet the requirements?
Let's find out!
Before leaving this page, don't forget to check the step-by-step program that helped me generate over $2,000 per month and quit my job in 2019. Free membership is available here! 
Crazy Balls Review
Name: Crazy Balls
Developer: Rebuild Go
Payout Threshold: $50
Price: Free
Overall Rating: 0 star
What is Crazy Balls?
Crazy Balls is a free shooting game where players can supposedly win large sums of money.
It's all about touching the screen to shoot several balls at the tower made of colored platforms.
The game will give you a chest with virtual dollars every time you eliminate all the tiles.
After collecting enough "cash," you can withdraw your balance via PayPal, Alipay, and other payment methods.
It almost feels like you have achieved financial freedom! Except, the money is not in your account yet.
How Does Crazy Balls Work?
Installation
You can install Crazy Balls on Google Play and start the game immediately.
The fact that you don't need to register is a big red flag since all reward apps usually require you to provide an email.
How to Play?
Crazy Balls features a blue gun used to shoot balls at the colored tiles.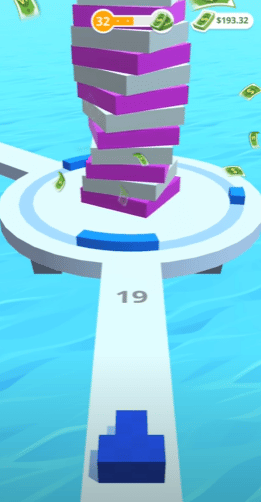 The tiles are stacked, forming a big pile that you must destroy to complete the level and earn money.
You can do this by touching your screen to shoot at each platform.
But be careful! If you hit the obstacle moving in circles around the tower, the game is over.
As a result, they give you the option to watch a video to continue where you stopped. Or, you can skip the video and start from the beginning.
It's ridiculous because they will display an advert even if you tap "no thanks."
I personally found Crazy Balls very dull and too easy for my liking.
Earning Cash Rewards
The progress bar will advance towards the banknote symbol as you eliminate more and more platforms.
Once fully loaded, you will complete the level and win cash rewards.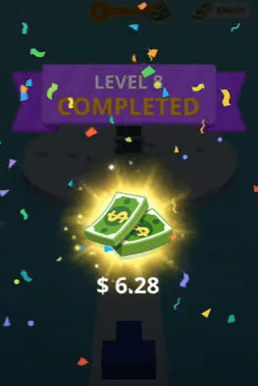 Crazy Balls will force you to watch a video at the end of each level, so the developer generates revenue.
The minimum cashout requirement is $50, and you can withdraw using several payment methods such as PayPal, Alipay, Line Pay, and more.
Just tap the cash out button with the big PayPal logo and follow the instructions.

Check out legit game apps to earn real money here! 
Is Crazy Balls Legit? Does it Pay?
No, it doesn't! You will only waste your time playing Crazy Balls.
I had to watch countless videos to finally request the payment. But after entering my email, they updated the requirement and asked me to light 30 bulbs videos to approve the order.
In other words, they wanted me to complete 30 levels and watch the same number of videos.

This reward platform is going viral! Cash out via PayPal, Visa, Gift Cards, and in-game currencies - Click here to find out how to generate an extra $10+ per day! 
What's crazy is that they give players the option to submit their email or phone number.
Why do they need a phone number when PayPal only works with a valid email address? It is very suspicious!

Sadly, those who proceed and watch all the videos will be placed on a waiting list with over 9,000 participants.
But after waiting for weeks or months, the game will reset, and you will lose everything.
In reality, you lost nothing because all you had was fake dollars on your screen.
That was all an illusion to make you watch countless videos, so they make money off of your time.
Final Thoughts
By playing Crazy Balls, you are just lining the developer's pockets with cash!
They are using virtual prizes to lure players into watching many videos and increase profits.
Since more and more games are using the same tactics, I can only assume it's very profitable and safe for them.
After watching countless adverts, Crazy Balls will put you in a long queue only to make you think there is a light at the end of the tunnel.
There isn't! This is just part of the show!
Earn Real Money Online
Instead of wasting time with useless apps, you could be taking proactive steps to grow an online audience and make real money online.
For example, you could provide helpful content on your site and attract visitors from Google.
Having your income-generating site allows you to work whenever and wherever you want.
That was why I decided to drop out of uni to pursue online entrepreneurship.
I don't regret it!
This is me, working from a Teepe in South East Asia and traveling for more than one year!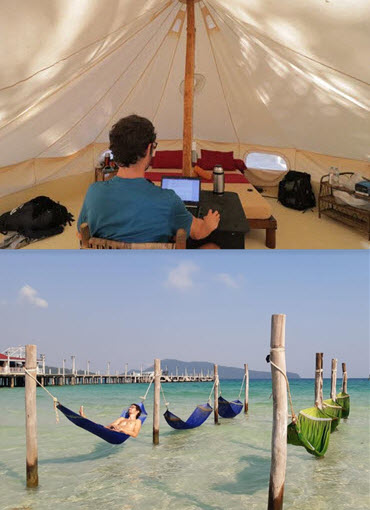 Thanks to this excellent step-by-step program, I discovered content marketing and created an affiliate site back in 2015.
I quit my job and now can make money on my own terms! Just keep in mind that I was a complete newbie then, which proves that anyone can do this!
Click here to learn more and start today! 
Final Words
Thanks for reading my Crazy Balls review.

Feel free to comment below to share your thoughts about this game or ask any questions! I'm always glad to help!
Peace!