Welcome to my Jackpot Spin review!
The commercial for Jackpot Spin portrays a slot machine where players can win thousands of dollars and even a Pearl While Tesla car.
Players have to tap "spin" and collect enough virtual items to claim big prizes.
Maybe you recognize this advert: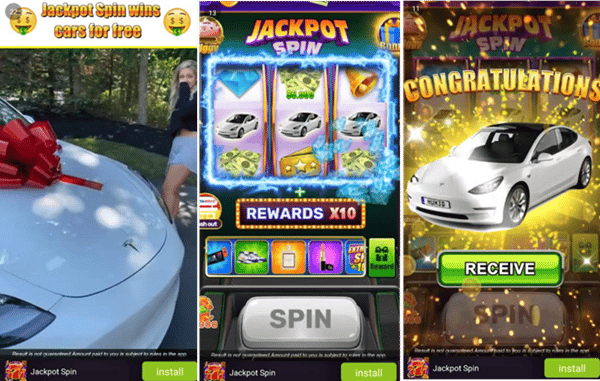 This offer might have enticed you to download and play the game right away.
But in my case, it left a bad taste in my mouth since I am well familiar with this type of app.
I have already tested countless slot games that only waste people's time and data. So, I knew what to expect!
Is it possible to win prizes in this game? Is Jackpot spin legit or fake? Let's find out!
Top recommendation: This step-by-step program helped me grow a lucrative site, generate 2,000+ US Dollars per month and quit my job in 2019. Join the Free membership here and start today!
Jackpot Spin Review 
Name: Jackpot Spin
Developer: newruckera
Eligibility: Worldwide
Payout Threshold: $500
Price: Free
Type: Entertainment (no financial risk)
Overall Rating: 0 stars
What is Jackpot Spin?
Jackpot Spin is an Android game where you trigger the slot machine to win excellent prizes.
There are countless similar games on Google Play, such as Diamond Slots, Slots for Happy, Mega Slots, and the list goes on and on!
You can collect virtual dollars and other rewards by spinning and matching three symbols.
Jackpot Spin is so attractive because it's completely free, and you can spin as many times as you want.
You can withdraw the money or claim other excellent prizes when you meet the requirements.
Sounds great! But there's a catch.
The developer is making money by displaying adverts, and there is no proof that he is rewarding players.
How Does Jackpot Spin Work?
Installation
You can install Jackpot Spin on Android devices from 4.1 and above. Therefore, you can visit the Google Play Store and install it.
It's important to mention the app has access to your device's USB storage, including photos and other media files.

I find this level of access too intrusive and concerning. The reason is that people are giving someone they don't know too much control over their phone and data.
Gameplay
After you launch Jackpot Spin, you go through a quick tutorial that will explain the key features.
You just have to press the Spin button in the center to activate the slot machine.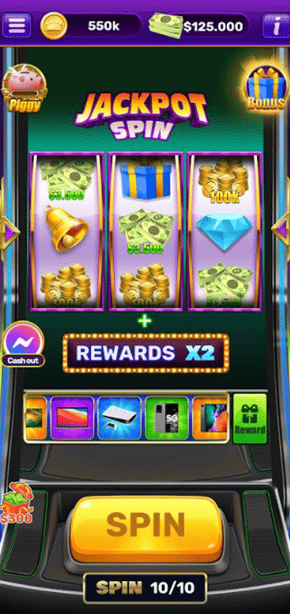 If you match the three symbols, you will get the corresponding prize, including virtual cash, coins, puzzle pieces, and other items.
Every time you match the mystery box, you may get Bells, Amazon coupons, Golden coupons, and diamonds.
I'll address the cashout criteria in greater detail shortly.
You will also have a chance to multiply your rewards by up to 20 times for each spin.
Break the piggy bank and watch the video to earn more rewards!
In addition, you will earn a $12 bonus for each friend that you invite. The catch is that they give you $270 for "free" and ask you to reach at least $300 to cash out.
In other words, Jackpot Spin is luring you into inviting three people with the promise of earning $300.
This is how they get users to promote the application to save on advertisement.

Withdrawing your Funds
The rewards you can earn in Jackpot Spin depend on reaching specific requirements for each item.
Here is the complete list of the prizes you can win:
$500 in your cash balance – $500
100 Gold coupons – $1000
30 million coins – $500
100 Bells – $1000
100 Amazon Coupons – $1000
You can also claim various gifts once you collect enough pizzle pieces.
Some of these include an iPad Pro, PS4, and a MacBook Pro.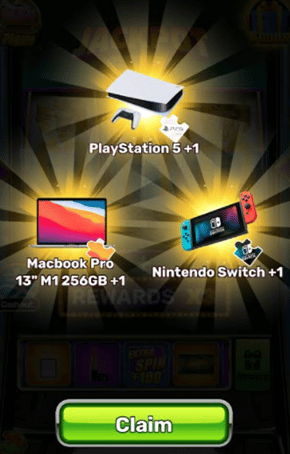 Now, you may wonder where the Tesla car they advertised to thousands of people?

This reward platform is going viral! Cash out via PayPal, Visa, Gift Cards, and in-game currencies - Click here to find out how to generate an extra $10+ per day! 
Good question! Maybe parked in the developer's garage or roaming the streets while you watch countless videos to pay for his fuel.

Is Jackpot Spin Legit or Fake? Does it Pay?
Because the cash rewards are entirely fictitious, it does not pay! The same goes for the other prizes like the MacBook and Playstation.
So, what will happen if you try to make money with Jackpot Spin?
As you approach the payout threshold, your earnings plummet to fractions of a cent.
Then they cease giving virtual dollars altogether before you hit $500, and you cannot cash out.
You get absolutely nothing! That's right, no Tesla car, no money, and no gadgets!
It only gives you extra spins and coins that will count towards the $500 prize. But the problem is that it takes forever to reach 30 million coins!
If you reach $500, they promise to approve your order only after spinning 30 times.
After meeting the criteria, your payment status will stay under review for seven days.
Besides the $500 order, a message says you can withdraw immediately if you accumulate $1000.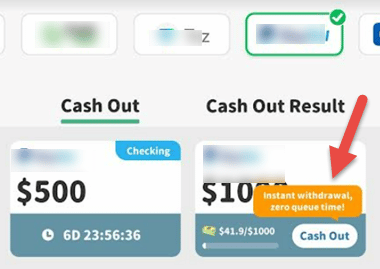 Of course, this is just an excuse to lure players into watching even more videos.
Please don't fall for it!
What's the point of playing Jackpot Spin for hours? None!
You are just flushing your time down the toilet while the developer is laughing all the way to the bank.
Jackpot Spin is not even a fun game since you are just pressing the spin button in exchange for pixels on your screen.
Earn a Full-Time Income Online
Most people are tired of being stuck in a job they hate only to pay the bills.
For a long time, I wished I could make enough money online to quit my job and go location independent.
Imagine being your own boss and being able to work wherever you want!
You can achieve this lifestyle by building an online asset that pays you monthly.
Thanks to this excellent step-by-step program, I built an affiliate site and grew a significant audience.
By creating helpful content, I can rank on Google and attract visitors searching for answers. That's how I can generate revenue using different monetization methods!

Final Words
Thanks for reading my Jackpot Spin review! If you want to say about this slot machine simulation, please use the comment box below!
Peace!