Welcome to my BTC Linked review!
I recently stumbled upon BTC Linked while playing another money game called Crazy Pop Tree.
The advert suggested the game was transferring an unrealistic amount of Bitcoin to players.
This is how they market the app: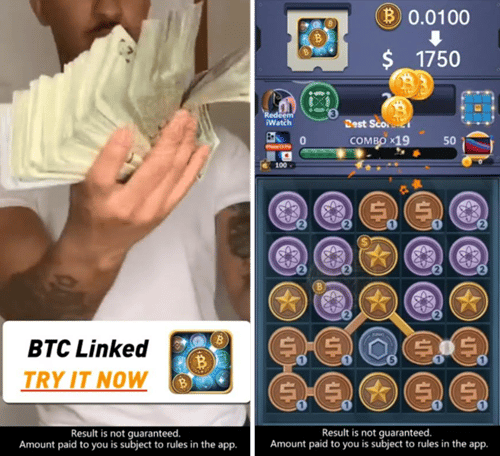 As you can see, it makes people believe they can earn thousands of dollars worth of cryptocurrencies!
I have reviewed countless games, and apps like BTC Linked in this blog.
But I never came across one that actually pays what is advertised.
Is BTC Linked Legit or another fake app? Let's find out!
Top recommendation: This step-by-step program helped me achieve 2,000 US Dollars per month and quit my job in 2019. Free membership is only available here! 
BTC Linked Review
Full Name: BTC Linked
Developer: wangbin1983
Payout Threshold: 0.025 BTC / $1000
Price: Free
Overall Rating: 1/5
What is BTC Linked?
BTC Linked is another merge game available for Android devices.
The creator also operates other similar games that I exposed in this blog, such as BTC fall and the popular Bitcoin to the Moon.
The goal is to connect identical coins to destroy them and unlock coins at a higher level.
This isn't the most exciting game I've ever played, but it can be addictive, especially with the chance of winning cryptocurrency.
I'll get to that later in my review. Let's take a closer look at how the game works.
How Does BTC Linked Work?
BTC Linked is a game financed by advertisers craving your attention.
Therefore, they will bombard you with commercials promoting dubious opportunities to make easy money.
You earn crazy amounts of cryptocurrency in return for watching videos and playing the game.
But you can only redeem your earnings once you reach the minimum payout threshold.

By offering such generous rewards and setting a target, the developer hooks players for a long time and maximizes his profits.
Upon launching the game, it says you can win an iPhone 13 Pro if you collect 400 puzzle pieces and check in for seven days.
Right off the bat, they give you 100 fragments for free just by clicking the button.
Next, they entice you with the opportunity to redeem an iWatch worth $499 when you clock in for three days.
I haven't even started the game, and it's already too good to be true!
How to Play?
BTC Linked is a pretty straightforward game.
You start with a 5×5 grid full of coins with unique colors, styles, and levels.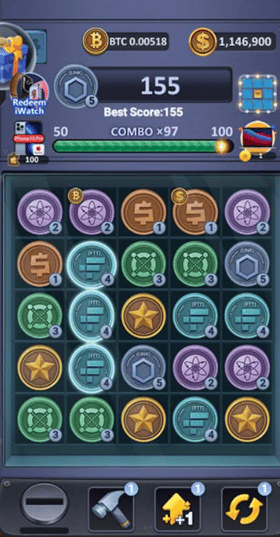 Connect two or more identical coins to destroy them and earn a decent amount of coins.
You will get either Bitcoin or another coin with a dollar sign redeemable for cash via PayPal and Amazon gift cards.
The more blocks you destroy at once, the higher your chances of receiving the reward.
However, you will need to tap the "collect" button and watch the advert.
The game is very similar to other merge games I've played in the past. The difference is that you can earn not only cash but also cryptocurrency.

Withdrawing Your Funds
You can supposedly withdraw any amount of Bitcoin after 24 hours. But it entices you with the opportunity to redeem the crypto instantly if you collect 0.025 BTC.
It's also possible to trade coins for cash once your coin balance reaches $1000.
You can find the exchange rate by accessing your coin wallet. One million coins are approximately 66 USD.
You can supposedly withdraw your funds via PayPal or Amazon gift cards.

This reward platform is going viral! Cash out via PayPal, Visa, Gift Cards, and in-game currencies - Click here to find out how to generate an extra $10+ per day! 
Sweepstakes
Users can also enter sweepstakes to win an iPhone 11 Pro, MacBook Pro, iPad Pro, and AirPods.
To enter the weekly prize draw, you need to get one lucky coin by watching a video. You can enter up to 30 lucky coins per day.

You should note that BTC Linked does not disclose the odds of winning. This is a major red flag because transparency is essential in sweepstakes!
Otherwise, firms may sweep the winner under the rug and call it a day without being held accountable.
Is BTC Linked Legit? Does it Pay?
Unfortunately, BTC Linked doesn't pay out any prizes as advertised.
I played the game for one hour and accumulated enough coins to cash out. After that, however, they updated the rules and asked me to view another 50 videos!
Please don't fall for this trap because after you meet the first condition, they will require another 100 videos!
You'll jump through hoops and watch hundreds of videos only to realize that BTC Linked is a fake money game!
At this point, the developer has already made a decent amount of money from advertisers.
Some individuals are so anxious about money that they refuse to recognize it's fake. But it's essential to resist the temptations to avoid regrets.
Conclusion
BTC Linked uses cryptocurrency as bait to persuade users into playing for hours.
Don't be fooled by their unrealistic prizes since you won't receive any reward.
Avoid BTC Linked at all costs and focus on solid strategies that can put money in your pockets. Here is my top recommendation! 
Final Words
Thanks for reading my BTC Linked review. If you want to share your experience with this application, use the comment section below.
Peace!