Welcome to my Mega Slots app review!
The creators of Mega Slots are saying you can play the game and withdraw $60 – $70 every time.
Not only that, but it states that the money will arrive in just 72 hours.
One of their adverts shows a PayPal account with a $1000 balance, suggesting players can replicate the results.
I am writing this post because I know thousands of people dedicating a significant amount of time trying to cash out.
You will have to endure lots of videos to meet all their requirements.
In this post, I will expose Mega Slots and challenge all of their unrealistic claims. Is it legit or fake? Does it really pay?
Let's find out!
Are you tired of games misleading games? Discover the best gpt site and get paid for completing simple tasks from your phone or laptop. Members are making over $200 per month! Cash out via PayPal and gift cards.
Mega Slots App Review
Name: Mega Slots – Fun to Spin
Company: Happy Game LLC.
Availability: Worldwide
Type: Entertainment with no financial risk
Price: 100% free to play
Payout threshold: $1000
Overall Rating: 1/5
What Is Mega Slots? 
Mega Slots is a mobile game that simulates a 3-reel slot machine and claims to pay real money. It's a clone of Slots for Happy! 
Players are enticed to press the Spin button and watch videos when they match the three symbols.
The money accumulates in your account, and you can cash out via PayPal once the balance reaches $1,000.
What makes Mega Slots very appealing is that spins are entirely free!
Since Mega Slots are using the PayPal logo inside their game, users wrongly assume there is a business agreement between both companies.
But the truth is that PayPal doesn't endorse any money game!
How Does Mega Slots Work? 
Mega Slots is available in all countries for people over 18 years old.
If you have already installed this app, it's essential to know it can read, modify and even delete contents in your USB storage.
It doesn't mean the developer will access your files, but it's something to keep in mind.
Upon launching the game, a window pops up saying you can clock in for three days to redeem an Apple watch worth $449.

They entice you to enter your real name, address, and telephone to receive the prize.
Next, you see a page with the PayPal card and a target of $1000. You must enter your real account, but they confuse the user by saying Email/Mobile Phone/User Account.
Mega Slots should ask for your PayPal email and nothing else!
Click here to find legit survey apps that transfer real money to your PayPal account!
How to Play Mega Slots? 
Mega Slots features a 3-reel slot machine that can be triggered by simply pressing the Spin button.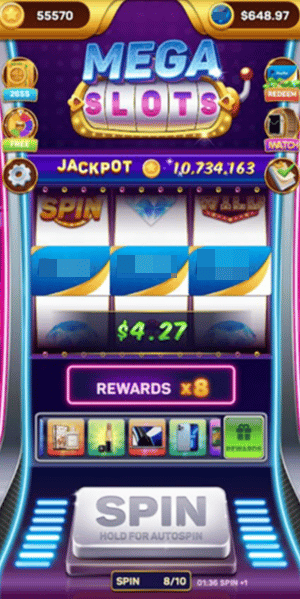 You will get ten free spins every day, but you can earn an extra ten spins if you watch the video.
Match 3 symbols to collect the corresponding reward, such as coins, extra spins, puzzle pieces, and PayPal coupons.
Remember that Mega Slots wants you to tap the "Claim" button before they give you these items.
That's an intelligent strategy to get people's consent to watch an insane number of videos and boost profits.
Use the 3X tool to get more chances of multiplying your money. In addition, you will earn a decent amount of virtual cash if you activate the 100% match feature.
You can also play the Lucky Spin game for a chance to win extra coupons and coins.
You will find several products that you can supposedly win if you collect enough puzzle pieces above the Spin button.

I am talking about the iPhone 13, MacBook 13 Pro, PlayStation 5, iPad Pro, and more!
How do You Get Paid? 
There are two ways to request the payment:
Earn $1000 via PayPal – Accumulate at least $1,000 in your cash balance.
Redeem $500 via Amazon, Prepaid Visa, Google Play, Steam, and Xbox – Collect 25000k coins.
As I mentioned earlier, Mega Slots allows you to redeem excellent gifts by collecting puzzle fragments.
Click the reward button and meet the condition corresponding to each product.

This reward platform is going viral! Cash out via PayPal, Visa, Gift Cards, and in-game currencies - Click here to find out how to generate an extra $10+ per day! 
Is Mega Slots Legit? Does it Pay? 
No, it doesn't! Mega Slots is a complete waste of time because you won't receive any prize.

Your cash balance will eventually reach $1,000 after watching many videos. But don't get your hopes high!
They will come up with an excuse to make you watch even more adverts and never pay you.
First, they will ask you to wait for 72 hours and watch more videos to reduce the waiting time.
But once you do that, Mega Slots puts you in a queue with hundreds of players and makes you wait for one or two days.
Then, you have to wait for seven days to receive the payment, which is a complete joke!
The developer will make you jump through many hoops to make you watch an insane amount of advertisements.
You won't receive your cash reward or any of the expensive items in the reward section.
Please don't take my word for it. Check the reviews on Google Play and scroll through hundreds of complaints!
Conclusion 
I hope it's clear that Mega Slots will not transfer the money despite all your commitment to completing their tasks.
Don't waste your time and mobile data with this game. It's all I can say!
I lost count of how many fake slots games I reviewed in the last year or 2.
I've recently exposed Diamond Slots, which uses the same strategy to earn more revenue at the expense of people's time.
Close the window whenever you see those adverts showing the PayPal balance and big cash rewards. They will undoubtedly cause you unnecessary distress! 
Earn a Full-Time Income Online
Many people can now work remotely, but they still have to meet deadlines and follow a strict schedule.
That's why there is nothing better than operating your own online business!
You can earn a decent amount of money online by creating helpful content and monetizing your audience.
Thanks to this excellent step-by-step training, I built an income-generating website.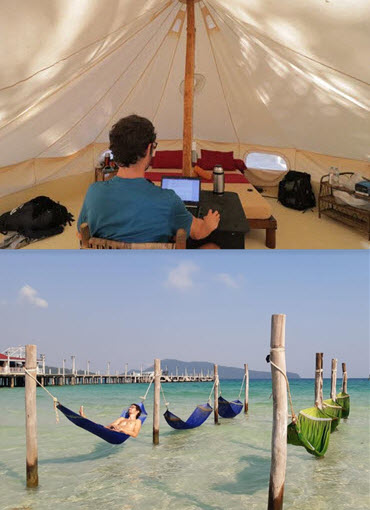 It gives me complete control over my online earnings and the freedom to do whatever I want with my time.
Click here to learn more and start today!
Final Words
Thanks for reading my Mega Slots app review. I hope it sheds light on how their claims divert from reality.

If you want to share your opinions about this game, kindly comment below!
Peace!