Welcome to my Stack Smash app review!
This post is about another game that supposedly gives players Diamonds, Robux, and other digital currencies.
Stack Smash claims to transfer an incredible supply of game credits worth $100 or more! 
You just have to accumulate 10,000 diamonds by smashing the platforms with the bouncing ball.
I reviewed a similar game called Money Ball one year ago. It entices people with the opportunity to redeem $1, but the creator is not rewarding players.
If it's difficult to find a game that pays $1, can you imagine one that gives away hundreds of dollars' worth of in-game currency?
Perhaps you are here because you are not willing to play and watch countless adverts, only to find the rewards are fake.
So, is Stack Smash legit? Does it pay or not? Let's find out!
Top recommendation: discover the step-by-step program that helped me generate 2,000 USD+ per month and kiss my job goodbye in 2019. No special skills required! 
 Stack Smash App Review
Name: Stack Smash
Developer: whiterier
Availability: Worldwide
Payout threshold: 10,000 Diamonds
Overall Rating: 1/5
What is Stack Smash? 
Stack Smash is a casual 3D game where you force the ball through the helix platform to break them.
After you blast all the colorful plates and reach the base, you will get Diamonds redeemable for in-game currency.
You can choose from 6 popular games to redeem your Diamonds: Free Fire, Roblox, Brawl Stars, Mobile Legends, Pubg, and League of Legends.
Many people assume these games are sponsoring and endorsing Stack Smash, but that's not the case.
The game profits just by displaying videos promoting other unrealistic applications.
How Does Stack Smash Work?
Stack Smach is only available worldwide for Android users. After launching the application on Google Play, check out the Terms of Service and Privacy Policy.
As soon as you launch Stack Smash, you need to select the game you want to redeem Diamonds and enter your Player ID.
If you change your mind, you can switch the game later.
How to Play Stack Smash? 
Tap anywhere to force the ball downwards, destroying the platforms that turn around the rod.

The ball descends as long as you keep your finger pressed to the phone screen.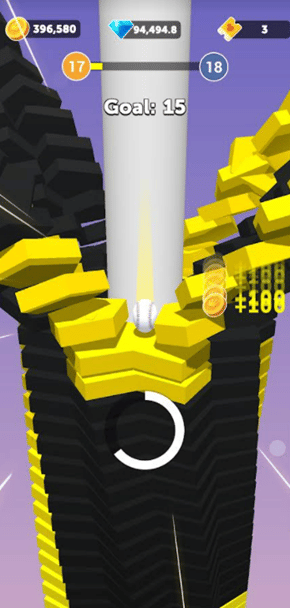 Don't try to force the ball though the black areas or you will fail if you go over the danger zone.
But don't worry because you can always restart as many times as you need without losing your Diamonds.
Complete the level by smashing all the plates until the bottom. If you succeed, Stack Mash will give you Diamonds or coins.
You just have to tap "Get more" to multiply and collect your rewards
After completing 3 or 4 levels, you will receive a bonus comprising 4 chests. Tap "Open", and watch the video until the end to claim more Diamonds, coins, and Skins pieces.
How to Claim Your Reward? 
You can apply to receive game currency once you collect at least 100,000 Diamonds.
For example, you can exchange 100K diamonds for +6800 Robux worth $80. Or you can trade in 3 millions coins for +10,200 Robux.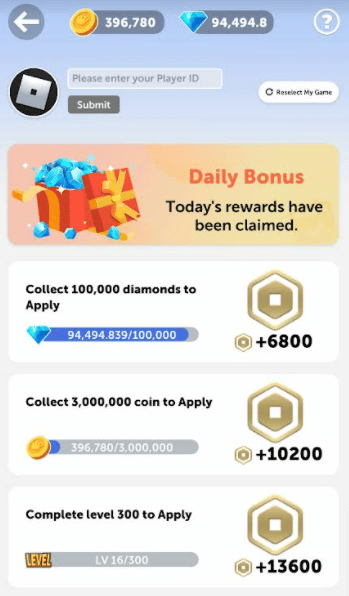 You will also get skins for your selected game once you collect 50 or 100 skin fragments.
According to the app instructions, Stack Smash does not provide any cheating method for hacking game tricks.
They supposedly transfer teh game currency from the official website for purchasing the product.

Is Stack Smash Legit? Does It Pay?
No, it doesn't! Stack Smash won't transfer in-game currency after you meet the conditions.
You will get fewer diamonds and the levels increase, and it will take ages to reach the minimum requirement.
Clearly, this is a tactic to get players to use the app for a lot longer and watch many videos. It only benefits the developer who earns money off of the videos you watch!
It works because if you play for 30 minutes and you are just 100 diamonds away, you are less likely to give up.
You will keep playing because you have already spent so much time! It's pure addiction fuelled by the desire to collect the reward.

This reward platform is going viral! Cash out via PayPal, Visa, Gift Cards, and in-game currencies - Click here to find out how to generate an extra $10+ per day! 
The last game I reviewed went from giving $1000 to less than $$0.60 at a time. So, I gave up and uninstalled the game.
Stack Smash will let you reach 100,000 Diamonds and redeem game currency. They claim you will receive the reward in 7 – 15 days, but you won't get it!

Conclusion
Stack Smash is a copy of the popular Stack Ball, but it entices users with fake game currencies.
Users are not receiving their rewards after 15 days, as claimed. It doesn't surprise me, considering the prize for those who reach 100,000 diamonds is too high!
Besides, I reviewed countless games using the same tactic to maximize profits.
I have seen it all, including a website that falsely claims to give free Robux for completing online tasks.
If you want to earn real game currency or a little extra cash to purchase anything you want, I suggest this excellent gpt site. 
You can collect points by taking surveys, playing mobile games and completing different offers. Then, you easily redeem gift cards or cash out via PayPal.
Final Words
I hope this post answers all your questions about the Stack Smash app. If you would like to share your thoughts about this game, feel free to leave us a comment below!
Thanks for reading!