Welcome to my 2248 Links: Digital Blast app review!
In this post, I would like to expose another puzzle game enticing players with an incredible amount of cash.
The advertising shows a woman with a surfboard in her hand and the following script:
"Want to enjoy the scenery all over the world, but worried about not having enough money?"
"Then come and download this game."
"You can easily win $500! The money you earn can be withdrawn directly to PayPal!"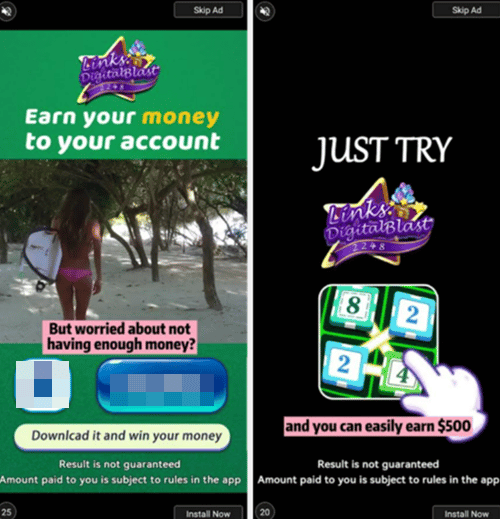 Next, it shows several payments of $100 made by Links Digital Blast and the total PayPal balance of $500.
There are probably more deceitful games than stars in the sky, which is why you should be careful!
Even though 2248 Links Digital Blast is free, you can waste a significant amount of time making other people rich in return for nothing!
So, can you really make hundreds of dollars with this app? Is it legit or fake? Let's find out!
Tired of fake money game? Discover the best gpt site where you can make hundreds of dollars just by completing simple tasks. Cash out via PayPal and gift cards. 100% Legit!
2248 Links: Digital Blast App Review
Name: 2248 Links Digital Blast
Developer: DungeeGame
Availability: Worldwide
Minimum payout: $$14,999
Overall Rating: 1/5
What Is 2248 Links Digital Blast?
2248 Links Digital Blast is a puzzle game in which you connect numbers to collect cash rewards and diamonds.
The app has a section that claims to transfer real PayPal money after the 24 hours countdown is over.
As for diamonds, they can be redeemed for Robux, Free Fire Diamonds, and other in-game currencies.
How did you feel when you received your first cash coupon worth $1354? I guess you had that feeling of extreme joy, adrenaline, and a pinch of skepticism.
You want this to be real so badly, but deep down, you know there is no such thing as free money, right?
How 2248 Links Digital Blast Work? 
Installation 
2248 Links Digital Blast is available in all countries for Android users.
By installing this app, you are giving permission to access content in your USB storage, such as your photos, videos, and any other files.

It's also important to note the app doesn't provide the Terms of Use, which means the developer does not commit to pay
How to Play 2248 Links Digital Blast? 
Connect blocks of the same number and merge them into large numbers that follow the sequence:
2, 4, 8, 16, 32, 64, 128, 256, 512, 1028, 2048.
You can also connect blocks with numbers that follow this progression. For example, by connecting 16 – 16 – 32 – 64 – 128, you will create a block number 256.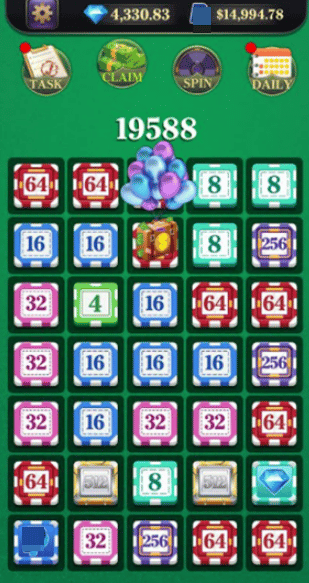 Every time you unlock a higher number, you will have the chance to win diamonds and PayPal cards.
To collect the reward, you must tap the "collect" button and watch the entire video.
The crazy thing about 2248 Links Digital Blast is that you will earn cash coupons worth over than $1,000.
Use the Luck Spin to earn more cash rewards and gems!
How do You Get Paid? 
You need to meet a certain criteria to become eligible for payment.
If you open your cash balance, it says you can redeem all the money you collect during the 24 hour event.
Alternatively, you can withdraw immediately if you collect $14,999 and receive the money in your PayPal account.

Your diamonds can be traded in for digital currency in games like Free Fire, Roblox, and Pokemon Go.
The minimum requirement for all games is 10,000 diamonds worth, for example, 10,000 FF diamonds and 10,000 Robux.
To give you an idea, a value pack of 10,000 Robux on the official Roblox site costs $99.99.
Is 2248 Links Digital Blast Legit? Does it Pay? 
No, it doesn't! There is no chance you will receive thousands of dollars just by connecting numbers and watching videos.

This reward platform is going viral! Cash out via PayPal, Visa, Gift Cards, and in-game currencies - Click here to find out how to generate an extra $10+ per day! 
Of course, the developer in the only person who is making money from this app, and you are the one helping him achieve his goals.
The reason is that he gets paid by advertisers to promote those fake money games!

At first, you will get big cash rewards and accumulate $10,000 in less than 20 minutes of gameplay.
But the closer you get to the cashout requirement, the less you will earn. It's tricky!
When you reach $14,200, cash rewards will drop drastically, forcing you to play an insane number of videos to achieve meaningful progress.
I wanted to cash out only to show you what happens, so I had to endure maybe 50 videos or more!
I promised myself I would uninstall the app straight away if rewards dropped to less than $1. And it dropped to less than $0.60, so I quit!
What usually happens after you meet their conditions is that they will ask for more videos to activate the order, put you on a waiting list… or simply ignore your payment.
Make no mistake. You won't get paid!
Conclusion 
Don't play 2248 Links Digital Blast with high hopes of quitting your job and living the dream.
It's impossible to make a decent amount of money by playing games on your phone.
That's why you should not trust any developer who offers huge cash prizes to attract players.
If you want to earn a little extra money online, join GPT sites with a solid reputation and complete tasks. 
Final Words
Thanks for visiting my blog and reading my Links Digital Blast app review. I hope you realize this is not a real money-making app.
If you want to leave your testimony about this game, feel free to leave us a comment below.
Peace!