Welcome to my Jackpot Boom review!
Perhaps you found this slots simulation that allows you to win a decent amount of money just by spinning.
It feels like you are in Las Vegas, earning big cash rewards without putting your savings at risk.
The developer advertises Jackpot Boom as an opportunity to earn money via PayPal, Cash App, and many other withdrawal methods.
Since the Play Store is infested with deceitful applications that steal your time and dignity, you need some answers.
Is Jackpot Boom legit? Can you make real PayPal money, or will it ignore your existence after meeting all the conditions? Let's find out!
Top recommendation: This step-by-step program helped me generate 2,000 US Dollars per month and quit my job in 2019. Free membership is only available here! 
Jackpot Boom Review
Name: Jackpot Boom
Developer: yuenastr
Availability: Worldwide
Price: 100% free to play
Type: Entertainment (no financial risk)
Minimum payout: $0.10
Overall Rating: 1/5
What Is Jackpot Boom?
Jackpot Boom is an Android game that simulates a classic 5-reel slot machine.
What makes it so appealing is that players don't need to make any deposit to spin. So, it's 100% risk-free!
Why would anyone go to Vegas when they can download Jackpot Boom and accumulate as much money as they want?
Well, there is a good reason for that, and you will understand perfectly by the end of this article.
Jackpot Boom was developed using the popular game engine called Unity.
How Does Jackpot Boom Work? 
Jackpot Boom is available in all countries and is entirely free.
Therefore, you don't need to put your money at risk to play slots and collect virtual rewards.
You have to tap spin and collect virtual dollars and other items when symbols match a winning pattern.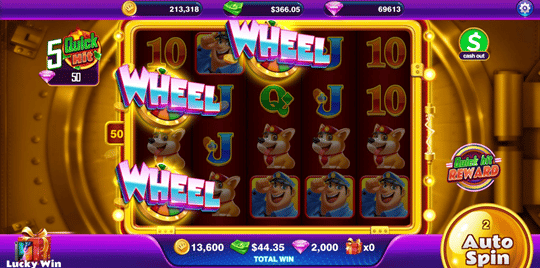 The game starts with ten spins and provides an extra spin every 2 minutes. You can also watch the video to get ten spins right away.
As the reels land on winning patterns, you will collect coins, virtual cash, and diamonds redeemable for real money. Then, watch a video to multiply your rewards randomly!
You can also collect puzzle pieces and exchange them for excellent prizes, such as MacBook Pro 13, PS5, Samsung Galaxy S20, Rolex watch, and more!

Every time you land a pay line, the blue liquid container is filled up.
When it's complete, it will activate the Plinko game that gives you the chance to drop coins to win more rewards.
How do You Cash Out? 
You can claim the reward by first tapping the Cash out button on the right side.
Jackpot Boom gives you many options to withdraw your money using coins, diamonds, and virtual dollars.
Once your cash balance reaches $300, you can withdraw the money via PayPal, Amazon, Cash App, Paytm, etc.
You can also cash out $300 by accumulating 3 million coins and 1 million diamonds.
But the quickest way to get paid is by redeeming a $0.10 Amazon gift card after collecting just 20k coins.
Win Real PayPal money with this GPT platform! 
Is Jackpot Boom Legit? Does it Pay? 
Jackpot Boom may give you the $0.10 Amazon gift card, but only if you live in the United States.
As for cash rewards worth $300 or higher, forget about them because you won't get paid!
It took me less than 5 minutes and a handful of spins to accumulate the minimum amount of $300 to cash out.

Then, I went to the redeem page, selected the PayPal tab, and pressed "Cash out."
They asked me to enter my name and PayPal account, but a window popped up asking me to spin 50 times to approve the order.
I knew they would come up with an excuse to persuade me to watch many videos!
You can use the Auto Spin feature to automate this tedious activity. But it will take almost 1 hour to meet their requirement!
In the meantime, you will collect more cash rewards, coins, diamonds, and other virtual items.
After spinning 50 times, they said they would pay me within seven days.

This reward platform is going viral! Cash out via PayPal, Visa, Gift Cards, and in-game currencies - Click here to find out how to generate an extra $10+ per day! 
Since I had over 20,000 coins, I successfully redeemed the $0.10 Amazon voucher.
Since Amazon gift cards are only available for residents in the U.S., they didn't give me the code.

So, I logged in from the US server using a VPN service, and Voilà!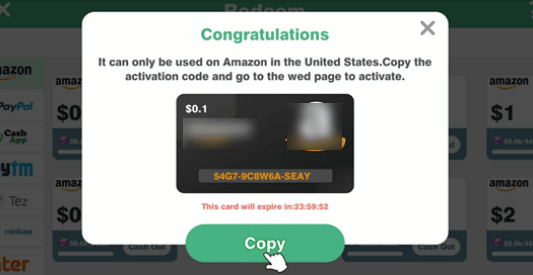 Just copy the activation code and enter it into your Amazon account.
Unfortunately, I couldn't check if it worked because my Amazon account is from the United Kingdom. But I believe it does!
Conclusion 
There is a good chance that Jackpot Boom will give you the 10 cents Amazon gift code if you live in the United States.
Otherwise, you probably won't receive any money using other cash-out methods.
The developer cannot afford to give $300 to everyone who takes the time and fulfills the requirements. That's why you won't receive any money after seven days, as claimed.
The same can be said about the fantastic gits in the Lucky Win section.
The problem with these money games is that they can make unrealistic claims and ignore payment requests.
It should be banned from the Play Store for the malaise caused!
Don't waste your time and mobile data playing Jackpot Boom. You could make more than 10 cents by simply completing an online survey or a sponsored offer.
Check out the best reward site here! 
If you want to learn how to achieve time and location freedom working from your laptop, here is my top recommendation. 
This comprehensive program showed me step-by-step how to create an income-generating website that covers all my living expenses.
Final Words
Thanks for reading my Jackpot Boom app review. I hope it was informative enough!
So, did you play this game? If so, how was your experience with it? Did you get any money? Leave your comments below to help raise awareness!
Peace!