Welcome to my Merge Jewels app review!
I'm here to expose a new mobile game that is being advertised as an opportunity to earn hundreds of dollars worth of Dogecoin.
The advertisement shows a rich woman on a yacht, riding on a plane and drinking in an expensive hotel room.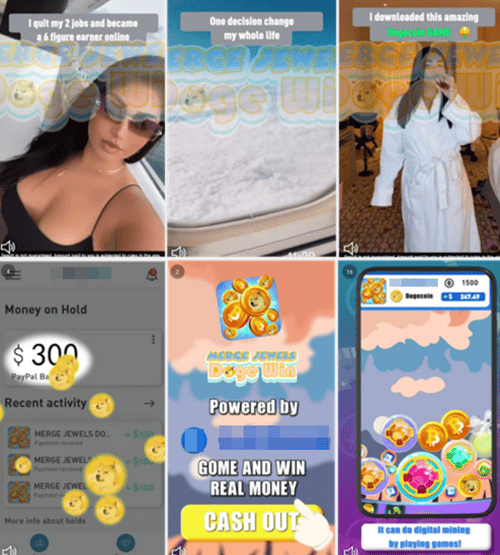 She said she quit her 2 jobs and became a 6 figure earner online by downloading this amazing Dogecoin game.
Then, a quick presentation suggests that the player can make 1500 Dogecoin (=$247) within just a few seconds.
I always cringe when I see these adverts because they are completely unrealistic!
However, many people still have some hope of earning money since they believe payments platforms like PayPal or Coinbase are endorsing the game.
Heck, the advert even claims that Merge Jewels is powered by Coinbase.
So, will Merge Jewels transfer the Dogecoins to your crypto wallet? Is it legit or fake? Let's find out!
Let's find out!
Before you leave this page, don't forget to check out my #1 reward site here. You can make $300+ just by completing online tasks on your phone and inviting friends. Easily cash out via PayPal and gift cards!

This reward platform is going viral! Cash out via PayPal, Visa, Gift Cards, and in-game currencies - Click here to find out how to generate an extra $10+ per day! 
Merge Jewels: Doge Win App Review
Name: Merge Jewels: Doge Win
Developer: YellowStarBGames
Availability: Worldwide
Minimum payout: 25000
Overall Rating: 1/5
What Is Merge Jewels?
Merge Jewels is another addictive puzzle game in which you merge gems to earn rewards. It's almost identical to Gem Master.
They advertise the game as an opportunity to win the crypto Dogecoin, but you will also get an insane amount of Bitcoin.
To give you an idea, I made 0.02BTC ($87) in less than 2 minutes of gameplay.
Merge Jewels entices the player to purchase the VIP package with the promise of getting 1 BTC after 30 days. It's insane!
I already reviewed many similar games that make you think you have just found financial freedom!
For example, Lucky 8 Ball went viral recently by claiming players could cash out thousands of dollars.

How Does Merge Jewels Work? 
Merge Jewels is available in all countries for Android devices.
It's important to read the Terms of Use before playing using any application. Unfortunately, this app will redirect you to the Privacy Policy when you click on the ToS link.
Without the User Agreement, the owner is exempt from meeting the user's expectations regarding rewards and other aspects of your account.
VIP Exclusive Membership
Right off the bat, Merge Jewels shows you the incredible rewards for VIP members who check-in for 30 consecutive days.
You will get a crazy amount of Dogecoin, and bitcoins if you purchase de VIP exclusive package for £5.99/week.
As a paying member, you will supposedly get 1 BTC after you sign in for 30 days. That's almost 44,000 USD!
How can anyone turn your $32 investment and multiply it by 1375? Can you fathom how absurd is this?
But wait! This is only the tip of the iceberg!
Limited Time Event
Next, Merge Jewels will show you another page encouraging the player to collect BTC through the game.
It also claims that the reward will be sent to your Coinbase account once the event time is over. The event countdown starts at 24 hours.

How to Play Merge Jewels? 
The game is very simple! You just have to aim and drop jewels or coins towards the identical item at the bottom.
When these round objects collide, they merge into bigger Jewel.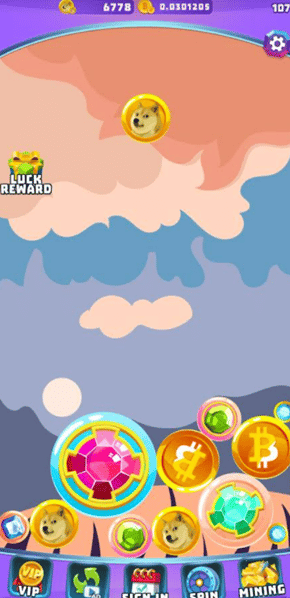 By merging the ones with Dogecoin and the Bitcoin symbol, you will receive the corresponding reward.
Most of the time, you must tap the "get" button and watch a video to add the coins to your balance.
Merge Jewels gives you an unbelievable amount of Bitcoin and Dogecoin, which makes you feel you will get rich overnight and with no effort.
After merging a single Dogecoin ball, you will get over 2000 Dogecoins worth $300. 
If you watch the video, you can also play the Wheel of Fortune for free and collect more crypto.
Still not satisfied? Then, tap the mining icon until the bar is full, watch another commercial and get 0.002+ BTC.

How do You Get Paid?
Once your Dogecoin balance reaches 25000, you can request the payment to your Coinbase account.
To withdraw Bitcoin, you have to open the Lucky Reward page and wait for the 24-hours countdown.
You don't need to accumulate any specific amount of BTC to redeem. Also, there is no limit to how much you can earn with Merge Jewels.
Is Merge Jewels Legit? Does it Pay? 
No, it doesn't pay! You won't receive any amount of Crypto even if you meet all the conditions.
Many people are installing Merge jewels and watching copious amount of advertisements to comply with the game's requirements.
But receiving the payment is just an illusion the developer has created to maximize profits.
Yes, because the advertisers pay the developer for the number of videos he gets people to watch.
That's why you are lured into watching them in return for virtual rewards.
I played Merge Jewels until I reached 25,000 Dogecoins, when they asked me to fill in my correct email address.
Next, they immediately encouraged me to rate the game on Google Play.
As expected, it will behave just like most fake money games do when you meet their initial requirement.
They will update the redeem page and ask you to watch 30 more videos to activate the order. Here is the proof: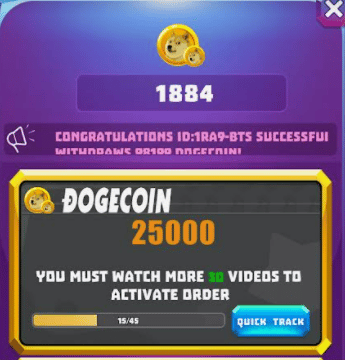 If you got to this point and you want to proceed just to see what happens next, please don't!
No matter what their next mission is, you won't get paid. Period!
Conclusion 
Don't waste your time playing Merge Jewels: Doge Win because the cryptos are fake.
It takes a couple of strong computer processors consuming energy 24/7 in order to cake a decent amount of Bitcoin.
So, the idea of making thousands of dollars in Bitcoin or Dogecoin with this casual game is illogical! It makes no sense at all!
And please, don't waste your money on the VIP membership because you won't get your money back. I am warning you!
Verdict: Not Recommended 

Earn A Full-Time Income Online
Over 95% of Americans wish they could quit their jobs because of low pay, long and inflexible shifts.
That means people are living a miserable life just to live paycheck after paycheck.
You can achieve time and location freedom by operating an online business!
Yes, it's possible! I am one of those who worked hard to achieve success as an online entrepreneur.
Thanks to my website and the online audience that I built, I spend the last 2 years and a half travelling and working as a digital nomad.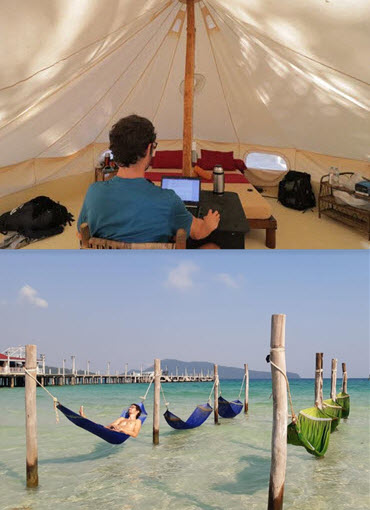 I had no clue how to start, but this excellent program developed by Kyle and Carson showed me the way.
With their comprehensive training and unmatched support, I was able to build a thriving affiliate site that generates a consistent income.
If you are serious about working from your laptop, and achieve your dreams in life, I highly recommend it!
Click here and get started today!
Final Words
Thanks for reading my Merge Jewels app review. I hope it was helpful! If you want to share your opinions about this game, use the comment box below.
Peace!