Welcome to my Lucky 8 Ball app review!
I have recently found Lucky 8 Ball and the opportunity to earn lots of money by merging billiard balls.
The advert suggests you can receive hundreds and even thousands of dollars!
There are countless games on the Play Store that seduce the player with unrealistic cash prizes.
Unfortunately, most people bite the bait because they think PayPal and Amazon are endorsing the app.
But that's not the case since they don't seem to monitor what thousands of developers display in their adverts.
You are reading this post to find out whether you will receive the money by playing Lucky 8 Ball. Is it legit or fake? Let's find out!
Before you close this page, don't forget to check out my #1 reward site here. You can make $300+ just by completing simple online tasks and inviting friends. Easily cash out via PayPal and gift cards!
Lucky 8 Ball App Review
Name: Lucky 8 Ball: 2048 Ball
Developer: Money Game Puzzle Studio
Availability: Worldwide
Minimum payout: $500
Overall Rating: 1/5
What Is Lucky 8 Ball?
Lucky 8 Ball is another classic puzzle game where you merge balls to collect virtual cash rewards.
You just have to collide balls of the same number to unlock bigger balls until you reach 2048.
After collecting $1000, the developer claims you can cash out using different payments method including PayPal and Paytm. It's unbelievable!
Lucky 8 Ball is another clone of many 2048 games like Coin Merger, Big Watermelon Merge and this viral Bitcoin merging game.
What they all have in common is the fake reward system, since they will never transfer the money as promised.
How Does Lucky 8 Ball Work?  
Installation 
Lucky 8 Ball is available in all countries for Android users.
Before installing this game on your device, I encourage you to check the Terms of Use page, which has some important statements about the rewards. More on that later!
The use and registration of the app is free of charge, and there are no in-app purchases available.
How to Play Lucky 8 Ball? 
Just slide left or right to point the ball towards an identical ball at the bottom. Then, release the finger to drop it!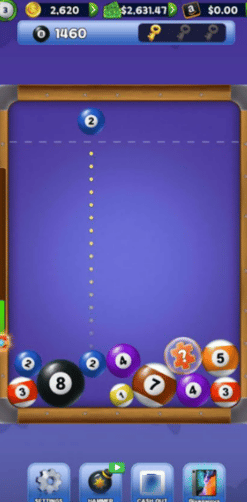 Whenever two identical balls collide, they will merge and become a bigger ball with a higher number.

Even though the app's name is Lucky 8 Ball: 2048 ball, the numbers follow the normal sequence: 1, 2, 3, 4, 5 instead of the geometrical sequence.
Just keep merging the balls and you will get random PayPal or Amazon coupons with virtual dollars.
They give you the chance to claim 50% more after watching the video.
Sometimes, you can
Besides, you will get coins and puzzle pieces while merging the billiard balls.
You can redeem cash vouchers once you accumulate enough coins.
As for the puzzle pieces, they can be traded in for excellent prizes in the giveaway section, such as MacBook Pro and a Samsung Galaxy S20.
Sometimes, you will receive a bonus. You just have to tap "Open" and again, watch the video to claim the reward.
I was playing Lucky 8 Ball for less than 10 minutes when the game surprised me with a huge cash coupon worth more than $1000.
So, I immediately met the minimum cash-out requirement and head straight to the withdrawal page.
How do You Get Paid? 
According to the app instructions, you can exchange not only virtual cash but also coins for real money.
You can withdraw the funds via PayPal, OVO, Paytm, and other payment methods once you collect $1000 and watch at least 20 videos.
The higher the amount you want to withdraw, the more videos you have to watch.

If you open your Amazon balance, Lucky 8 Ball suggests you may cash out any amount after watching 50 videos and playing the game for 8 days.
Open your coin wallet and you will find the opportunity to exchange 1 million coins for $500 via Google Play, PlayStation, Steam and Walmart gift cards.
Earning gifts
As if the huge cash prizes weren't enticing enough, the app gives you puzzle pieces to redeem $200 PayPal cash, MacBook pro, Samsung Galaxy s20 and many other gifts.
During the activity time, you can get random puzzles by playing Lucky 8 Ball (they appear inside bubbles) or the lucky spin.
Check out legit sweepstakes apps here! 

This reward platform is going viral! Cash out via PayPal, Visa, Gift Cards, and in-game currencies - Click here to find out how to generate an extra $10+ per day! 
Is Lucky 8 Ball Legit? Does it Pay? 

No, it doesn't! Sadly, you won't receive any money or gifts for playing Lucky 8 Balls.
No matter how long you play or how many videos you watch, the company will never transfer $500, $1000 as PayPal cash or gift cards.
Bear in mind the game is still in developments (Early Access), which means reviews are not made public.
Therefore, the developer avoids getting their Google Play page bombarded with complaints.
Many developers leave their apps forever as Early Access because they don't want bad reviews from users who didn't make any money!
Remember when I said it was important to check the Terms of Use? That's because it says the Provider guarantees no profits to the user, who is not entitled to be paid a particular reward.
In order words, if they don't want to pay you, they won't. It's that simple!
They advertise the game as if it was a dream come true, but in reality, only the developer is laughing all the way to the bank.
The reason is that you will watch hundreds of videos that generate revenue for the owner. It's very unfair!
Conclusion
I don't recommend people to play Lucky 8 Ball because it's not a win-win situation.
Free games don't generate enough profits to operate generous giveaways like the ones we saw in this post.
It's very unrealistic to play them in hopes of earning thousands of dollars!
Do you know who is making large sums of cash?
You're right! The developer is making a decent income because he gets people to watch the countless videos in the false hope of making money.
Don't fall for Lucky 8 Ball or any other fake money games it promotes!
Earn a Full-Time Income Online
You can actually quit your job and become a 6 figure earner by building your own online business!
One decision can change your whole life!
In 2015, I quit my Master's degree to dedicate myself 100% to internet marketing.
I wanted to work remotely while travelling the world and make enough money to cover all my expenses.
This step-by-step program helped me set up this type of business and attract a huge audience to my site
So, I finally reached my financial goals and bought a one-way ticket to southeast Asia with my wife.

You can succeed too if you take the time to learn and apply the proven strategies in that training. Learn more about it here! 
Final Words
Thanks for reading my Lucky 8 Ball app review. What are your thoughts about this application? Should the Play Store ban it? Leave us your comment below!
Peace!