Welcome to my Cash Paw app review!
Imagine playing a coin pusher machine with an unlimited number of free coins!
With the Cash Paw game, you can drop as many coins as possible and collect cash rewards from your phone.
Once you accumulate enough dollars or tokens in your account, you can request the payment via PayPal.
Perhaps you already downloaded this game, but you suspect you won't receive any money!
That's why you are searching for answers that will save your time and dignity.
So, is Cash Paw legit or fake? Does it pay? Read this review until the end to find out!
Top recommendation: This excellent program helped me generate over 2,000 US Dollars per month online and quit my job for good in 2019. You can do it too by joining the Free membership here and taking massive action.
Cash Paw App Review
Name: Cash Paw
Company: Furry Touch Studios
Availability: Worldwide
Price: 100% free to play
Payout threshold: $2 (tokens), $100 (green coins)
Overall Rating: 1/5
What Is Cash Paw?
Cash Paw is a mobile game that simulates a cash pusher machine and gives you virtual dollars to redeem real money via PayPal.
Even though the developer is Furry Touch Studios, the app is actually operated by JustDice.
This German company owns many other applications, such as Playsmart, 1-2-Cash, and Cashyy. Check out my Cashyy review here!
They seduce players with the opportunity to play for free and earn $2, $15, $100, $777, and even $1000.
Simply tap your phone screen to drop the coins and push them off the board.
Cash Paw also allows you to earn extra tokens for each minute you play bonus games.
I already tested many applications like Cash Paw, but all of them were proven to be fake, except this Coin Dozer game that organizes sweepstakes.
How Does Cash Paw Work? 
Cash Paw is available on Google Play for Android users over 18 years old.
The game features a coin pusher and a 3-reel slot machine at the top. Just tap the screen to drop the coins and push them off the edge.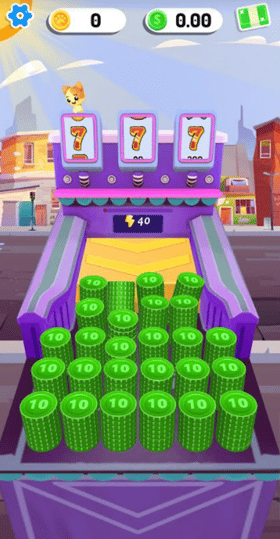 Push green and gold coins off the edge to earn virtual dollars and tokens.

For example, a green coin with the number 10 will give you $0.10.
You will activate the slots to win extra coins and cats whenever a nickel falls into the golden slot box.
If you are lucky enough to get a triple 7, you will earn the Jackpot worth $777!
You start Cash Paw with 40 coins, but you can always get another 40 by watching a video.
By collecting and merging all cats, you can unlock the Gold cat and win $1000!
Use boosters to collect more coins faster. The "Longer" pushes all the coins off the edge in one go, whereas the "Big Shake" will shake the board.
Cash Paw bombard players with advertisement every 10 – 20 seconds. It's incredibly annoying! Even if you keep your phone idle, an advert will appear to consume more data!
You should know the developer is getting paid for every video played on your device.
Bonus Games
You can earn a lot more tokens by playing sponsored games. But, first, you must agree with the Terms and Condition and allow usage tracking.
This permission allows Cash Paw to detect how long you played a specific game to give you the reward.
Then, select the game or service, download the app and earn tokens for each minute you play.
Just bear in mind there is a cap on how many tokens you can earn from each application.
Many legit apps like JustPlay and Mistplay use this method to reward users. But later, you will understand why I don't recommend Cash Paw.

How do You Get Paid? 
You can withdraw the money to your PayPal account if you meet the following conditions:
$2 – 1M coins
$15 – 5M coins
$100 – $100 (green coins)
$777 – Triple 7 in Slots
$1000 – Collect the Gold Cat
Is Cash Paw Legit? Does it Pay? 
By checking the reviews on Google Play, it's safe to assume that Cash Paw is unlikely to pay you. There are many complaints!
It takes forever to accumulate the minimum requirements, and you may never get there!

This reward platform is going viral! Cash out via PayPal, Visa, Gift Cards, and in-game currencies - Click here to find out how to generate an extra $10+ per day! 
Green coins become scarce once you get to $70 or more, so your earnings will drop considerably.
After watching each video, you will make just $0.01, which makes the redemption a mission impossible.

At this point, many people will give up because there is no guarantee the app will let them reach $100 and cash out.
One player reported she played Cash Paw for months because she thought payouts were real. But it was a complete waste of time and effort.
Another person couldn't redeem $2 because his coin balance was back to 0. His app details show that he played for 17 hours in just four days.
Unbelievable! How cruel is that? 
Conclusion 
Don't Play Cash Paw with the expectation of earning real money, or you will probably get very frustrated.
Many people are wasting a lot of time and data on this game due to excessive advertisements.
In the meantime, the developer laughing all the way to the bank.
He has built a real coin pusher machine where profits come from advertisers based on the number of videos you watch.
They should never promote the opportunity of cashing out without offering everyone the guarantee of receiving the money.
Final Words
Thank you for reading my Cash Paw app review. I hope it was helpful!
We want to hear your thoughts about this coin pusher game. Did you reach $100 or 1 M coins? Did they pay you?
Peace!