Welcome to my Emoji Liner review!
I have found a simple puzzle game that supposedly rewards players with free Robux.
The commercial for Emoji Liner makes people believe they have found an easy way to earn unlimited in-game currency.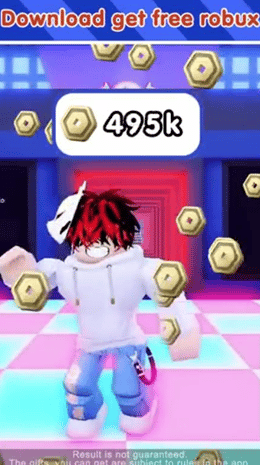 As you probably know, Robux is quite expensive!
Therefore, Emoji Liner targets ROBLOX players who cannot afford to spend their hard-earned money on it.
You have to draw a line connecting related images on your screen!
After matching all the images, you will receive a decent amount of Robux that you can redeem once you reach the threshold.
I am very skeptical of this application because it gives an amount of Robux that would have cost you an arm and a leg. So, it's very unrealistic!
How can the developer afford to give away so much digital currency for playing a simple game?
Is Emoji Liner legit or fake? What's going on behind the scenes? Read on to find out!
Top recommendation: discover the step-by-step program that helped me reach 2,000 USD+ per month and quit my job in 2019. No special skills are required! 
Emoji Liner Review
Name: Emoji Liner
Developer: Beakbestow
Availability: Worldwide
Payout Threshold: 30,000 Diamonds
Price: Free (no purchase required)
Overall Rating: 1/5
What Is Emoji Liner?
Emoji Liner is a puzzle game that helps kill boredom and, hopefully, put real Robux into your ROBLOX account.
The goal is to match three or more emoji symbols that pop up on your screen.
Players get hooked mainly because of the in-game currency prizes. Most people who installed this app wouldn't have done it to have fun.
Free Robux is awarded at the end of each level after the player stops the gauge.
Emoji Liner is easy to play but gets more challenging at higher levels. You will get bonuses every five levels.
With over 5 million installations on Google Play, Emoji Liner is one of the most popular puzzle games of its kind!
However, such popularity doesn't mean the developer is rewarding players for their playtime.
Check out this legit site where you can collect free Robux by completing simple tasks!

How Does Emoji Liner Work? 
Installation
You can Install Emoji Liner on Google play and begin playing with no registration.
Before installing any game on your phone, ensure you have a reputable security app installed to avoid cyber threats.
It's also important to read the Terms of Service and Privacy policy. I checked these TOS for Emoji Liner and found nothing about Robux or other game currencies.
This is a sign that the developer does not commit to rewarding players as advertised.
As soon as you launch the game, it asks you if you want to earn free Robux. Of course, you do!
After tapping the "yes" button, select how much free Robux you would like to collect up to 30,000.
Considering the price of 10,000 Robux is currently $99,99 on the official ROBLOX's website, there is a potential to earn up to $300 worth of Robux.
Crazy, right?
How to Play Emoji Liner?
Emoji Liner is pretty straightforward. You must connect all pairs of related emojis to pass the level.
In other words, you have to think about what two symbols have in common and connect them!
For example, you could connect an "ant" with a "butterfly" because they're both insects.
Here is one example at level 13: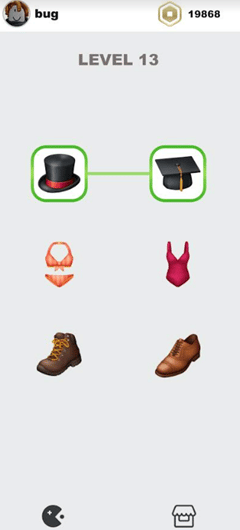 After connecting all the emojis, you can tap the "get more" button and watch a video to earn up to 5 times more Robux.
I published a list of the top apps that pay you for trying new games here!
How to Redeem Free Robux?
Once you collect the amount you selected right after installation, enter the "redeem" page to claim your free Robux.
But there's the problem: You will notice that the more you play Emoji Liner, the less Robux you'll get

This reward platform is going viral! Cash out via PayPal, Visa, Gift Cards, and in-game currencies - Click here to find out how to generate an extra $10+ per day! 
As a result, you will watch hours of videos to reach the target.
At level 12, I had accumulated 19851 Robux, but I started making less than 10 Robux at a time.

How long will I have to play to reach 30,000 Robux and transfer to my Player ID? And what if they stop giving rewards before I meet the requirement?
I tested many fake Robux games! Here is one of them.
Is Emoji Liner Legit? Does Reward Players?
It doesn't transfer any Robux to your ROBLOX account after you meet the requirement.
In the beginning, earning 30k Robux feels like a breeze since you start earning generous amounts.
However, the incentives steadily diminish with time, and you are encouraged to view more commercials!
Once you reach the target amount and try to redeem, they will make you watch 50 videos to activate the order.
Next, they will ask you to wait for 24 hours, but you will never get rewarded because it's completely fake!
Many people are saying Emoji Liner is the worst game they have ever played.
I have to disagree with them because some fake games go as far as to charge a fee in return for fast payouts. This is significantly worse than trying to exploit your time only.
My advice? Don't waste time playing Emoji Liner unless you have fun with the game itself and don't mind the adverts.
Conclusion
It's clear that the game Emoji Liner is fake and a complete waste of time.
The developer does not give free Robux to players who collect 10k – 30k virtual Robux.
You are much better off joining reliable platforms where you can get rewarded for simple tasks like surveys and offers.
For example, Prizerebel allows you to redeem cash via PayPal and Roblox gift cards.
It does take time to collect $10, but at least you know the company is legit and committed to rewarding players.
Another application that went viral is Freecash. You can redeem Roblox, PayPal cash, and even cryptocurrencies. Click here for my full Freecash review! 
Final Words
Thanks for reading my Emoji Liner review.
We would love to hear your thoughts on this game. Please share your experience with it in the comment box below to raise awareness!
Peace!