Welcome to my Bingo Day review!
I've recently found Bingo Day while using another app on my smartphone.
The advert caught my attention because it made some very bold income claims.
As you can see in the screenshot, it claimed that players could win at least $10 every 10 minutes! 
Heck! That is more than twice the average salary in the US!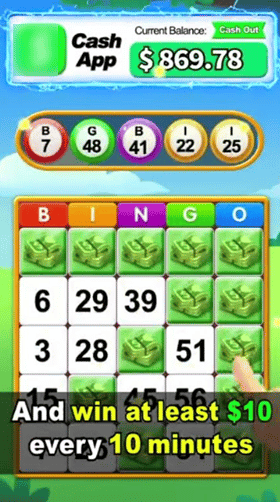 So, why are people still going to work every day instead of playing Bingo all day long?
Good question! It seems too good to be true, but maybe you can earn a little extra cash if you are lucky enough. What do you think?
I decided to install this application on my phone and put it to the test. So, is Bingo Day legit or Fake?
Will they transfer the money to PayPal or via Amazon gift cards? Keep reading to discover and avoid regrets.
Top recommendation: This excellent program helped me create a lucrative site and generate over 2,000 US Dollars per month online. Set up your site today and apply the same methods to generate life-changing commissions!
Bingo Day Review 
Name: Bingo Day – Lucky to Win
Developer: Bingo Pro Inc.
Availability: Worldwide
Price: 100% free to play
Type: Entertainment (no financial risk)
Payout Threshold: $200
Price: Free (no purchase required)
Overall Rating: 1/5
What is Bingo Day?
Bingo Day is a classic bingo game you can play for free on your Android device and win excellent prizes.
I am talking about hundreds of dollars in cash rewards, iPhones, Laptops, video games, and other gadgets.
The best part is that you don't need to put your hard-earned money at risk.
You can simply use your tokens to "buy" 1, 2, or 4 scorecards and start playing.
Whenever you mark a winning number or call Bingo, you have the chance to collect virtual dollars.
How Does Bingo Day Work?
Installation
You can install Bingo Day on Google Play and benefit from free bingo games regardless of your country.
Be aware that this application has access to contents in your USB storage.
In other words, the developer can read, copy and even delete any files like photos and documents.
This is very concerning because you are basically giving them total control over your data.
How to Play Bingo Day?
As soon as you launch Bingo Day, you can play immediately with your first scorecard.
The game will generate 27 random numbers that will appear on the top of your screen.
All you have to do is mark the ones you have on your Bingo card and collect cash, coins, and other items.
Whenever you complete all the numbers in a horizontal, vertical, or diagonal line, you will shout "BINGO".
As a result, the slot machine is activated, giving you the chance to big bonuses.
In the next section, I will explain the various ways you can collect rewards with Bingo Day.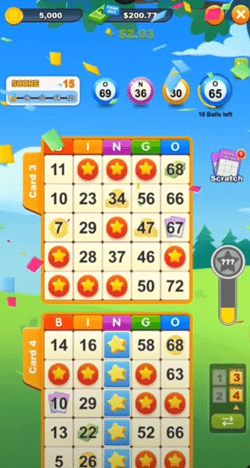 The goal is to call as many Bingos as possible with a maximum of 27 numbers.
After the first round, you will collect some coins that you can use to play with 1, 2, or 4 cards simultaneously. Each card costs 27 coins!
You can collect prizes much faster by playing with four scorecards on your screen, but it can be easy to skip numbers.
Earning Virtual Cash
Note that each card holds coins, banknotes, and lucky scratch symbols in random numbers.
When you mark a winning square, you will collect the corresponding reward.
For example, the banknote symbol will trigger some cash reward ranging from a few cents to $2.
Every time you mark any number on your scorecard, the progress bar on the right will advance.
Once it's full, new reward symbols will be distributed among other numbers. This includes a box (chest) which you can tap directly to get more cash rewards.
However, you need to tap the "Claim" button and finish watching the video to collect the money.
The slot machine will be triggered every time you call Bingo. As a result, you can win more cash if the 3 reels land on
Once you call "Bingo", it will trigger the slot machine, which in turn gives you the chance to win more cash.
Bingo Day also lets you play scratchers and the lucky wheel!
You can spin the lucky wheel after the game is over to win coins, cash rewards, and iPhone 13 Pro pieces.
Win iPhone 13 and Other Prizes! 
Bingo Day also allows players to collect puzzle pieces and win prizes, including an iPhone 13 Pro, MacBook Pro, Samsung Galaxy, and more!
To redeem the iPhone, you must find 36 fragments by playing bingo games.
The other prizes can be found by clicking on the Lucky Rewards icon on the left side.
In this section, you can collect puzzle pieces by playing the Lucky Pin and watching videos.
Once you collect 50 puzzle pieces, they can be redeemed for a vast selection of gadgets, perfumes, and Gucci Bags.
Crazy right?
How do You Cash Out?
Once you reach $200, you can withdraw the money by opening your cash wallet and selecting either PayPal or Cash App.
If you want to cash out via Amazon or Walmart, the payout threshold is $1,000.
It's also possible to exchange 5 million coins for $5,000 and cash out via PayPal.
The rewards will be sent to you within 7 business days according to the app instructions.
It seems all good in the paper, but does it actually pay after you meet the initial condition? Find the answer in the next section!
Is Bingo Day Legit? Does it Pay?
No, it doesn't! Bingo Day is no different than plan playing Bingo with your family at home with fake banknotes. 
Therefore, you will never see any payment transaction in your PayPal account. Likewise, no courier will knock on your door to deliver the brand new iPhone 13.
This is only an illusion to hook in for days and get you to watch hours of commercials that only benefit the developer. He is the only one making profits from Bingo Day passively!
Yes, they only launched the game and enticed players with cash rewards that never materialized. Now, they only watch the money rolling in!
So, what happens after you collect $200 and press the "cash-out" button?
They say you need to complete other conditions within seven days. The first one is that you must collect bingo rewards 20 times!
In order words, you need to complete a row and watch the video 20 times only to uncover the next requirement.
I didn't proceed because the pattern is very similar to countless fake money games I had already tried.
Conclusion
Bingo Day is advertising the game as an opportunity to in $10 every 10 minutes.
But they just "forgot" to mention that the dollars would never be transferred to your PayPal account.
Of course, I am very polite in this review because if I express my true feeling, I may get in trouble.
Yes, everything is upside down!
If you want to make real money by playing Bingo on your phone, there is a real one called Blackout Bingo.
It's a very popular game where you play with real opponents to win cash rewards.
The problem is that players can lose a lot of money if they are not prudent. I haven't played Blackout Bingo to give you my honest opinion yet.
Maybe in the following weeks, I will give it a try and write an in-depth review. So, stay tuned!
How I Make Real Money Online
Would you like to work remotely, set your schedule, and live the so-called laptop lifestyle?
Many people are taking proactive steps to build a lucrative online business and earn commissions to live a comfortable life.
Indeed, there is nothing quite like generating an online revenue that covers all your living expenses. Not relying upon a job contract to pay the bills is liberating!
You can earn a decent income by launching a website and publishing helpful content. By ranking on Google, you can attract an audience and monetize it using different methods.
Thanks to this excellent step-by-step training, I can now open my laptop and work from wherever I want.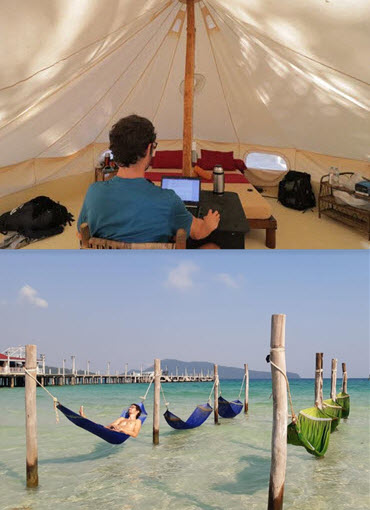 The platform has a free membership, so you can complete the first ten lessons and even kickstart your first site with no strings attached.
Final Words
Thanks for reading my Bingo Day review! If you have any questions or thoughts about this game, feel free to leave us a comment below.
Peace!