Welcome to my Metaverse Slots review!
I am writing this post to expose a new money game going viral!
It's called Metaverse Slots and is available for Android devices.
The developer claims we can make an insane amount of Bitcoin and withdraw via Coinbase, Kraken, and other platforms.
Since the Play Store is infested with deceitful applications, you should be cautious!
You don't want to install a game and waste hours of life in front of your phone only to help others get rich.
So, does Metaverse Slots pay or not? Is it legit or fake? Let's find out!
Before leaving this page, don't forget to check the step-by-step program that helped me generate over $2,000 per month and quit my job in 2019. Free membership is available here! 
Metaverse Slots Review
Name: Metaverse Slots
Developer: Markus W
Payout Threshold: 0.025 BTC or $1000
Type: Entertainment with no financial risk
Price: 100% free to play
Overall Rating: 0 star
What is Metaverse Slots?

This reward platform is going viral! Cash out via PayPal, Visa, Gift Cards, and in-game currencies - Click here to find out how to generate an extra $10+ per day! 
Metaverse Slots is a new Android game that gives you free Bitcoins just for activating the slot machine.
The crazy thing about this app is that you can spin for free and withdraw BTC and cash.
You have to press spin and watch the virtual rewards come rolling in.
Just like most money games, Metaverse Slots also give you puzzle pieces redeemable for an iPhone 13 after meeting specific conditions.
Over 100k people have installed the application since its launch just one month ago.
Therefore, I believe it has the potential to reach half a million very soon!
It's important to note that Metaverse Slots is one of those games that will remain as "Early Access" for ages.
In other words, the game is still in development, preventing users from publishing reviews on Google Play.
How Does Metaverse Slots Work?

Installation
Metaverse Slots can be installed on Google Play for your Android device just like any other app. It's completely free, and don't require registration.
When I first installed the game one month ago, Metaverse Slots didn't have access to the user's USB storage.
Well, now they have updated their permission page to include the possibility of reading, modifying and even deleting your files.
Yes! By installing this app on your phone, you are giving the developer control over your data.
How to Play Metaverse Slots?
Upon launching the game, they will encourage you to collect 400 puzzle pieces and clock in for seven days to redeem the iPhone 13.
Next, they show you a timer starting at 24 hours and suggest that you need to collect 0.025 BTC to redeem.
Tap "ok" and you will see the 3-reel slot machine with a big "Spin" button at the bottom.
Just press "Spin" to collect coins, BTC rewards and puzzle pieces whenever you match three corresponding symbols.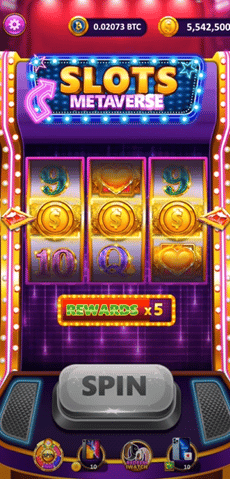 For example, if you match three "BTC" symbols, Metaver Slots will reward you with over 0.002 BTC worth $60+.
In the beginning, you can tap "free" and collect rewards right away.
But after a few prizes, you will be required to watch a commercial to collect these rewards.
Those videos are mostly enticing the viewers with unrealistic cash prizes.  So don't fall for them!

You can press and hold the spin button to activate auto-spin.
How to Withdraw BTC and Cash?
As you are playing Metaverse Slots, upur coins and Bitcoins will accumulate in two distinct balances.
If you open the BTC wallet, it says you can withdraw instantly once you collect more than 0.025 BTC. That's almost $1,000!
As for your coin balance, you can exchange them for cash via PayPal once you have 15,000,000 coins worth $1,000.
Metaverse Slots also features three other section:
Lucky Wheel – Activate the wheel for a chance to win more Bitcoin and tokens.
Prize Draw – Every lucky coin you will get by watching videos entitles you to one entry into the prize draw. You can win a Macbook pro, Apple iPad Pro and a Airpods
Redeem iWatch – Check-in for 3 days to win an iWatch worth $499.
Is Metaverse Slots Legit? Does it Pay?
No, Metaverse Slots is not paying! It's a boring game that will just waste your time and get you to watch lots of commercials.
The developer designed the app to simulate a real slot machine game, but the prizes are totally fake!
So, what happens if you collect enough coins and BTC in your account?
For me, who already reviewed countless games, it seemed pretty obvious.

They will update the cash-out condition and ask players to watch 30 videos to prolong the gameplay and make more profits.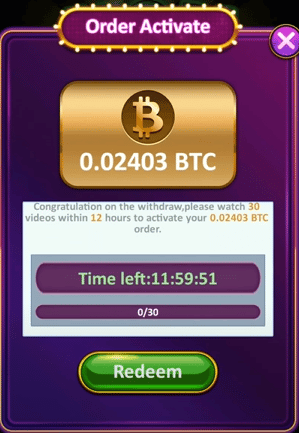 What's even more ridiculous is that, after watching 30 videos, its says the daily limit of 10 orders has already been achieved.
As a result, Metaverse Slots will give you two options:
Either you wait until the next day or watch an additional 100 videos to apply immediately.
Of course, many people will choose the last option and waste a significant amount of time and data.
What a joke! Metaverse is entirely fake and will not pay you a dime! Here is another slots game that doesn't pay! 
Is There a Legit App To Earn Crypto? 
The best way to earn crypto by playing games is to join gpt platform like Freecash.
Simply choose a game offer and reach a specific level to earn coins. Then, you can cash out to Coinbase as soon as you get $0.10!
If you prefer to receive payments in your local currency, you can also withdraw via PayPal!
Conclusion
Metaverse Slots is nothing but a simulation that only benefits Markus W.
I advise you to avoid Metaverse Slots and focus your energy on proven methods to make money online.
They advertise the game as if players could withdraw thousands of dollars worth of BTC. But those are only pixels on your phone screen!
It literally feels like you are getting rich until you realize it was illusion, just like in the Metaverse. 
The truth is, there is no risk-free game giving away so much money and never will be!
Don't even waste your time trying to find one that pay, or you will be very disappointed.
Final Words
Thanks for taking the time to read my Metaverse Slots review!
I hope this article helped you remove the VR (virtual reality) glass and see the true colours of this game.
Have you played Metaverse Slots? What are your thoughts about it? Kindly contribute to the discussion by leave us a comment below.
Peace!