Welcome to my Cash Slots review!
Google Play is jam-packed with slot machine simulations that claim to pay real money.
They make people believe they can win cash rewards just by pressing spin and collecting virtual items.
The fact that these games are entirely free makes them even more attractive because there is no risk of losing money.
I put many mobile slots to test, and the outcome is always the same – lots of anger and frustration!
In today's post, I will expose another one called Cash Slots. Is it legit or fake? Will you receive the money after the cash requirements are met?
Let's find out!
Before leaving this page, don't forget to check the step-by-step program that helped me generate $2,000+ per month and quit my job in 2019.
Cash Slots Review
Name: Cash Slots
Company: slotshca
Availability: Worldwide
Type: Entertainment with no financial risk
Price: 100% free to play
Payout threshold: $300
Overall Rating: 1/5
What is Cash Slots?
Cash Slots is an Android game where you spin the slot machine to win cash and lots of excellent prizes.
The money will flow to your balance account as if you were printing money on demand! It feels so unreal!
Once you accumulate $300, you can supposedly withdraw via PayPal, Cash App, Coinbase, and other methods.
Cash Slots has been installed on Google Play over 1 million times and is identical to Mega Slots and Slots for Happy.
It's important to know that fake money games are always cloning existing games.
The reason is that their focus is to attract people who are interested in making money. So, they don't care about gameplay innovation!
How Does Cash Slots Work? 
Installation 
Cash Slots is available on Google Play for Android devices and is free to download and play.
You don't need to make any deposits to spin and win.
Just be aware it can read, modify and even delete content in your USB storage. Who knows why they want this level of permission?
My advice is to install a decent security app on your phone to protect against cyber threats. Norton With Lifelock is a good option!
How to Play Cash Slots? 
It's so simple! When you launch the game for the first time, it will show you a quick tutorial.
You start with ten spins, and you must press the button to activate the slot machine.

An extra spin is added to your account every 2 minutes.
If you match 3 symbols, you will get the corresponding prize, such as cash, coins, diamonds, gold cards, etc.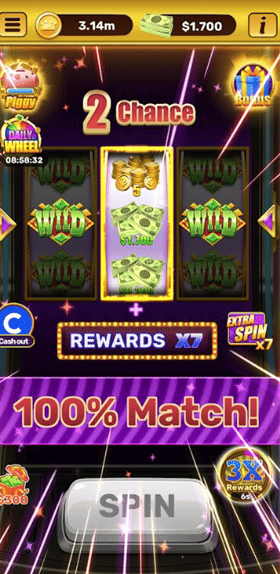 After that, it multiplies your reward by a random number from 1 to 9.
According to the developer, you need to reach a specific target for each item to withdraw money.
You can also match other symbols that trigger some bonuses, such as extra spins, fever mode, and wild mode.
If you tap the question mark icon, Cash Slots will show you the game's rules and the probability of winning prizes.
The odds of winning each item are as follows:
Gold coins: 20%
US dollars: 17%
Amazon card: 7%
Diamond: 16%
Bells: 21%
Golden coupon: 7%
Bonus card: 7%
Real reward gift box: 5%
Redeem Gift
Below the slot machine, you will see many gadgets, including the PlayStation 5, MacBook Pro, Samsung Galaxy S20, Sony TV, etc.
You can earn these prizes by collecting 10 or 20 fragments of each item.
Cash Slots will give you puzzle pieces when you match 3 gift symbols in the slots.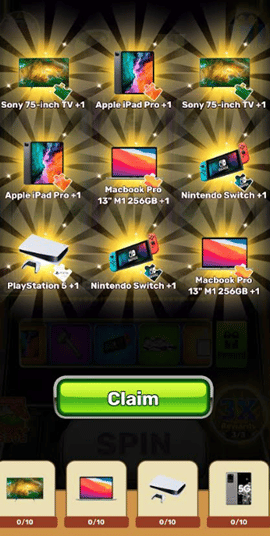 There are other ways to collect more rewards by smashing the piggy bank and inviting friends.

How to Withdraw Money?
You can either click the "cash-out" icon or the balance at the top.
The redeem page will show you a list of all the payment methods available and the withdrawal conditions.
You can choose to get paid via PayPal, Cash App, Tez, Coinbase, Messenger, and Banco Inter.
Here is the payout threshold for each virtual item you collect on the slots:
$300 – collect $300 in virtual cash.
$300 – collect 30 million coins.
$1000 – collect 100 amazon cards, 100 diamonds, 100 Gold cards, and 100 bells.
To claim gifts, you have to collect 10 or 20 fragments. In addition, you must enter your address and telephone inside the reward section.

This reward platform is going viral! Cash out via PayPal, Visa, Gift Cards, and in-game currencies - Click here to find out how to generate an extra $10+ per day! 
Cash Slots claims that your personal information will only be saved on your device and will only be uploaded when you submit a claim application.
Unfortunately, there are no guarantees they will keep your information safe.

Is Cash Slots Legit? Does it Pay? 
No, it doesn't. Cash Slots is not giving away real prizes, so you won't get paid even if you meet the conditions.
It's important to mention the developer's goal is to hook the player on the game for as long as possible.
The reason is that the more advertisement they watch, the more revenue the app generates.
So, the strategy consists of enticing players with the opportunity to cash out as long as they reach the payout threshold. It's a clever tactic that has been working for many years!
However, this is an illusion since the rewards are fake!
One thing you will notice is that the slots are rigged. So the closer you get to the $300, the more difficult it gets to match 3 cash symbols.
Eventually, you will reach $300, press the cash out button and submit your payment details.
But unlike other games, they won't ask you to watch more videos. Instead, you should wait for seven days or accumulate $500 to withdraw immediately.
Many people keep playing Cash Slots and accumulating more virtual dollars to cash out right away.
But unfortunately, the developer will never transfer the money!
Conclusion 
Please don't waste your time playing Cash Slots because it's nothing more than a boring game with fake rewards.
The developer has classified the game as Early Access, meaning users are not even allowed to publish a review to share their views.
I feel sorry for people who continually fall for such apps in an attempt to strike gold.
The level of income they advertise is nothing short of a pipe dream!
Avoid Cash Slots and any other game using cash rewards and PayPal logos as bait. They don't deserve a single penny from advertisers!
Verdict: Not Recommended 
If you want to enjoy time and location freedom by earning real money online, check out my #1 recommendation. 
Final Words
Thanks for reading my Cash Slots app review. If you have any questions, let me know in the comment section below.
Peace!