Welcome to my Step a Lot review!
I've recently come across another step counter application that supposedly pays directly via Cash App.
The commercial depicts two women with mobile phones pretending to walk. One earns $300 in a very short time, whereas the other makes $0.
The lady who did not receive any money asks her friend why she received so much money when they both walked the same number of steps.
She responds, "Well, you didn't get the real app." Just try Step a Lot!
According to the advert, the app will track your daily steps and give you a decent amount of cash. Besides, new users who log in now can get a $100 Prize!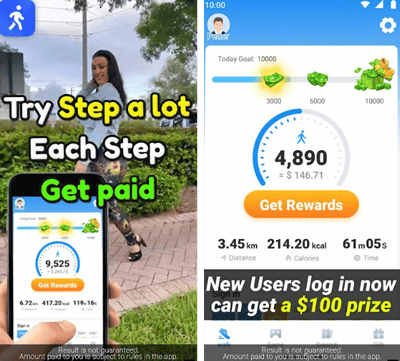 After testing hundreds of apps in the past five years, I have enough reason to believe this is just another joke to make the developer richer.
This review is for people who don't want to fall victim to games using fake money as bait! So, is Step a Lot legit or fake? Does it pay or not?
Let's find out!
Before leaving this page, check out the step-by-step system that helped me generate over $2,000 per month and quit my job in 2019.
Step a Lot Review

This reward platform is going viral! Cash out via PayPal, Visa, Gift Cards, and in-game currencies - Click here to find out how to generate an extra $10+ per day! 
Name: Step a Lot
Developer: tinatech
Availability: Worldwide
Price: Free
Payout threshold: £240
Overall Rating: 0 stars
What Is Step a Lot?
Step a Lot is another free pedometer that allows you to convert your steps into real cash rewards.
The application, created using Unity, rewards you with coins and virtual currency for walking, playing games, scratching cards, and logging in.
After I launched Step a Lot and saw its dashboard, it immediately reminded me of this step counter using fake money!
That's because it's very similar in layout, user experience, and cash incentives.
Like most fake money applications, you can only redeem if you meet certain conditions that will force you to watch many videos.
Step a Lot was released in July 2022 and has already been installed over 10k times.
How Does Step a Lot Work? 
Step a Lot is exclusively available for Android devices and free via Play.

There is no need to register and accept permissions before the app starts tracking your steps.
After you open the app, you will be prompted to enter basic information such as your name, gender, height, and weight.
Then, you must set up your daily goal from 6000 to 15000 steps. The higher your goal, the bigger the reward!
Right off the bat, you will receive a massive welcome bonus, which in the UK is £80.
Step a Lot uses a sensor to detect your movement and count your steps even if you are indoors.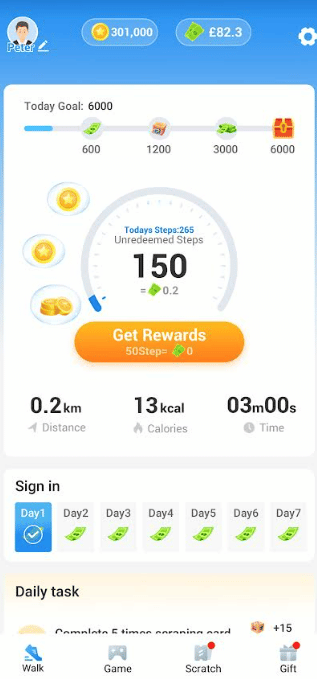 Therefore, it will count your steps and determine how many calories you burnt based on the distance you walked.
Check out the best apps to earn money instantly via PayPal! 
Collecting Rewards
Step a Lot allows you to convert them into virtual cash by clicking on the "Get Rewards" and watching a video.
In the UK, 50 steps equal approximately 1p.
By accumulating 1200 steps, you can open the blind box containing a secret gift.
You can boost your earnings by reaching daily goals, clicking reward bubbles, and completing daily tasks. For example, you will get £16 if you open the blind box seven times.
Step a Lot features three other ways of collecting coins, cash, and other amazing prizes!

1. Game
In this tab, you can play the 3D game where you must shoot and hit another cube with the same number.
As a result, the two cubes will merge into another cube of a higher number.
Whenever you unlock a new cube, you get the chance to earn virtual cash and coins.
2. Scratch
This section is pretty straightforward. Just select the scratch card and swipe your finger to reveal the images.
If you match 3 symbols, you will collect the prize. Of course, you will be enticed to watch a video to unlock additional cards!
3. Gifts
When you open the gift section, you will see the mystery box with expensive items such as MacBook Pro 13, Rolex, Chanel bag, PS5, iPhone 13, and more!
Below each gift is a target number you need to reach to claim the prize. To collect fragments, you must click the "open" button and watch the commercial.

How Do You Get Paid?
Open your wallet by clicking on either the coin or cash balance at the top.
Then, choose a payment option, such as PayPal, Cash App, Paytm, Tez, Coinbase, Alipay, and others.
You can redeem £240 by accumulating £240 in your cash balance or 3 million coins.
According to Step a Lot, your rewards will be sent to your account within 2 – 15 business days.
Is Step a Lot Legit? Does it Pay? 
No, it doesn't! Step a Lot won't transfer the massive £240 prize even if you meet the requirements.
I am confident because no business could ever afford to give away that much money for using their free services.
This app is only a gold mine for the developer, who uses your time to generate advertising revenue.
I read the Terms of Service and discovered some important information regarding virtual items.
It says you have no right or title to any virtual goods or currency appearing on the services.
Therefore, the developer has no obligation to pay you since you don't own any amount of cash in your balance.
Conclusion 
Step a Lot requires you to watch countless videos in exchange for tokens and virtual cash.
It's all about making profits by making you believe you can cash out, but the reward is fictitious!
I haven't heard of anyone receiving hundreds of dollars just for walking and watching videos on their smartphones.
So, I am confident you won't receive any more despite your time and commitment.
Sadly, there is no money-making pedometer worth installing on your device. They are a complete waste of time, data, and battery!
If you want to earn pocket money using your smartphone, check out this legit GPT site. You can earn by installing apps, subscribing to free trials, and participating in interesting surveys!
I've cashed out hundreds of times on this site, and it's never missed a single payout.
Final Words
Thanks for reading my Step a Lot review! If you would like to share your experience with this application, kindly leave us your comment below.
Peace!