Welcome to my Mini Pet Blast Puzzle review!
Every day, I get bombarded by advertisements about unrealistic money-making applications!
So much so that I can't keep up with the demand for fresh game reviews on my site.
But I do my best to focus on apps that are either viral at the time of writing or have the potential to become such.
One of these applications is Mini Pet Blast Puzzle, another elimination game where you can eventually withdraw $100 via PayPal. 
The developer entices people to blast pets of the same color and watch videos in exchange for virtual dollars. But does it actually pay? Is Mini Pet Blast Puzzle legit or fake?
Read this post to save time and avoid unnecessary frustration!
Before you leave, discover the step-by-step program that helped me reach $2,000+ per month from my laptop, and quit my day job. No special skills are required!
Mini Pet Blast Puzzle Review 
Name: Mini Pet Blast Puzzle
Developer: Seru Studio
Eligibility: Worldwide
Prize: Free (no in-app purchases)
Payout Threshold: $100
Overall rating: 0 stars
What Is Mini Pet Blast Puzzle?
Mini Pet Blast Puzzle is a match puzzle game where players receive virtual dollars for eliminating identical animal blocks.
The money can supposedly be transferred to the Player's PayPal account once the requirement is met. So, you must play for a long time before requesting the payout.
Mini Pet Blast Puzzle is 100% free and funded entirely by advertisements. But unlike other games, you will be enticed to watch a video in exchange for rewards.
This type of incentive boosts the number of videos individuals watch since they must achieve the target to cash out.
Not only that, but more people will install and play the game due to the expectation of making easy money.
How Does Mini Pet Blast Puzzle Work? 
Mini Pet Blast Puzzle is available for your Android smartphone or tablet on Google Play.
The game features a grid with pets of different colors.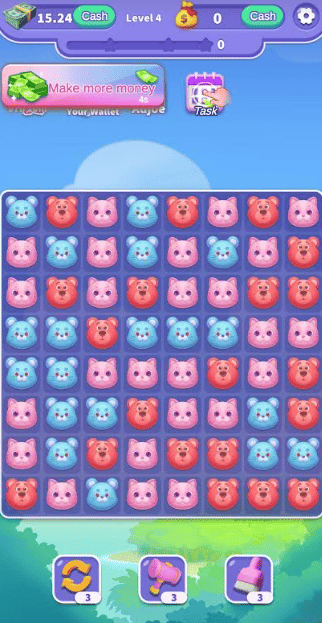 You must eliminate them by tapping on animals that are adjacent to at least one other identical animal.
The objective is to clear the stage by destroying as many pets as possible while earning points and stars.
Sometimes, you will see a treasure chest that rewards you with cash bonuses if you open it and watch the commercial.

When you complete a level, you will receive a few cents of a dollar, which you may double by clicking "Double reward" and watching the video.
Mini Pet Blast Puzzle also allows you to earn tokens by installing and playing sponsored games.
Click on the "make more money" icon and allow usage tracking.
Then, install any game on the list through the Play Store and play it to accumulate the virtual items.
The company will then track your playtime and give you the tokens you can supposedly exchange for real money.
How to Withdraw Your Funds? 
You may have noticed that Mini Pet Blast Puzzle offers two different currencies.
The virtual dollars you win by playing the elimination game can only be redeemed after you have reached $100.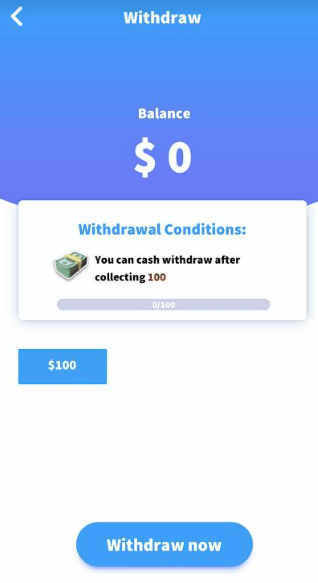 If you play the game continually, you may collect this amount with 2 or 3 hours of gameplay.
As for the tokens, they can also be traded for cash rewards. You need at least 40k Tokens to redeem the minimum payout threshold of $1.
Check out my #1 recommendation for making real money online! 
Is Mini Pet Blast Puzzle Legit? Does it Pay? 

Mini Pet Blast Puzzle may pay $1 to a few lucky users who collect 40k tokens.
But that's all it can offer to entice the person to play more and help the developer generate more profits.
It takes ages to accumulate the $100 mark so you can finally cash out. That's because they will be giving you $1 or a few pennies after watching 30-second videos.
Two possible outcomes exist for those who meet the minimum cashout amount and try to withdraw the money.
They may ask you to watch a specific number of videos to activate the order.
They let you cash out and ask you to wait for a few days. However, the funds will never be sent to your bank account.
If you experience the first option, I strongly advise you not to view any more videos since it's useless!
Have you noticed that the app's description on Google Play doesn't even mention cash rewards?

This reward platform is going viral! Cash out via PayPal, Visa, Gift Cards, and in-game currencies - Click here to find out how to generate an extra $10+ per day! 
Furthermore, the game does not include the Terms of Service, showing a complete lack of payment accountability.
The trend nowadays is to advertise the games as an opportunity to win big money without actually having to reward anyone!

Bitcoin Blast is perhaps one of the few elimination games that pay out! 
Conclusion 
Mini Pet Blast Puzzle is another unoriginal game where players are lured into watching countless videos to make money.
However, the virtual currency is worthless since the developer is not obligated to pay users who meet the requirements.
I don't recommend playing this game, even if you do it for fun.
The reason is that developers may reinvest their profits into other fake money games, attracting and frustrating thousands of people.
Unfortunately, all we can do is warn people about such games, so they learn how they operate and avoid similar applications.
Earn A Full-Time Income Online
More and more people are making good money by creating helpful content and helping people find answers to their questions.
Thanks to this excellent step-by-step program, I set up this review blog that attracts thousands of visitors daily.
Operating a lucrative site is life-changing because it gives me the freedom to work whenever I want and at my own pace!
Final Words
I hope my Mini Pet Blast Puzzle review was helpful. If you have any queries or thoughts about this application, please leave us a comment below.
Peace!