Welcome to my Givvy Radios review!
I was browsing YouTube's recommended videos when I saw a channel promoting Givvy Radios.
The advert included a screenshot of a USD 1,04 PayPal payment made by the company Appsession LTD and stated that Givvy Radios was paying.
Since I am a big fan of passive income, I thought it could be an excellent opportunity to earn money while listening to the radio.
However, I didn't get my expectations up because finding a decent money-making app is becoming increasingly challenging these days.
In this review, I will uncover everything you need to know about Givvy Radios and give you my honest opinion. Is it legit? How much money can you make?
Let's find out!
Before leaving my blog, check out the step-by-step system that helped me generate $2,000+ per month and quit my job in 2019.
Givvy Radios Review
Name: Givvy Radios, Listen and Earn!
Developer: Givvy
Payout Threshold: $0.19
Price: Free (no in-app purchases)
Overall Rating:

2.3 stars
What Is Givvy Radios? 
Givvy Radios is an Android app that pays you to listen to your favorite radio stations anywhere in the world.
You will receive coins just for leaving the application open while you listen to songs and podcasts. It works similarly to their other popular app, Givvy Videos.
When you have accumulated the required number of coins to cash out, your coins will be automatically converted to USD for withdrawal.
The great thing about it is that you can listen to the music you love and earn money every day, everywhere you go.
Givvy Radios emerged in May 2022 and has since been installed over 50,000 times.
With more people looking for legitimate apps to earn passive money, I imagine this figure will skyrocket in the coming months.
The company also pays users for playing games through the popular Givvy app. 
How Does Givvy Radios Work? 
Like most money-making applications, Givvy Radios is entirely funded by advertisers.
Therefore, the company shares its revenue with users for being exposed to adverts while using the app.
Givvy Radios is currently only available on Android devices and is 100% free!
After launching the app on your smartphone or tablet, you must agree with the TOS and sign up with either Facebook or Google.
Then, you can browse millions of radio stations across almost every country.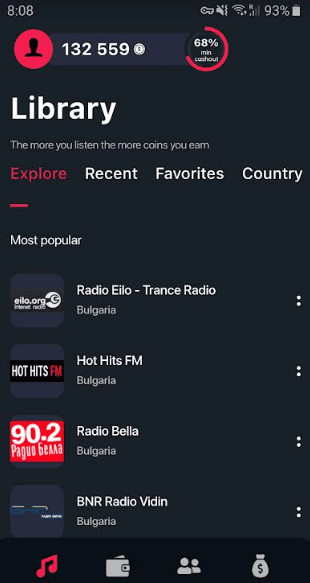 The app allows you to explore the most popular radios and add some to your favorites tab.
How do You Collect Coins?
Givvy Radios will award you coins from time to time just for staying in the app.
It's worth noting that you don't have to be listening to a song or podcast to receive them. Besides, you won't earn more money for doing so.
The coins will be credited to your account instantly as long as Givvy Radios displays advertisements to you.
There will be a persistent banner at the bottom and frequent videos you must watch before collecting coins.
That's to ensure users are exposed to the commercials that generate revenue for the developer.
It's very annoying when you are interrupted by a video while listening to a song you love.
How Much Money Can You Earn With Giggy Videos?
First, it's essential to know that 10,000 coins are equivalent to 0.01 USD.
You can always check your balance in US Dollars by opening your wallet, where you can also withdraw your money.
In the beginning, Givvy Videos will give you hundreds or even thousands of coins per minute, depending on their budget.
It's hard to predict how much money you'll make because the coin per minute rate drops significantly over time.

Boost Your Earnings! 
Since earning coins passively takes a long time, you may want to perform some tasks to collect more coins.
The easiest but least profitable alternative is taping the gift symbol at the top and watching a video.
Another option is to complete offers and online surveys from third-party platforms like TapJoy, Fyber, OfferToro, Pollfish, Bitlabs, and more.
Most of these offers revolve around installing a sponsored app and reaching a specific goal to receive the coins. They will help you earn anywhere between 10k and 20 million coins.
You can also invite friends and ask them to install Givvy Radios through your unique link. As a result, the company will pay you 10% of their cashout.

This reward platform is going viral! Cash out via PayPal, Visa, Gift Cards, and in-game currencies - Click here to find out how to generate an extra $10+ per day! 
Your friend will also receive 0.02 USD for doing so. So, copy the link and share it with those who may want to get paid for listening to the radio.

How to Withdraw your Funds? 
Givvy Radios allow you to cash out using several payment methods.
Each method has a minimum withdrawal amount that must be met before receiving the money. Here is the full list of requirements:
Payeer: 0.19 USD (instant)
Airtm: 0.19 USD (instant)
Coinbase 0.19 USD (instant)
Perfect Money: 1.04 USD (instant)
Advcash: 10.4 USD (instant)
Amazon: 0.69 USD (3 days)
PayPal: 1.04 USD (3 days)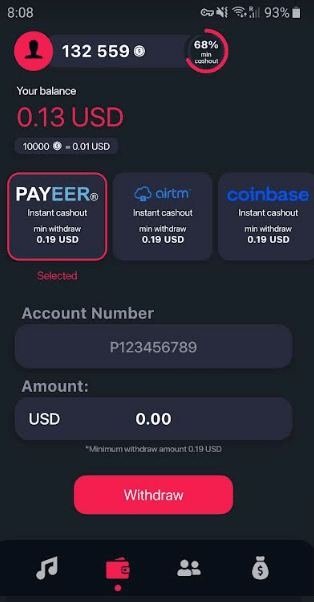 To cash out, open your wallet, enter your account email or number, and click "Withdraw."
Pros and Cons
Pros
Earn money with no effort.
There are several payment methods.
Very easy to use.
Earn 10% referral commissions.
Cons
Very slow earnings.
It takes ages to reach the minimum withdrawal amount.
There are frequent video adverts that will interrupt your music.
You cannot listen to music in the background. The app must be open to play songs and earn!
Is Givvy Radios Legit? Does it Pay? 
Givvy Radios is a legitimate application, but very few users report making money with it.
The reason is that it takes ages to collect 190,000 coins (0.19 USD), and many people are fed up with watching the commercials.
The problem with Givvy Radios is that it starts by giving thousands of coins per minute. So, it gives the impression that you will be able to cash out after 2 or 3 hours at most.
However, the closer you get to the payout threshold, the fewer coins it awards per minute, making it a very frustrating experience.
It's unfair to make users watch all those videos and decrease their earnings to nurture false expectations.
If it were easy to cash out, many positive reviews would report successful cashouts. But that's not the case!
Lots of users struggle to reach even the minimum cashout of 0.19 USD!
I can relate to them because after reaching 68% of the minimum cashout, the coins started adding up very slowly.
Conclusion 
Givvy Radios is a legit Android application with a great concept but poor execution.
The company behind this app is reputable and will probably transfer the money to users who meet the cashout requirement.
However, they use the same tactic as many other developers who decrease earnings and make it hard to withdraw.
To collect coins, you only need to keep an eye on it and close the video when it has finished playing.
The problem is that videos consume a lot of data, and you will make only a few pennies despite using them for a whole day.
Initially, I was very excited to use Givvy Radios despite the frequent commercials.
But the magic was over when I realized I would have to spend a lot more time to collect my first payout.

Earn A Full-Time Income Online
I know how frustrating it is to receive pennies while developers make thousands of dollars through their money-making platforms.
If you want to benefit from the power of the internet and put yourself in a better position, I suggest you build an online business.
It will allow you to work remotely and earn a living without being tied to a job contract. This means you will enjoy the freedom to do whatever you want with your time!
This excellent step-by-step program helped me build an affiliate website and generate excellent revenue that covers all my expenses.
Click here to learn more and start today! 
Final Words
I hope this post has helped you better understand the Givvy Radios app and what you can expect from it.
If you have any questions or thoughts, please leave them in the comment box below.
Thanks for reading!
Peace!