Welcome to my Words Champ review!
I recently downloaded Words Champ, a game that claims to pay out excellent cash prizes.
This application is practically an exact replica of many other word puzzle games such as Word Safari and Word Fuse.
By completing word puzzles, players earn virtual currency that can be exchanged for real money via PayPal and gift cards.
I am not talking about a few cents here and there but hundreds of dollars! 
All of these casual Android games that entice people with lots of money have been proven to be fake time and time again.
So, there are a good chance Words Champ is a complete waste of time. That's why you are here!
In this review, I will show you everything about this game and whether they will transfer the money to your PayPal. Is it legit? Let's find out!
Best recommendation: I achieved 2,000 US Dollars per month and quit my job in 2019 thanks to this step-by-step plan. A free registration is available!
Words Champ Review
Full Name:  Words Champ
Developer: ZQ Fun
Payout Threshold: $500
Price: Free (no in-app purchases)
Overall Rating: 0 stars
What Is Words Champ?
Words Champ is another word puzzle game where players link letters on a circular table to unlock words.
As you know, it awards virtual dollars and coins whenever you guess a word and complete the level.
The crazy thing about this game is that it allows users to cash out at least $500 via PayPal and $100 in gift cards.
Words Champ is operated by ZQ Fun, the same developer behind another money game called Rich Farmer.
How Does Words Champ Work? 
Words Champ is entirely free to download and play on your Android device. You can install it on the Play Store and start playing immediately!
Right after launching the game, the developer will give you a list of several payment methods, such as PayPal, Paytm, Coinbase, and Tez.
Pick your favorite one and enter your email twice to bind your account.
The amount of cash earned by playing Words Champ will supposedly be sent to this account after meeting the requirements.
Right off the bat, you will earn a newcomer bonus of $150 and 3,000 coins. Next, click the "Level 1" button to start the game!

How to Play Words Champ? 
Try to guess which words can be formed by linking the letters on the round table.
Then, Swipe the letters to connect them and reveal the hidden word.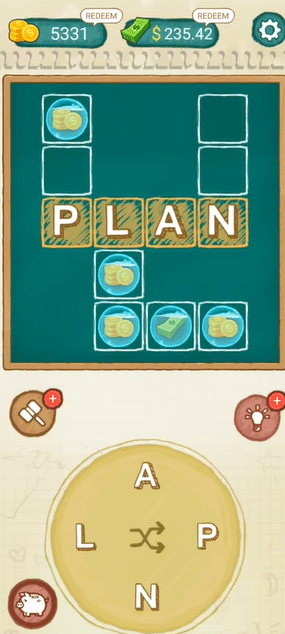 The objective is to complete the level by unlocking all the words in the crossword puzzle.
It's pretty simple to solve in the beginning when words have just 2 or 3 letters. However, it becomes increasingly difficult when you have to play with 4 or 5 letters.
The good news is that if you get stuck, you can tap the "Hint" button to reveal a letter.
There are two ways of collecting coins and virtual cash in the game.
The first is by inserting letters where you find coins or banknotes inside bubbles. The other is completing levels, which give the highest cash prizes.
However, you must tap the "Claim" button and watch the video (advert) until the end to receive the reward.
How Do You Get Paid? 
Words Champ says on the redemption page that any money received within 24 hours will be sent to your PayPal account.
However, the minimum amount you can redeem is £500.
It's also possible to exchange at least 18888 coins for $100 Gift cards from popular retailers like Amazon, Sephora, Adidas and Nike.

Is Words Champ Legit? Does it Pay?
No, it doesn't! Like the other games I mentioned, it will not transfer any money to your account.
Words Champ is another app designed to steal your time while the developer profits from all the commercials you watch.
After accumulating £500, they say you must watch 60 videos within 2 days to activate the order.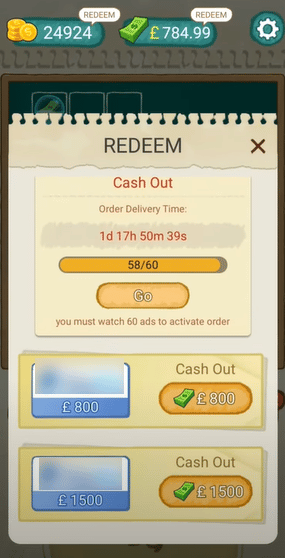 What many players don't realize is that such activation doesn't mean real money in their pockets.

This reward platform is going viral! Cash out via PayPal, Visa, Gift Cards, and in-game currencies - Click here to find out how to generate an extra $10+ per day! 
Sadly, they will try to complete this requirement only to be positioned in a fake queue with thousands of "people" ahead of them.
Now, they are enticed to watch up to 20 videos to get in front of the queue and finally get paid.

Here is a report from one player who tried to meet all the conditions:
"I finally dropped to 6 people on front of me and today when I log in, every amount of cash I supposedly won, was gone. The reason, an unknown error. Now let's not mention not a single penny of money was returned to me but the offered a couple other prizes which took from the other cash I had won."
Yes, they will tell you there is an error when you try to cash out.
You will watch over 150 videos that generated revenue for the app developer, but he won't share a single penny with you.
Conclusion 
Words Champ may be a nice word puzzle game that exercises your brain and helps you pass the time.
However, the developer is making players believe they are collecting real dollars that will be eventually transferred via PayPal.
That will never happen since the app is not profitable enough to pay over £500 to every player who try to do the challenge.
The only thing you will get is an error message after watching hundreds of videos that benefited the developer.
Please, don't fall for it!
If you want to earn a little extra cash using your mobile device, there are plenty of options. Here is one of the best reward apps I have reviewed! 
Final Words
Thank you for reading my Words Champ review. I hope it was helpful! If you have any questions out thoughts about this game, please leave a comment below.
Peace!