Welcome to my Witch Gems review!
Thousand of people have installed Witch Gems for the opportunity to make a decent amount of money!
The advertisement tries to persuade the public that this elimination game pays $100 directly to the user's PayPal account.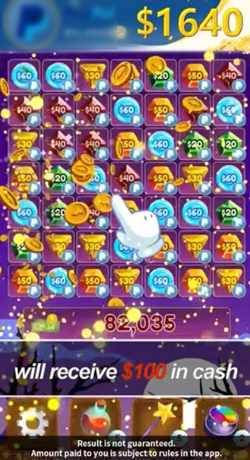 Like hundreds of fake games, it shows thousands of dollars right at the top with a big PayPal logo on the side. It's almost as if you've discovered a gold mine!
I decided to install and review Witch Gems after receiving numerous review requests. So, is it legit or fake? Does it pay or not?
Let's find out!
My Top Recommendation: Discover the step-by-step program that helped me build an online business and generate $2,000+ per month. Join today and start the first ten free lessons here. 
Witch Gems Review 
Full Name: Witch Gems – Merge Fantasy
Developer: AnthonyC
Eligibility: Worldwide
Payout Threshold: $1000
Price: Free (no in-app purchases)
Overall Rating: 1/5
What Is Witch Gems?
Witch Gems is a match-3 puzzle game similar to the famous Candy Crush and many others!

This reward platform is going viral! Cash out via PayPal, Visa, Gift Cards, and in-game currencies - Click here to find out how to generate an extra $10+ per day! 
Since its release in May 2022, the app has been downloaded over 50K times and rated 4.3 stars on Google Play.
What makes Witch Gem so appealing is the possibility of making over $1000 by meeting the payout threshold.
Simply match at least three gems to be eligible for incredible cash prizes ranging from $10 to $102!
Sounds too good to be true, right? So, let's dig deeper to find out how it actually works.
How Does Witch Gems Work? 
Witch Gems generates revenue by bombarding players with advertisements. So, they get paid for you to watch all those commercials!
Most videos try to convince everyone they can make money just by playing casual games as if money grew on trees!
That's how developers attract eyeballs even though their apps are nothing special.
Witch Gems is available for free, and you can start playing immediately after a quick installation from the Play Store.

Swipe diamonds to match three with the same color and make combos.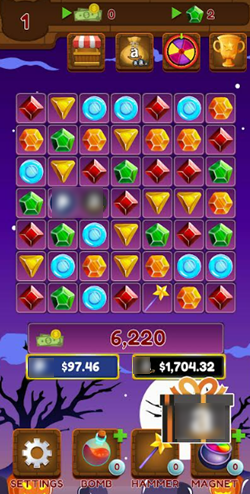 As you eliminate the gems, you will receive cash prizes after selecting "Claim" and watching the commercial.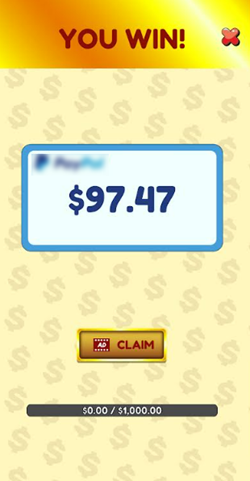 The dollars are deposited in your virtual PayPal or Amazon balance, which you can cash out later.
You can collect more cash rewards by collecting "Joker" diamonds with any two diamonds of the same color. These unique gems are stamped with the PayPal or the Amazon logo.
Witch Gems gives an insane amount of cash regarding Amazon prizes. For example, my first Amazon reward was $1,704!
Drag bonuses on the board to eliminate diamonds faster and boost earnings.
How to Withdraw Your Fund? 
Once you exceed the minimum payout threshold, you can cash out via PayPal or Amazon gift cards.
You can cash out $1000 via PayPal after 24 hours or as soon as you collect $1,000.
As for Amazon, the minimum payout is a whopping $10,000!
Yes, you heard that right! So, even though you make over $1000, you cannot redeem until you get to $10,000!

Is Witch Gems Legit? Does it Pay? 
No, it doesn't! Witch Gems initially gives you decent cash rewards, but your winnings gradually decrease as you get closer to the target amount.
It follows a similar pattern to hundreds of other fake money games.
Once you are just $10 away from the goal, prizes drop to less than 5 cents at a time, making you feel like a donkey chasing the carrot.
As if it wasn't bad enough, they require you to watch an extra 60 videos before receiving your earnings.
But then again, they add another requirement and ask for another 80 videos!
Many people have left reviews on Google Play warning others that they haven't seen any money despite meeting all the requirements.
Another vital thing to note is that Witch Gems lacks the TOS (Terms of Service), which means the company is not upfront with users.
Without this document, the user cannot take legal action against the company since it's not making any guarantees.
This is a big issue in the mobile gaming industry as more people feel cheated for not receiving their cash rewards.

Conclusion 
Witch Games isn't worth a single star!
You will waste your data and time watching countless adverts that only benefit the developer.
It makes it seem very easy to earn large sums of money only to drag you in and get you to watch hundreds of videos.
Sadly, the cash rewards are entirely fake as no company would give so much money just for playing a free casual game.
I strongly advise you to be wary of these get-rich-quick apps because they may also collect information from your device.
If you fell for it and are feeling frustrated, don't beat yourself up! Instead, turn the page, learn from this bad experience and move to the next chapter of your life.
Luckily, there are legit platforms where you can get paid for playing games and installing other apps. Of course, it's just pocket money, but at least you can monetize your playtime! Here is my top recommendation! 
Verdict: Not Recommended 
Earn A Full-Time Income Online
If you want to make a good living online, I highly recommend content marketing.
Thanks to my online business, I was able to quit my job in 2019 and embark on a grand adventure throughout South East Asia.
I couldn't have achieved my entrepreneurial goals without the help of Kyle and Carson.
These two expert marketers have created an incredible community to mentor individuals of all backgrounds in developing profitable niche sites.
You don't need any previous experience in web design or marketing to get started!
Build your passive income site today and achieve success online! Begin your journey today by clicking here!
Final Words
Thank you for taking the time to read my Witch Gems review!
So, what's your honest take on this match-3 game? Please leave a comment below to help everyone on the same boat.
Peace!