Welcome to my Lucky Cash review!
I came across Lucky Cash through one of those tempting commercials making absurd claims like:
"Come and get a $500 new player bonus!"
"I just won another $960 from this game, which was just sent to my PayPal account!"
The lady then shows her PayPal account with lots of payments the Lucky Cash app supposedly made. Here is a screenshot from the mobile advert: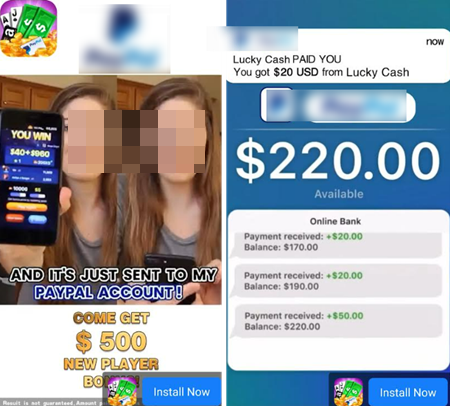 Since my mission is to help people save time and make the most out of their online activities, I decided to install Lucky Cash and find out whether it's legit or fake.
Does it pay, or is it a complete waste of time? Let's find out!
Before leaving this page, don't forget to check the step-by-step program that helped me generate over $2,000 per month and quit my job in 2019. Free membership is available here! 
Lucky Cash Review
Name: Lucky Cash: Spin to Win
Developer: Heyu Studio
Payout Threshold: $1000
Price: Free
Overall Rating: 0 star
What is Lucky Cash?
Lucky Card is an Android card game where you collect virtual dollars for stacking cards up to 21.
The application uses the PayPal logo and suggests that you can cash out once your balance reaches $1,000.
Since the game is entirely free, it's hard to believe the money will be transferred to the player's account.
After all, the developer would have to possess more money than the central bank to pay every one!
How Does Lucky Cash Work?
The game is available on the Play Store for Android users worldwide.
The first step is to follow a quick tutorial showing you how to stack the cards. Then, you must drag the card to any four columns to add up to 21.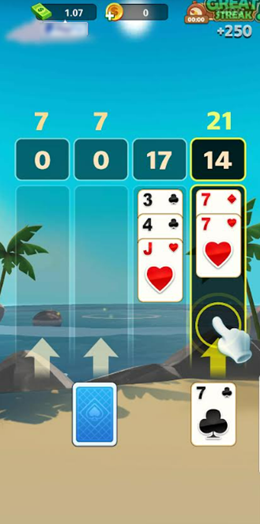 Going over 21 will bust the stack, and you will get a strike. The game is over if you get three stacks, but you can always play it again!
Note that face cards are worth two, whereas the other cards are worth their face value (2, 3, 4, etc.).
Here are some tips to get the most out of Lucky Cash:

5-Card stacks score a bonus even if they are below 21.
Clear Stacks on back-to-back turns to score a streak bonus.
Use the Undo button to peak ahead and plan your streaks.
Score more than one way at a time for a combo bonus.
Scoring 21 with five cards can get you even more points.
Black Jacks are wild and clear any stack.
Wild cards clear stacks even if they go over 21 or have no cards!
Keep in mind that each game has a 3-minute limit, and you will earn a time bonus if you finish early.
In addition, you will earn 10 points for every second left on the clock when you finish the deck.
Earn real money with these top-rated apps! 
Earning Cash Rewards
When you clear a stack, you will earn a large sum of money, which will be deposited straight into your cash balance.
Also, you can open the mystery treasure and win more rewards once you complete the progress bar and watch a video.
Complete bonus quests such as achieving a specific score allow you to open the mystery chest and collect money.
After reaching $1000, Lucky Cash allows you to withdraw the money with PayPal.
Lucky Draw
The game will also give you puzzle pieces that can be traded for excellent prizes, such as Apple iPad, MacBook Pro, "Dyso" hp04, and more.
You must open the lucky draw section by clicking the "Prize" icon at the bottom. Then, Tap "spin" and collect enough fragments to claim the product.
Is Lucky Cash Legit? Does it Pay?
No, it doesn't! Lucky Cash won't transfer a single penny to your PayPal account. Let alone thousands of dollars!

This despicable application feeds you the illusion of easy money just so you watch a lot of commercials that make them money.
Like most Unity games, you will just collect fake dollars while the developers laugh all the way to the bank!
The payout is excellent until you approach the cashout limit. So, it starts paying $2 – $100, then drops to pennies.
Furthermore, Lucky Cash won't give you the amount they owe you if the bonus chance appears. It's very disappointing!
Some people report their cash balance was wiped out, going back to $0 without any explanation.

This reward platform is going viral! Cash out via PayPal, Visa, Gift Cards, and in-game currencies - Click here to find out how to generate an extra $10+ per day! 
Conclusion 
Lucky Cash is great for passing the time and killing boredom, but making real money from it is a pipe dream.

It takes a long time to collect $1000 and click the redeem button.
As a result, you may have to watch hundreds of videos before requesting the payout.
But unfortunately, the company will not pay you even after meeting all the conditions set in the app.
This game is full of red flags, so I highly advise you to avoid it and join legit platforms like Prizerebel and Freecash.
These programs have repeatedly been proven to be very reliable and won't block your account for no reason.
Final Words
Thanks for reading my Lucky Cash review! I hope this post helps you understand how it works and why it's essential to do proper research before installing any application.
If you want to ask questions or share your thoughts about this game, please drop us a comment below.
Peace!