Welcome to my Funny Play review!
I've discovered hundreds of new reward applications making absurd income claims in the last few months.
One Android app that caught my attention recently was Funny Play, which supposedly transfers $100 – $300 to your PayPal account.
All you have to do is try sponsored applications and receive tokens based on how much time you spend using them.
From my vast expertise with reward apps, I can tell you that the minimum payout promised is completely unrealistic!
Despite my concerns about Funny Play, I decided to give it a shot to discover the truth and help people who want to make money online.
So, is Funny Play legit or fake? Does it pay after reaching the payout threshold? Let's find out!
Before leaving this page, don't forget to check the step-by-step program that helped me generate over $2,000 per month and quit my job in 2019. Free membership is available here! 
Funny Play Review
Name: Funny Play
Developer: taoplayGame
Payout Threshold: $100
Price: Free
Overall Rating: 0 star
What Is Funny Play?

This reward platform is going viral! Cash out via PayPal, Visa, Gift Cards, and in-game currencies - Click here to find out how to generate an extra $10+ per day! 
Funny Play is an application that supposedly compensates users for installing and using third-party apps.
It follows the same concept as popular reward platforms like Mistplay, Cash Giraffe, JustPlay, and many others.
The main difference is that instead of paying $1 – $10, it claims to transfer $100 – $300 via PayPal and gift cards.
So, what's so remarkable about Funny Play that allows the developer to pay ten times more?
Of course, this is a significant red flag that should not be ignored!
After all, millions of people are getting tricked into playing games for hours in return for nothing.
How Does Funny Play Work?
You can install Funny Play for free and start collecting rewards without registration.
This is another red flag since most legit apps require users to sign up using an email or social media account.

After loading the app for the first time, you will receive a welcome bonus of 200,000 tokens.
But how much money are all these tokens worth?
To find out, I opened the "Redeem" tab, where it shows different cash-out methods and amounts.
The minimum cashout requirement is 1 million tokens, which is equal to $100.
Therefore, Funny Play is giving you $20 to start, which is too good to be true!
How do You Collect Tokens?
After collecting your bonus, Funny Play will encourage you to install and play two games to get 300,000 tokens.
You can explore more applications by tapping "Discover."
There is a vast list of mobile games and other types of apps giving you over 500,000 tokens ($50).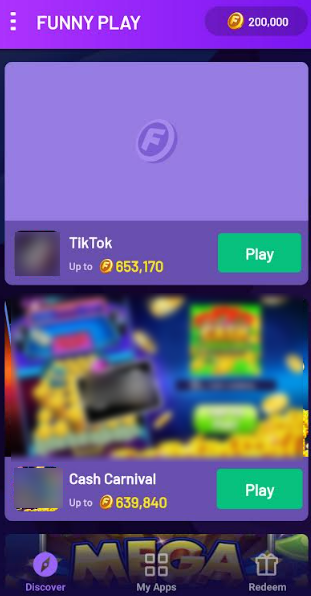 All you have to do is tap the "Play" button, install the app on the Play Store and use it.
The more your play, the more tokens you will earn!
Another suspicious fact is that I Funny Play doesn't ask users to activate usage tracking, which is a standard practice among similar apps.
This procedure allows developers to monitor which apps you have installed on your device and your playtime.

So, the question is: How can Funny Play reward users for playing without permission from the device owner?
How to Transfer Your Funds?
The developer makes it seem very easy and convenient to get paid.
After reaching $100, open the redeem page and select your payment method, including PayPal, Google Play, and Amazon gift cards.
As I mentioned, you will need at least 1,000,000 tokens to redeem $100.
Is Funny Play Legit? Does it Pay?
No, it doesn't!
First, I had a terrible experience with Funny Play because it glitched every time I tried to install a game from the list.
Upon clicking "Play," it activated my chrome browser instead of Google Play.
Next, the browser closed immediately, and I couldn't collect any tokens because of this annoying glitch.

So, I headed to Google Play's review section and realized the app is still in Early Access.
That's not good news because it prevents anyone from sharing opinions and experiences.
Let's assume Funny Play is working for you and that you can earn enough tokens to cash out.
Sorry to inform you, but you won't receive your money unless the company decides to select one lucky user to prove that users have a chance of winning.
If that's the case, what are the odds? How many prizes are given away?
Since there is no transparency, it's hard to believe people are receiving $100 just for playing a couple of games.
Therefore, there is a high chance the reward is fake!
Conclusion
There is no evidence to support that Funny Play is an actual money-making application.
Unrealistic payouts, no tracking permission, lack of transparency, and Early Access are the most relevant red flags. So, don't waste your time!
Many reputable platforms reward people for completing game offers.
If you live in the USA, JustPlay is the best option focused on games.
But to increase your earning potential, I highly recommend a reward program that pays you to complete different offers and surveys.
Check out my list of the best gpt (get-paid-to) sites here!
Final Words
Thanks for reading my Funny Play review! I hope it was informative enough and that it helps you make an informed decision.
Please share your thoughts in the comment box below if you want to contribute to this post.
Peace!