Welcome to my Huuge Box review!
Perhaps you saw an advertisement featuring a girl holding a large pile of cash!
She was bragging about making that much money in one night, thanks to a reward app called Huuge Box.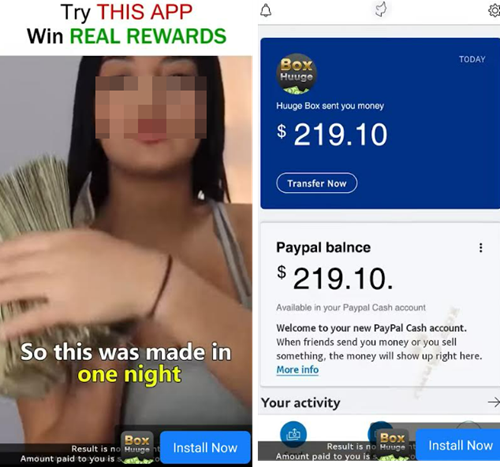 The commercial showcased a fictitious cash balance on top of the video and a $219 payment in someone's PayPal account.
The platform claims you can win $1,000 via PayPal and promises that it's real and effective!
I decided to install and review this app because it's attracting thousands of users who may be very disappointed.
Furthermore, I know that the best way to fight fake money games is to expose them for what they truly are.
So, is Huuge Box legit? Will they transfer the money to your PayPal account?
Let's find out!
My Top Recommendation: Discover the step-by-step program that helped me build an online business and generate $2,000+ per month. Join today and start the first ten free lessons here. 

This reward platform is going viral! Cash out via PayPal, Visa, Gift Cards, and in-game currencies - Click here to find out how to generate an extra $10+ per day! 
Huuge Box Review
Name: Huuge Box
Developer: Paulet team
Availability: Worldwide
Price: Free
Threshold: $1000
Overall Rating: 0/5
Huuge Box Review
Huuge Box is a reward app where you can play free games on your Android and possibly earn substantial sums of money.
When I heard about this application, I was confident it would not behave like legit applications such as Cash Giraffe, Cash 'em All, and JustPlay.
The reason is that Huuge Box is advertised as if it could pay hundreds of dollars, which is totally unrealistic.
But as soon as I landed the dashboard, I knew precisely what to expect from it because it's almost identical to Royal Coin Box, except for one thing:
It gives virtual dollars instead of free Robux.
How Does Huuge Box Work? 

Huuge Box is a free application available to Android users worldwide.
When you first launch the app, the developer will welcome you and ask you to choose one of these six payment platforms:
PayPal PicPay, Coinbase, Dana, Ovo and Amazon gift cards.
Next, you must bind your account email or number so that you can supposedly receive the money accurately.
After that, it shows a progress bar and entices you to collect 1000 USD to redeem.
The dashboard consists of a list of recommended games you can play immediately through Huuge Box. So, you won't be directed to Google Play to download them!
It's also full of banners from Google!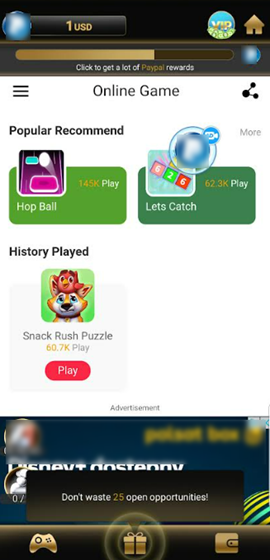 Note there will be a bubble floating on your screen while you play the game. If you select PayPal, this bubble will have the PayPal logo.
Whenever you tap the bubble, Huuge Box will activate a commercial before making a deposit to your virtual account.
You can earn extra cash incentives by touching the progress bar at the top of the screen and viewing the video as usual.
Then, wait 10 seconds until the progress bar is completely loaded to earn again.
Unlike other legit applications, Huuge Box doesn't track your gameplay, so it won't reward you based on the time you play them.
They only care about users watching as many videos as possible since that's how the developer gets paid by advertisers.

How do You Get Paid? 
You can only withdraw the money after you collect at least 1000 USD in your cash balance.
Once you do, open your wallet and click the redeem button.
Huuge Box claims it will generate a redemption code you must use on the official PayPal website to redeem.
That's very suspicious because PayPal doesn't require any code to request the payment through the platform.
Instead, the user only needs to submit their email address so the business can send the funds without additional steps.
Mystery Chest
Huuge Box also features a gift section where you open the mystery chests to collect incredible prizes such as Rolex, PS5, AirPods, iPhone 13, and more!
It entices you to watch two videos to earn a free mystery box raffle. However, there is no other information about the sweepstakes, which is a big red flag. 
VIP Benefits
Huuge Box is also after your hard-earned money with more audacious claims.

It's offering a VIP membership for $3.99/week with the promise of allowing you to withdraw multiple times.
Furthermore, in-game video viewing will be increased by USD 10. Without a VIP activated, you can only collect 100 USD at a time.
Please do not upgrade until you have finished reading the next section, or you will be terribly disappointed.
Is Huuge Box Legit? Does it Pay? 
No, it doesn't! Huuge Box won't transfer any money to your account even after meeting all their conditions.
It takes approximately half an hour to collect 1000 USD. Once you achieve the target, it will prompt you to redeem the cash prize, but there is a catch:
You need to watch 25 videos to activate the order within 24 hours. Otherwise, it will be invalid, and you will lose the money.
Another alternative is to pay 1.99 USD to activate the order immediately.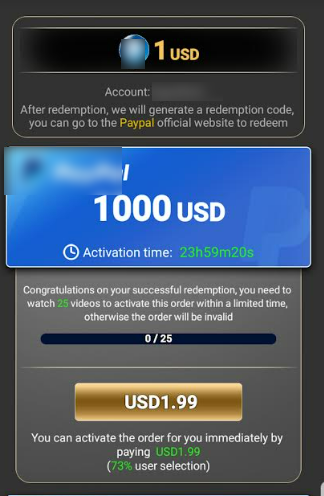 Please, don't pay this fee because this is not an actual money-making application. The money is fictitious, as in countless other applications I've reviewed on this website.
Likewise, the prizes in the Mystery Chest section are an illusion to make you watch even more videos!
Conclusion 
Huuge Box is another fake reward app designed to prey on your time while the developer capitalizes on advertisements.
If that wasn't bad enough, they offer VIP benefits for $3.99/week and instantly withdrawals for $1.99.
Therefore, many people are wasting time and money on this application in exchange for no rewards.
Please, don't trust any advert that claims you can earn hundreds of dollars since honest developers are not willing to pay more than $2!
Besides, don't forget to do proper research before installing games and apps that offer cash incentives. Most of them are not worth your time and effort!
Earn a Full-Time Income Online
I highly recommend content marketing for those who want to make a solid income online.
In 2015, I launched this blog, where I provide helpful content and generate revenue using different streams.
It currently covers all my living expenses and travels around the world!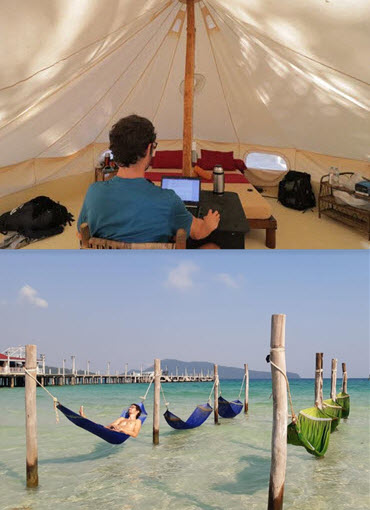 Mind you. I didn't have previous marketing and search engine experience when I started.
But thanks to this excellent step-by-step program, I could launch the site quickly and take proactive steps to attract a large audience.
If that weren't the case, you wouldn't be reading this article about Huuge Box.
Click here to learn more and start your online business today!
Final Words
Thank you for reading my Huuge Box review!
So, what's your honest opinion on this app? Please leave a comment below to assist others who want to use it.
Peace!