Welcome to my VicTube review!
I was playing one of those fake money games when another tempting advert popped up on my Android.
It claims you can claim $25 to their wallet app every 10 minutes of use!
The developer then suggests that you will be able to pay for a $100 Amazon order without spending any money.
I reviewed a handful of reward apps that tricked people into thinking they could win huge sums of money for watching videos.
Therefore, I have enough reason to suspect VicTube is following the same script and causing a lot of frustration!
Can you make real money with VicTube? Is it legit or fake? Let's find out!
Before you leave this page, don't miss out on the step-by-step program that helped me to generate $2,000+ each month and quit my job in 2019.
VicTube Review
Name: 

VicTube

Developer: 

BeX.mobile

Availability:

 Worldwide

Price:

 Free

Payout threshold:

 $500

Overall Rating: 0 stars
What Is VicTube? 

This reward platform is going viral! Cash out via PayPal, Visa, Gift Cards, and in-game currencies - Click here to find out how to generate an extra $10+ per day! 
VicTube is an app that supposedly rewards players for watching shorts on their Android phones.
It's incredibly similar WowTube and MoneyVid, which I reviewed a few weeks ago on My Room is My Office.
VicTube has been launched recently and has already achieved over 10k installations on the Play Store.
Unfortunately, it is still in Early Access, meaning you cannot write a review and warn others if the app does not pay.
Therefore, it's crucial to search for independent reviewers publishing posts and videos on their platforms.
How Does VicTube Work? 
VicTube is free to download on Google Play and use on your Android device.
It also doesn't require registration, so it's super quick to join and start collecting rewards.
The app allows you to watch YouTube Shorts and earn coins, which you can exchange for real money after meeting the cashout requirement.

Note there is a progress bar right at the top that advances quickly while you are watching the video.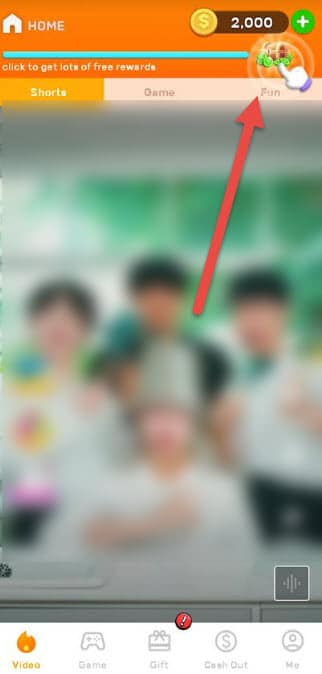 When completed, they entice you to click the treasure chest icon to trigger a reward card. 
You can click the double button and then watch another video to collect them. But this time, it's a commercial usually promoting a fake reward app.
The developer gets paid every time you watch those sponsored videos and, in turn, gives you redeemable coins. 
You don't have to browse for other videos to receive the credits.
That's because once the advert finishes, the progress bar will advance again despite playing the same video. 
Games
Through this tab, VicTube provides a massive list of games you can play within the app. 
The list is littered with commercials, and beneath each game is a large number implying that you could earn more coins by playing them.
But no, you won't! I tried a few games and didn't get a single coin.
Gift  
In the gift section, you can supposedly participate in prize draws by clicking the "Open" button and collecting puzzles. 

For every two commercials, you will get five free raffles for a chance to win jaw-dropping prizes, such as iPhone, PS5, Sony TV, and more! 
How do You Get Paid? 
VicTube allows you to cash out only after collecting 5,000 coins, equivalent to a whopping $500! 
You can redeem via several methods, such as PayPal, Amazon, Cash App, Amazon, Google Play, or Steam gift cards. 
Is VicTube Legit? Does it Pay? 
No, it doesn't! VicTube is not an actual money-making application like ClipClaps or Givvy videos.
Therefore, you will only get paid if you go the extra mile to comply with all requirements. 
I want to warn you about something far more concerning than wasting time on VicTube.
After reaching $500, it says the order has been successfully submitted, and the money will be transferred to your account within 72 hours. 
However, the cash-out page states that you can immediately activate the order by watching 30 videos or paying the £0.69 fee.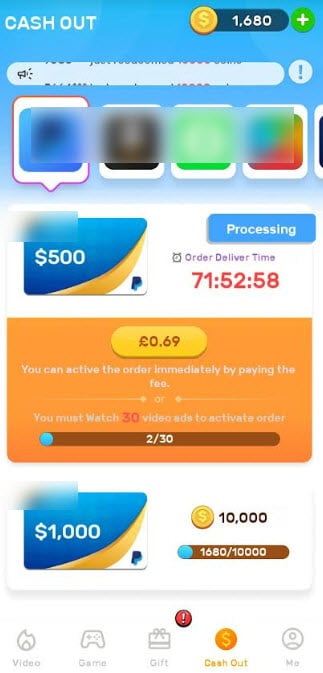 In other words, VicTube wants your hard-earned money while making no guarantee.
I urge everyone reading this review to stop using and uninstall this application because it benefits developers and advertisers alike. 
Conclusion 
Don't waste your precious time and data playing videos on VicTube! 
The application pulls up free content from YouTube and enticing players with the opportunity to win over $500. 
Everything was cleverly engineered to keep people trapped in the illusion of easy money, so they watch endless commercials.
Since most people use VicTube to make money, the company bombards people with adverts for unrealistic money games.
The only person that benefits from this app is the developer, who profits handsomely from its revenue.
If you do not wish to participate in this theatre, please delete the app as soon as possible.
Earn a Full-Time Income Online
Back in 2015, I learned how to start an internet business and earn money through affiliate marketing. 
Thanks to this step-by-step program, I was able to set up this website with no previous experience and achieve a consistent income online. 
I am not trying to make it seem easy because it did require a great deal of effort.
However, if you dream of growing an online revenue that you can scale, this is the best option! 
One of the best advantages of this type of business is that generates passive income even if you are not actively working. 
This is perfect for people who love travelling because it means you can take your laptop with you and work wherever you go. 
Interested? Click here to learn more! 
Final Words
Thank you for taking the opportunity to read my VicTube review; I hope you found it helpful. Please let me know if you have any queries in the comments box below.
Peace!