Welcome to my Wonder Charge review!
Yesterday, I came across an advert for Wonder Charge and the opportunity to win lots of money! 
You know, sometimes I just sit in awe at app developers' boundless ingenuity!
After getting paid for watching videos, drinking water, rolling the dice, merging cats, sleeping, and walking, what's next?
Of course, charging your phone!
The commercial shows a well-dressed woman enticing the audience to install the application and get real money easily.
Not only that, but she claims users can supposedly rack up $300 per day. I am not joking!
With so many deceitful applications trying to steal your time and money, you must take precautions.
That's why you found this page, and I am here to give you all the answers you need. Is Wonder Charge legit or fake? Does it pay once you fulfill their withdrawal conditions?
Let's find out!
Before you leave this page, don't miss out on the step-by-step program that helped me to generate $2,000+ each month and quit my job in 2019.
Wonder Charge Review
Name: 

Wonder Charge

Developer: 

Gideon Studio

Availability:

 Worldwide

Price:

 Free

Payout threshold:

500 USD

Overall Rating: 0 stars
What Is Wonder Charge? 
Wonder Charge is an Android app in which you collect coins worth large sums of money while charging your phone.
What's crazy about this app is that 1000 coins are worth $100, and you allegedly withdraw thousands of dollars.
Well, one of the first things I thought when I found Wonder Charge was:
If this was real, I am sure people would invest in mobile phones instead of stocks and deplete the world's energy reserves in just one day. 
Although it defies logic, thousands of individuals are using the application with high hopes that it's true.
How Does Wonder Charge Work? 
Wonder Charge is available on the Play Store and doesn't require registration. 
Without having to create an account, one could purchase lots of devices and plug-in Wonder Charge to maximize profits. 
In other words, the user would be able to create infinite money and act like the central bank! It's a complete joke! 

When you launch the app, you must select a payment platform so that funds are correctly transferred to your account.
Next, it persuades you to get points by charging your device or playing games. 
Once your balance reaches the minimum payout level of 500 USD, you should be able to redeem them for cash rewards.
How to Collect Coins with Wonder Charge? 
The software will automatically detect that your phone is connected to an energy source and display your battery percentage.
Then, you must click the receive button and watch a commercial to claim your coins.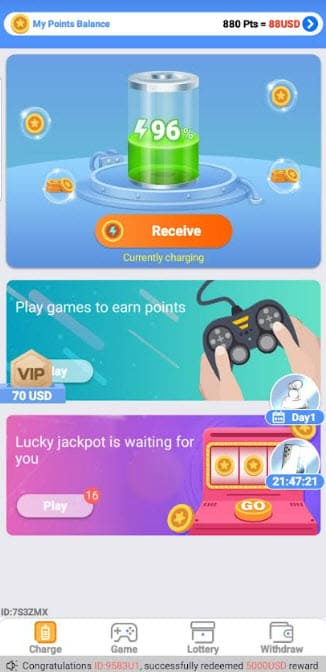 Double your earnings by clicking "claim 2x," but even if you don't, you will be forced to watch the video.
You can also visit the game section and choose from a vast list of in-app games.
However, you won't collect coins for playing them. Instead, you must tap the progress bar at the top and watch the commercial as you do while charging your phone. 
Earn real money by sharing your opinions with my recommended apps here!
Winning Amazing Gifts 
Wonder Charge allegedly allows users to win pricey gadgets, such as iPhones, iPads, AirPods, TVs, and more.
Guess what you have to do to participate? First, watch more commercials to activate the magic spin and collect puzzle pieces. 

The developer doesn't provide instructions on how the sweepstakes work.
To be honest, it's unclear whether this is a prize draw because you're expected to gather 50 fragments to claim the prize. 
Withdrawing your Funds
You can withdraw the money once you collect 5000 coins, equivalent to 500 USD. 
Despite diminishing cash rewards, reaching the goal and submitting your order request doesn't take long. Just enter your account details and click the "redeem" button. 

This reward platform is going viral! Cash out via PayPal, Visa, Gift Cards, and in-game currencies - Click here to find out how to generate an extra $10+ per day! 
Is Wonder Charge Legit? Does it Pay? 
No, it doesn't! It's impossible to earn money with Wonder Charge, as this is another fake reward app designed to exploit your time. 

It all boils down to hammering the user with adverts while giving meaningless coins that will never be converted to real money.
So, what happens once you file your withdrawal request? 
Wonder Charge will follow the same script as countless other fake games and reward apps that don't pay a dime. 
It claims you must activate your order by watching an additional 30 videos within 24 hours. Otherwise, they threaten to invalidate your order. 
They display a countdown and another tempting offer: Instead of watching 30 videos, you can pay the 1.99 USD service fee to activate the order immediately.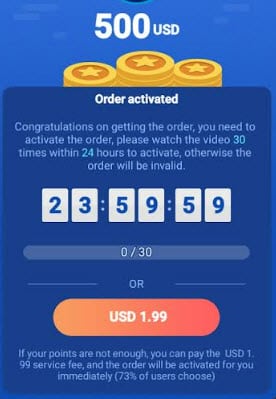 That's probably close to the amount of money the company would make if you opt to watch the videos.
So, how would they transfer 500 USD for charging and playing games? Well, it turns out they can't! 
You won't receive the money even if you comply with this, and additional requirements that will probably emerge. 
Conclusion 
Wonder Charge is a complete joke of an app that wastes your time and data while providing no compensation. 
Needless to say, the only person who benefits from this system is the developer, who earns money from advertisers with little effort.
I hope you understand this is a win-lose situation for thousands of people using this application. 
These apps boil my blood because they spread like wildfire without receiving the attention they deserve from prominent media outlets.
Meanwhile, millions worldwide have to learn the hard way and rely on independent content creators to find the information. 
Verdict: AVOID
Earn a Full-Time Income Online
Imagine traveling to a sunny destination where the dollar is strong and earning money passively through the internet!
That was my dream in 2015 when I started this website while helping people achieve similar goals. 
Thanks to internet marketing, I could make a decent living online and enjoy a digital nomadic lifestyle. 
But I'd be lying if I said it was an overnight success. 
No, developing a profitable online business from the ground up took many hours of learning and diligent effort.
If you want to follow the same path and benefit from the digital economy, check out my top recommendation here. 

That was the same program that guided me every step of the way and helped so many successful entrepreneurs for over a decade! 
Final Words
Thank you for taking the time to read my Wonder Charge review; I hope you found it informative.
Please, feel free to leave any questions or comments below.
Peace!