Welcome to my Royal Dice Party review! 
Royal Dice Party has been attracting new players by claiming to give them a $500 bonus just for joining. 
But there is a lot more you can supposedly earn in this free Android game! 
By rolling the dice and watching videos, you will collect lots of PayPal cash that accumulates in your wallet. 
You can also win an Apple Watch worth $449 just for clocking in for three days! Amazing, right?
Of course, you suspect this is another fake money game that will waste your time with countless adverts. 
Yes, there are many reasons to believe the developer won't pay you a dime. Well, that's what we will find out in this review. 
Can you expect to win real money with Royal Dice Party? Is it legit or fake? 
Let's find out! 
Before leaving this post, don't forget to check out the step-by-step system that helped me to generate $2,000+ each month and quit my job in 2019.
Royal Dice Party Review 

This reward platform is going viral! Cash out via PayPal, Visa, Gift Cards, and in-game currencies - Click here to find out how to generate an extra $10+ per day! 
Name:

 Royal Dice Party

Developer: 

VodoFun

Availability:

 Worldwide

Price:

 Free

Payout Threshold:

 $200

Overall Rating: 0/5
What is Royal Dice Party? 
Royal Dice Party is another get-rich-quick game where you collect dollars just by rolling the dice and watching videos. 
I don't need to mention who is the one profiting behind the scenes with all the advertisements. 
All you have to do is press the Roll button and watch commercials to collect virtual cash rewards and coins. 
Although Royal Dice Party has already been installed over 100k times on Google Play, no one could publish their reviews on the platform.
That's because the developers still maintain the Early Access classification, which is a big red flag. 
How Does Royal Dice Party Work? 
Royal Dice Party is accessible to Android users worldwide and is completely free to play.

As soon as you launch the app for the first time, you will see the opportunity to win an iWatch if you clock in for three days. 
Next, the game will show you the crazy cash offer: earning PayPal bonuses through videos.
It implies that you can withdraw the funds after your balance reaches $1000! 
The first step is to submit your account details. This form is confusing and may lead people to enter their PayPal email and password. 
Please, never enter your password on games and other reward apps because the developer may have access to your input. It's a significant risk! 
Royal Dice Party displays five dice above strange creatures. Simply press the button to roll all of them at once, and if you match two or more dices, you will get rewards.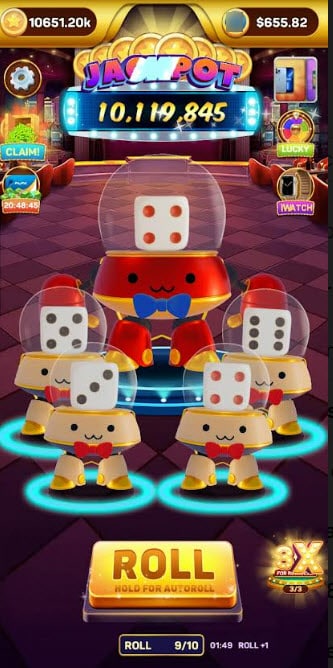 Another way to trigger the prize is when you get consecutive numbers. For example, 3, 4, 4, 5, and 6. 
You can win cash or tokens only after you click "Claim" and watch the video. 
Using the 3x Tool will multiply your earnings by three times and reach the $1000 much faster! 
You will also receive puzzle pieces that may be redeemed for eye-catching gadgets like the iPhone 13, Galaxy S20, MacBook Pro, Apple iPad, and others.
Is Royal Dice Party Legit? Does it Pay? 
No, it doesn't! You cannot earn a single penny from Royal Dice Party since all the rewards are pure fiction. Yes, 100% fake! 

The advert mentions that result is not guaranteed, which is true! 
But is it right to promote the game as an opportunity to win lots of money if players are not receiving any prizes?
Of course not, but the developer only seems to care about enticing the player to keep using his app.
It takes a ridiculous amount of time to reach the payout threshold because they reduce your earnings as you move closer to the $1000 mark.
For example, you were making $20 initially, but when your balance is over $900, it drops to $7 – $6. 
I thought it would keep dropping until $1 or even less, but it didn't! 
I got a 3x boost and achieved the magic $1000, only to be told I had to watch another 30 videos to activate the order.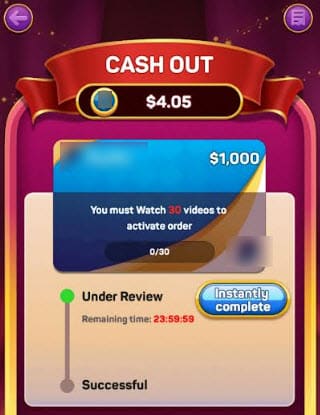 Unfortunately, many people will go along with this fantasy and hope the developer will eventually pay out. But, no, he won't!
After watching 30 videos, another excuse will be pulled from the hat, and you will not get compensated.

Conclusion 
Royal Dice Party is so boring that I don't even know if I can call it a game. 
That's because the only challenge is to collect $1000 by pressing the roll button and watching loads of videos. 
Clearly, people are only installing this app and rolling dices because of the considerable cash incentives that amount to over $1000. 
But just like countless games made with Unity, the cash prizes are entirely fake. 
My advice? Avoid Royal Dice Party if you don't want to waste time and mobile data! 
My Top Recommendation 
Whether you want to generate a job-replacing income or just complement your wages, becoming a content creator can be your best choice! 
I was able to build a lucrative online business and quit my job at the coffee shop thanks to this excellent step-by-step program. 
This platform will take you by the hand and help you set up a website and attract enough visitors to make online sales. 
Final Words
Thank you for reading my Royal Dice Party review. I hope it was helpful and eye-opening! 
Please leave your opinions or any questions you might have in the comments box below.
Peace!