Welcome to my Funzine review!
I recently watched a pitch for another app that allegedly pays users for browsing articles.
The commercial entices the audience with the opportunity to win hundreds of dollars that you can transfer directly to your PayPal account. 
It says the more you look, the more dollars you will get! 
I didn't think twice about downloading and testing Funzine as this is my main job here at My Room is My Office. 
Upon launching the app, it quickly reminded me of Cashzine, which shares a portion of the app's profits just for reading the news.  
The critical difference is the amount of money "promised."
Instead of earning a few pennies here and there, Funzine is dishing out over £10 per minute, which is crazy! 
I am here to explain how this application actually works and tell you whether you will receive all this money.
Is Funzine legit or fake? Let's find out! 
Before leaving this page, don't forget to check out the step-by-step system that helped me to generate $2,000+ each month and quit my job in 2019.
Funzine Review 
Name: 

Funzine

Developer: 

yiplinastudio

Membership Eligibility:

 Worldwide

Price:

 Free 

Overall Rating:

 

0/5
What is Funzine? 
Funzine is an Android app that supposedly rewards users with a ton of money for reading articles. 
You will collect cash and tokens occasionally just by running the application on your phone. 
Unlike Cashzine or ClipClaps, you don't even need to scroll down and skip the content to get rewarded. 
If this is true, we are most likely experiencing the best way to make passive earnings on the planet!
Funzine has only been installed 10k times so far, which is a disappointing achievement for a company that is offering free money. 
There must be something wrong! 
How Does Funzine Work? 
Funzine is available on the Play Store in all countries and is 100% free to join. 
This is because the developer makes real money from the adverts while you are using his application.
After launching Funzine, it will prompt you to click the award icon followed by Day 1 to collect a £24 sign-in bonus. 

The dashboard features a list of news articles divided into a few categories: Entertainment, Life, Sports, and Tech.
On the left side, you can see a Treasure chest icon with a progress bar around it.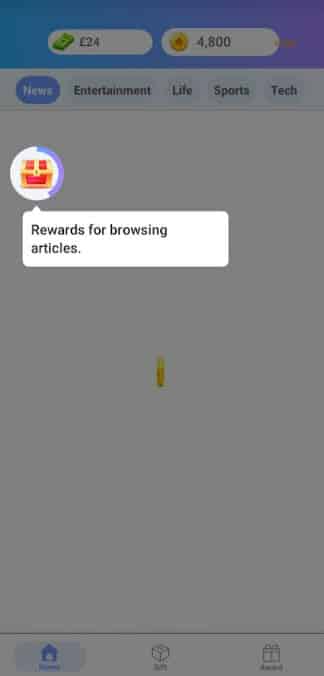 The progress advances continuously, regardless of whether you browse content or not. As a result, you will earn virtual cash whenever it completes a full circle. 
After three rounds, you can watch a video to multiply your reward by five times. 
Also, you will get 200 coins every second you keep the application open! 
How do You Cash Out? 
Unlike other reward applications, you don't need to accumulate specific money to request payment. 
Instead, Funzine claims that you will redeem all rewards after the 1-hour countdown ends. So you can supposedly earn up to £800 within the first hours, which is unbelievable! 
Then, you must open your cash wallet, enter your email and click the cash out button. 
You can also convert at least 3 million tokens for £240 and withdraw via PayPal. 
According to the instructions in the app, Funzine will transfer your money within 3 – 15 business days. 
After 1 hour, the balance will reset, and you will be able to redeem more using the same process. 

Earning Amazing Gifts
Funzine also features a gift section, where you can open the mystery box and collect entries for great prizes such as Rolex, Chanel bag, MacBook Pro 13, PS5, and more. 
You need to browse two articles to get free box draws. Then, just click the open button and collect the entries! 
I noticed that the developer doesn't explain how the drawing works, which is a big red flag because how do you know your chances of winning? 
Is Funzine Legit? Does it Pay? 
No, it doesn't! Funzine will not process your reward even if you meet all the conditions. 

This reward platform is going viral! Cash out via PayPal, Visa, Gift Cards, and in-game currencies - Click here to find out how to generate an extra $10+ per day! 
I mention it in the plural since there are additional criteria to withdraw the funds. 
After waiting for the countdown, users press the cash-out button only to discover they must watch 20 videos to approve the order. 

Of course, this is just an excuse to lure players into watching videos that make the developer money. 
There is no way to win this much money from a simple app like Funzine, whose revenue depends entirely on advertising.
Also, you won't win any product from the gift section since the sweepstakes are fictitious! 
I reviewed a few applications that make users believe they can make easy money for simple tasks like watching videos, playing games, and walking.
For instance, this pedometer app claims to pay at least £240!! 
Conclusion 
Funzine is another fake reward app enticing players with ridiculous amounts of money to increase their views and profits. 
I don't recommend anyone install this application because winning real money or prizes as advertised is impossible. 
Unfortunately, thousands consider it a real opportunity to supplement their income and waste time. 
App owners are always capitalizing on people's desire to make easy money. 
Verdict: Not recommended 
If you want to earn a little extra cash from your phone, check out the freecash app! 
An even better option is to create your own online business that can grow into a full-time generating asset – Click here to learn step-by-step! 
Final Words
Thank you for reading my Funzine review. I hope you found it instructive!
If you would like to share your experience with this app, please leave your comments below! 
Peace!