Welcome to my Maze Puzzle Master review!
I came across this interesting game attracting many eyeballs, owing mainly to the chance of earning real money.
It reminded me of an all-in-a-maze toy I had as a child. 
With Maze Puzzle Master, you must manipulate the round maze to release as many colored balls as possible. 
They will then fall into a basket, counterbalancing the other basket full of banknotes. 
You will complete the level and win excellent cash rewards if you release enough balls to push up the money basket. 
The developer suggests you can cash out hundreds of dollars using PayPal, Worldpay, and other methods. 
But is it real or fake? Can you make real money with this game? Let's find out!
Before leaving this page, don't forget to check out the step-by-step system that helped me to generate $2,000+ each month and quit my job in 2019.
Maze Puzzle Master Review 
Name:

 Maze Puzzle Master

Developer: 

Happy EveDay

Availability:

 Worldwide

Price:

 Free

Payout Threshold:

 $200

Overall Rating: 0/5
What Is Maze Puzzle Master? 
Maze Puzzle Master is a challenging puzzle game in which you multiply and release as many balls as possible from the spherical labyrinth. 
After finishing each level, the game awards you with virtual dollars that you may cash out to PayPal or other services.
Any with most money games, you will be bombarded with advertisements, usually promoting other opportunities to win easy money. 
Thanks to its addictive gameplay and unrealistic cash prizes, Maze Puzzle Master has achieved the impressive mark of 100k installation on the Play Store.
Despite this, the game is still under development, so nobody can submit reviews in order to alert others. 
How Does Maze Puzzle Master Work? 
Maze Puzzle Master is available for Android users worldwide and is 100% free to play. 
All you must do is wipe left or right to rotate the maze clockwise or counterclockwise until your release all the balls. 
But there is another challenging element to it, which makes it even more addictive.
You will start each level with very few balls, which can grow in number by passing them through multipliers along the labyrinth. 
For example, if you pass 5 balls through a 5x sign, you will get 25 balls! So your duty is not just to find the exit but also to maximize the number of balls in the bucket.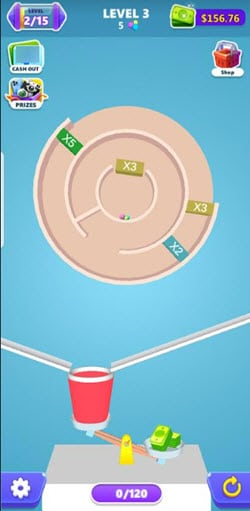 Each level has a specific goal required to complete the level and receive the cash reward. Unfortunately, if you fail, you will be forced to watch a commercial to try again! 
After you finish the level, Maze Puzzle Master will give you a nice sum of "money" provided you press the button and watch the video. 
As you progress in the game, the maze gets more extensive and challenging! 
Puzzle Prizes
Have you noticed the prize icon on the left side below the PayPal card?
This is where players can collect puzzle pieces to win excellent gifts, such as iPhone 13, MacBook Pro, Sony digital camera, and more! 
To claim these prizes, you must collect ten puzzle pieces by playing the lucky spin or watching videos in the bubble of the puzzle area. 
Check out the best app you can earn money for playing games! 
Withdrawing your Funds
You can only cash out after collecting at least $200. Tap the PayPal icon at the top, followed by your preferred cashout method and amount. 
Finally, enter your email address or number and press "Submit." 
Is Maze Puzzle Master Legit? Does it Pay? 

No, it doesn't! Maze Puzzle Master makes players believe they can withdraw real money, but the cash prizes you see on the screen are fake. 
The company running this application will not pay you a penny even if you satisfy all of its requirements! 
It doesn't take long to reach the $200 mark and press cash out, but there is a catch. 
The game will ask you to reach level 15 in order to approve the order. That means you will be enticed to watch more commercials that increase the app's revenue! 
Okay, I finished them all, only to get the processing notification claiming there were over 9,400 people ahead of me to be paid. 
They told me the position would be refreshed every minute. In the meantime, I could keep playing and collecting even more rewards and cash out higher amounts like $300, all the way up to $20,000! 

This reward platform is going viral! Cash out via PayPal, Visa, Gift Cards, and in-game currencies - Click here to find out how to generate an extra $10+ per day! 
Let me tell you; there is no hope for earning over $200 with Maze Puzzle Master by any means! 
That's because the cash reward is bait to excite players to reach the payout threshold and, thus, watch countless commercials along the way. 

Regardless of what happens after it's your turn in the queue, you won't receive the money. Period! 
Conclusion 
Maze Puzzle Master is a very addicting and stress-relief game with an added layer of motivation: MONEY!
Players are enticed to reach level 15 to cash out $200 but will be placed on a useless waiting list. 
That's because this is not an actual money-making application like it suggests! Otherwise, millions of people would quit their jobs to solve puzzles on their smartphones 24/7. 
I hope you realize this is just a marketing tool for developers who are making profits at the expense of your valuable time. 
If you don't want to partake in this business for no compensation, you should look for another way to make money online.
Earn a Full-Time Income Online
Instead of wasting time with apps, I highly recommend you use the internet to your advantage! 
So, how do you go about it? You could set up a website to attract visitors and make money using several methods. 
I went from $0 to $2000 a month just by ranking posts like the one you are reading right now. 
As a result, I've had more freedom in my life than I could have imagined! 
From 2019 through 2022, my wife and I traveled to Southeast Asia, Europe, and South America without breaking the bank. 
That's because I kept working remotely while traveling the world! Check out this step-by-step program if you want to learn how to start and operate this business. 
Final Thoughts
Thank you for reading my Maze Puzzle Master review. I hope you found it instructive!
I believe you have something to say about this application. If so, please leave your though below to help others! 
Peace!