Welcome to my Cashing App review!
I stumbled across Cashing app while searching for money-making applications on my Play Store.
I have to confess I was very skeptical,, considering most developers try to exploit users with misleading advertisements.
However, I decided to try it out and see if this app allows quick and fast withdrawals.
The application is intuitive and doesn't attract users with unrealistic cash incentives that not even the developer earns.
This gave me a glimmer of hope that perhaps this app is another alternative for folks who wish to earn a little extra income.
If you're wondering how much money you can make with the Cashing app and whether you'll get paid, you've come to the right place!
In this review, we'll show you how Cashing app works, and it's worth your time. Is it legit or fake? Let's find out!
Before leaving this page, don't forget to check out the step-by-step system that helped me to generate $2,000+ each month and quit my job in 2019.
Cashing Review 
Name:

 Cashing

Developer: 

Cashing LTD

Availability:

 Worldwide

Minimum Payout: 

$2

Price:

 Free

Overall Rating: 3/5

This reward platform is going viral! Cash out via PayPal, Visa, Gift Cards, and in-game currencies - Click here to find out how to generate an extra $10+ per day! 
How Does The Cashing App Work?
Installation and Registration 
After installing the app on Google Play, it prompted me to sign in using my Google or Facebook account.
But before that, I had to agree with the company's Privacy Policy and Terms of Service.
Next, Cashing app warns everyone that using a VPN or Proxy may result in the suspension of your account.
This helps prevent fraudulent behavior on the platform!
How Much Are Points Worth?
Cashing app gives you points whenever you complete tasks such as filling up a survey or completing an offer.
Points can be converted to real cash rewards via the withdrawal page once the payout threshold is met.
Once you collect 16000 points, you can redeem $2 through PayPal.
Note that if you cash out higher amounts, you will get a discount on the number of coins you need.

For example, if you decide to go for the highest Payout of $8, it requires 58,000 instead of 64,000 points.
How to Collect Points?
The cashing app makes collecting points very convenient by displaying all activities in the "Earn" section.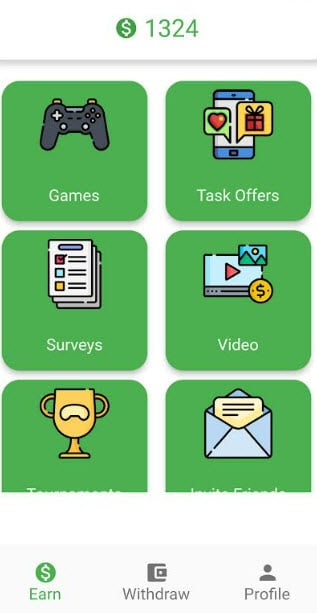 As expected from any reward app, you can get paid for filling up surveys, watching videos, completing offers, playing games, and inviting friends. 
Games
This area is operated by adjoe GmBH, a german company that will give you points for installing and playing sponsored games. 
The first step is to accept the Terms of Usage, which explain how the firm collects and handles your personal data. 
Next, you must permit usage access in your app settings so that Cashing can track your playtime and reward you for it. 
Just tap Accept, select Cashing app and finally toggle on "allow usage tracking." 
When you enable the option, you can access a list of games based on your location.
Each game has a maximum amount of points you may earn by playing for more extended periods.
For example, you may receive 210 points in the first minute, but the next 219 will not be credited until after 2 minutes.

Therefore, the more you use the app, the longer you must play before receiving your points.
Besides, opening the game from the "Your Apps" section in the Cashing platform is crucial. Otherwise, you won't get paid! 
Task Offers
Cashing has partnered with seven offerwalls, in-app advertising platforms that list multiple offers from several companies. 
You will access eye-Studios, AdGate Media, Monlix, OfferToro, Adscend Media, AdGem, and Wannads.  
Just select any unit to find all the opportunities, including games, service apps, reward apps, and surveys. 
For example, DogTV offered 15,680 points for those who installed their app and subscribed to their streaming service. 
Remember that specific deals, such as this, require users to pay for the first billing cycle. So, depending on the reward, it's not worth completing the offer. 
That is why it is always preferable to focus on free offers even though you will have to pay with your time. 
Surveys
Completing surveys is perhaps the best option to collect points in reward apps and gpt sites.

The reason is that you can earn more than $1 just for answering a couple of simple questions about yourself, products, and services. 
Online surveys are an excellent method to rapidly and inexpensively get feedback from a large pool of people.
You are helping companies improve and become more competitive by sharing your opinions. 
In the survey section, you will have access to five routers: BitLabs, CPX Research, Theorem Reach, Wannads, and Pollfish. 
Each platform requires participants to fill up their profiles before applying for survey opportunities. 
Sadly, you will often answer a few questions just to be told that the survey is not a good fit for you. 
This is because you may not be in their target market for their product or service.
For example, a company that develops hair loss for men only wants to hear the opinion of someone who is male and suffers from alopecia. 
You should expect to earn less than $1.50 per 15 – 20 minute survey.
Video 
When you touch the video tab, the Cashing app will play a commercial that instantly rewards you with 10 points after completion. 
Please, don't fall for adverts saying you can earn a ton of money just by playing free games! Avoid fake money games! 
Inviting Friends
Invite friends and earn 20% of all their earnings with surveys and offers. In turn, the person makes 500 points! 
Simply tap the share button and send an automatic invitation to anyone you want on social media or WhatsApp. 
Daily reward
Click the gift icon, and you will receive your daily reward starting at 25 points up to 200 points. 
How do You Get Paid? 
Once you collect at least 16,000 points, you can withdraw the funds to your PayPal by opening the Withdraw page. 
As I mentioned earlier, 16,000 points can be converted to $2.
You can also redeem in-game currency such as Free Fire diamonds, Mobile Legend diamonds, and PUBG UC. 
Is Cashing App Legit? Does it Pay? 
Yes, the Cashing app is 100% legitimate and does pay users for completing simple activities. 

However, considering the company is not responsible for offerwalls and survey platforms, points may not always credit correctly in your Cashing app.
This is particularly concerning if you spend money on an offer to receive the points. 
Furthermore, the money may take more than seven days to be deposited into your account, which is below industry standards. 
The good news is that there aren't as many complaints about missing tokens. But some downsides are worth mentioning, such as the lack of videos and games. 
Overall, Cashing is another excellent option for people who don't mind getting paid much less than minimum wage for their online activities.
It does pay out, but only after hours of dedication to meet the cash-out condition.
Instead of using reward applications, I suggest joining a well-established GPT site with even higher income potential. Here is my top GPT recommendation! 
Final Words
Thank you for taking the time to read my Cashing app review. I hope that was beneficial to you!
Please share your thoughts or any concerns in the comments section below. Your opinions are very important to us! 
Peace!