Welcome to my Crop Crush review!
I've recently found Crop Crush and the crazy opportunity to withdraw hundreds or even thousands of dollars in 1 hour.
This elimination game has been installed over 100k times and is available completely free on Android devices.
It looks terrific at first glance, but considering the substantial cash prizes, you may fear everything is fake!
But you want this to be true so badly, and who doesn't?
The developer wants everyone to believe anyone can cash out after the countdown ends.
So, will Crop Crush transfer the money or not? Is it legit? Let's find out!
Before leaving this page, don't forget to check out the step-by-step system that helped me to generate $2,000+ each month and quit my job in 2019.
Crop Crush Review 
Name:

 Crop Crush

Developer: 

Super Sugar Studio

Availability:

 Worldwide

Price:

 Free

Overall Rating: 0/5
What Is Crop Crush? 
Crop Crush is another Android elimination game where players tap groups of 2 or more identical balls to destroy them. 
Each level has a specific goal you need to progress and collect cash rewards. It's very similar to a block puzzle game called Village Saga! 
Like practically every money game, you will be compelled to watch videos to maximize your earnings.
Crop Crush gives you a deadline of 1 hour to collect as many dollars as possible and redeem them via PayPal or Cash App.
Of course, that's a clever scarcity mechanism to entice gamers to play it nonstop and watch many commercials.
How Does Crop Crush Work? 
Crop Crush is free to download on the Play Store worldwide.
One of the first red flags you can notice about this app is that it doesn't require registration.
Therefore, anyone could reinstall the app infinite time and get richer than Elon Musk in a matter of days!
But anyway, let's pretend everything is normal and dive into this "fantastic" opportunity to earn cash on demand, shall we?
After launching Crop Crush, it encourages users to play the game to win cash and withdraw to PayPal and Cash App.
They are saying it out loud! So, the developers cannot come up with an excuse that it's simply a money-making simulation.

The game features many balls of different colors and symbols. Simply tap two or more identical objects and try to remove the number of balls set in the goal section. 
It's worth noting that you may only use a certain number of moves at each level, so there's a challenge to keep you entertained. 
After finishing the level, you will press the "stop" button for a chance to win up to 4 times the cash reward.
You can supposedly earn more than $10 at a time with Crop Crush!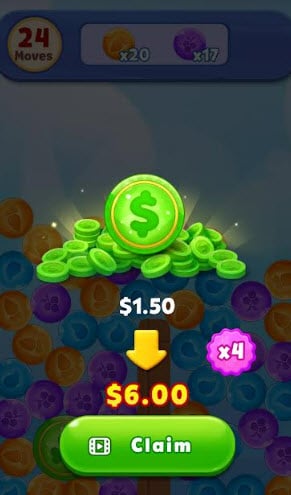 Furthermore, the app states that if you complete level 10, you will receive a 1.2x boost. 
You can continue to the next level by clicking the green button. Alternatively, you can instantly tap the blue button and watch a video to claim $2.50!  
Are you tTyred of playing games for no cash? Earn 0.50p instantly in your PayPal account if you join this survey app! 
How Do You Get Paid? 
Crop Crush's wallet displays your cash balance and states that all the money will be cashed out after the 1-hour countdown ends. 
You will be prompted to enter your PayPal email in order to receive the reward. 
Is Crop Crush Legit? Does it Pay? 
No, it doesn't! This application will not transfer the funds to your account as indicated in your cash balance section. 

Crop Crush tries to persuade players that they will be able to withdraw the money in one hour. 
However, they have a big surprise for you when the time comes, and the cash out button appears on your dashboard. 
As with many other fictitious money games, you will be told that there are hundreds of people ahead of you waiting to be rewarded.
It also suggests that the higher your level, the quicker your money will be processed. So, they encourage you to keep playing to speed up the process. 
How ingenious! 
I waited for my turn, only to be greeted by another message instructing me to view six videos to approve my order.

This reward platform is going viral! Cash out via PayPal, Visa, Gift Cards, and in-game currencies - Click here to find out how to generate an extra $10+ per day! 
What's crazy is that you can keep playing and unlock another cash prize after 1 hour! 
However, the only individual or entity making profits with Crazy Crop is the one who runs the application and gets paid by advertisers. 

Conclusion
Crop Crush makes people believe they will receive easy money by playing and watching videos.
It uses a tempting cash-out mechanism, which leads participants to believe it's like withdrawing cash from a bank account. 
But unfortunately, the reward is only bait to get people to watch commercials with big smiles on their faces! 
In my honest opinion, there is no better way to get paid for playing games than by joining a gpt site like Prizerebel. 
Game creators pay the platform to promote titles, and in turn, the site splits a portion of the commission with you for installing the app.
If you want to make thousands of dollars and kiss your job goodbye, then you should consider starting your own online business as I did.
Learn step-by-step how to succeed as a site owner here! 
Final Words
Thank you for reading my Crop Crush review. I hope you found it helpful! 
Please leave your opinions or any questions you might have in the comments box below.
Peace!