Welcome to my Jewelry Master review!
The founder of Jewelry Master expressly guarantees that by playing his game, you will earn a $1000 PayPal card.
Over 50k people have decided to download the application and push that shiny cashout button. 
Given the insane number of fake money games on the Play Store, there's a good chance this app won't pay you a dime.
But I always give it the benefit of the doubt and aim to dissect each app, so people learn more about how they operate.
In this review, I will explain everything about Jewelry Master and give you my honest opinion. Is it legit? Does it pay or not? 
Let's find out!
Before leaving this page, don't forget to check out the step-by-step system that helped me to generate $2,000+ each month and quit my job in 2019.
Jewelry Master Review 
Name:

 Jewelry Master – Mysterious Sea

Developer: 

The Big Dream Maker

Availability:

 Worldwide

Price:

 Free

Payout threshold:

 $1000

Overall Rating: 0/5
What is Jewelry Master? 

This reward platform is going viral! Cash out via PayPal, Visa, Gift Cards, and in-game currencies - Click here to find out how to generate an extra $10+ per day! 
Jewelry Master is a casual game where players merge jewels of different sizes and collect fantastic cash rewards.
From time to time, you will drop PayPal balls that, once combined, will trigger coupons worth over $100! 
The game was developed using the popular Unity platform and is entirely free, meaning your capital is not at risk. 
It's important to note Jewelry Master is still in Early Access, preventing users from leaving reviews on Google Play Store. 
This adds another layer of suspicion since you can't tell if other participants were paid or not.
I have tested countless similar games trying to lure users with unrealistic cash incentives. Coins Merger is just one example. 
How Does Jewelry Master Work? 
Jewelry Master is available for Android users worldwide 
The fact the app doesn't require registration is one of the first hints that the prizes aren't real. 

This is because multiple accounts are often not permitted on legit platforms since people would try to exploit their system.
Right after launching Jewelry Master, you will be enticed to clock in for three days to win an Apple Watch 7 worth $399. 
Can you imagine how many watches they would have to dispatch if this opportunity were real? Crazy! 
Next, you can play the game by simply touching the screen to drop the jewels. 
You just have to hit identical jewels, so they merge into larger jewels. 
But those will not help you earn any money! Instead, you must combine special balls with the PayPal or Amazon logo to receive virtual dollars. 
Before Jewelry Master deposits the currency into your wallet, you must watch a commercial until the end.
That is clever strategy developers use to boost profits in practically every money game.
You probably have noticed the iPhone icon at the bottom left corner. If you click this icon, you will find the opportunity to claim an iPhone 13 by collecting 150 puzzle pieces.  
As expected, you can collect the fragments by completing video tasks. So, once again, it's all about watching videos that will benefit the developer! 
How do You Get Paid? 
Jewelry Master has a minimum withdrawal requirement of $1000 for both PayPal and Amazon payments. 
However, reaching the target doesn't take long since players will collect over $100 after each video. 
Now, will the company transfer the funds after you hit the target? 

Is Jewelry Master legit? Does it Pay? 
No, it doesn't pay! Jewelry Master is not an actual money-making application since the developer cannot print money like the central bank.
If you could withdraw $1000 in less than 10 minutes, it would solve everyone's problems!
However, in the real world, money can only be made in exchange for a service.
And I am sorry to inform you, but watching videos in a mobile game will never be a profitable activity. 
Once you reach $1000 and enter your email, Jewelry Master updates its withdrawal page and requires you to watch 15 videos. 
Here is a screenshot as proof: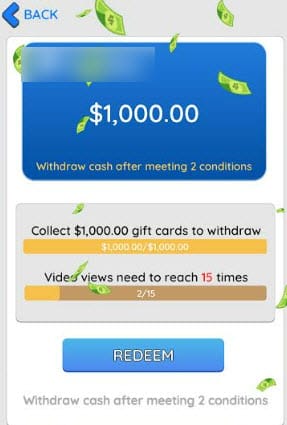 Unfortunately, most people will try to meet the additional requirement since they have already spent time and data on the game.
But more conditions will emerge, and you will be enticed to watch even more videos! 

The only thing left in the end will be a profound sense of regret and resentment because you know the developer was making money off of your time. 
Conclusion 
Jewelry Master is a fake reward game, like hundreds of others that claim to pay hundreds or thousands of dollars. 
I wish more people would find this post before investing too much time in these games. 
But sadly, most of my readers find my reviews only after they have spent hours and realize they will never get rewarded.
If you want to earn a little extra cash for playing games, you could try Just Play! Another option is to join a reliable GPT site like Prizerebel and complete app offers! 
Earn A Full-Time Income Online
One of the most effective ways to generate online revenue is to build an internet audience through a website.
I've been running this business since 2015, and it's changed my life!
It's not free money since you have to work for it. However, this is one of the few businesses that allow you to work from anywhere and anytime!
I can now travel whenever I want and enjoy unlimited flexibility! 
There has never been a better time to become a digital nomad and create multiple income streams online! 
Click here to learn about the training that enabled me to develop this site from scratch and flourish as a digital marketer.
Final Words
Thanks for reading my Jewelry Master review.
If you want to share your thoughts on this app or ask any questions, please use the comments section below!
Peace!