Welcome to my Ello Jump review!
I recently saw an advertisement for this simple game called Ello Jump and couldn't wait to put it to the test!
Not because the game is exciting but because it claims to pay $1000 to players who reach this amount. 
In the commercial, a girl says she made enough money to buy the iPhone 14 by playing the game for seven days.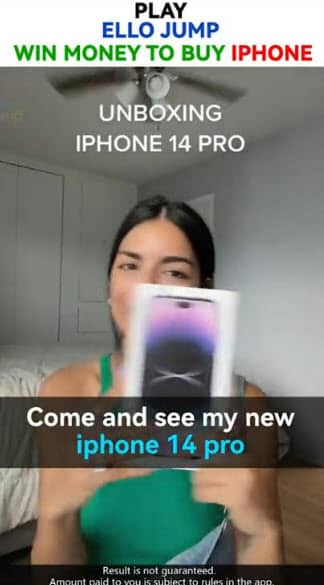 The video then strives to convince viewers that they can earn hundreds of dollars in a blink of an eye! 
Since you value your time, you are here to find out whether Ello Jump will transfer the money or not. Is it legit or another fake money game? 
Let's dive in! 
Before leaving this page, don't forget to check out the step-by-step system that helped me to generate $2,000+ each month and quit my job in 2019.
Ello Jump Review 
Name:

 Ello Jump: Millionaire Legend

Developer: 

LinkLvFeng

Availability:

 Worldwide

Price:

 Free

Payout threshold:

 $1000

Overall Rating: 0/5
What is Ello Jump? 
Ello Jump is a simple game in which players roll dice to transport the avatar up the clouds.
As your character progresses, you will have the opportunity to earn cash prizes by landing on clouds with PayPal coins.
This game is identical to Monkey Jumping, a money game whose cash incentives are entirely fake! 
It also reminds me of countless board games I reviewed in this blog, such as Beauty Jumping, Jump Clash, and Pop Dice. Check out my Jump Clash review! 
Operated by a Hong Kong-based company, Ello Jump is becoming increasingly popular as it went from 10k to over 50k installs within less than a week! 
How Does Hello Jump Work? 
Ello Jump is accessible for free on the Google Play Store and requires no registration.
This is one of the first signs that the reward is fiction. The reason is that developers who operate reward apps normally have an account system to prevent misuse.
After launching the app, you must press the start button and start rolling the dice!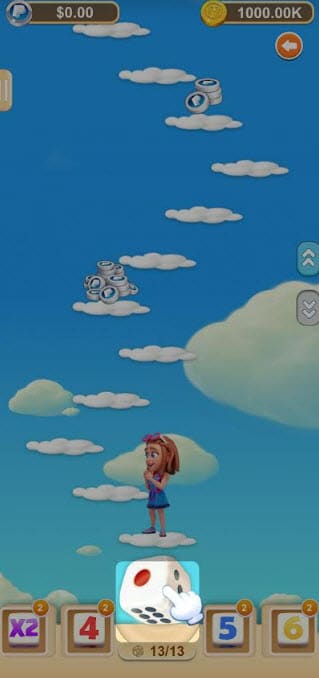 The first round allows you to accumulate almost $400 just by touching the dice 5 or 6 times. You don't even need to watch a single commercial, which feels like free money!

The character will advance through the stages based on the dice number, and the level is completed when it lands on the finish line. 
Whenever she lands on a cloud or platform full of coins with the PayPal logo, Ello Jump awards a decent amount of cash.  
However, beginning with the second level, you will be required to watch a commercial to receive the bonus.
Who doesn't want to watch a short video in exchange for over $100, right? 
As you continue, your avatar will collect gold, which can supposedly be exchanged for cash after you reach 500K.
Higher levels also unlock great prizes, such as AirPods and the new iPhone 14. 
In order to redeem these items, you must meet certain conditions. For example, you need to collect 150 puzzle pieces to win the iPhone and clock in for three days to receive the Airpods. 
How do You get Paid? 
Ello Jump states that you must achieve $1000 to cash out. 
It makes users believe the company will deposit the money to their PayPal account right after entering their account details. 
As for coins, they say they can be exchanged for cash when the coin balance reaches 500K. However, no information regarding the reward is provided!
Is Ello Jump Legit? Does it Pay? 
No, it certainly doesn't!

$1000 is a ridiculous cash prize that no business could afford to pay unless users made actual deposits.
However, Ello Jump is neither a sweepstakes app nor a platform where you can risk your hard-earned money.
It's a simple game with a fictitious cash reward that entices players to watch commercials. 
The more videos you watch, the more money the developer makes through third-party advertising companies. 
Ironically, the game's title includes "jump" because they will literally have you jumping through hoops to maximize their profits. 
Following the collection of $1000, a new condition will come out of nowhere. You must now view five videos, but this is just the beginning!

This reward platform is going viral! Cash out via PayPal, Visa, Gift Cards, and in-game currencies - Click here to find out how to generate an extra $10+ per day! 
After enduring the five videos, Ello Jump will update your status to "Under review" and ask you to watch 30 videos within 24 hours. 
Of course, these are empty words because, without a user agreement, they have no obligation to reward anyone. 

But there is more! The company behind this app does not provide the Terms of Service, and their Privacy Policy is simply too vague, especially for European standards. 
Conclusion 
Ello Jump is identical to Monkey Jumping in terms of either gameplay or fake cash reward. 
All the rewards you collect while playing this game is nothing more than worthless pixels on your screen. 
It's clear the only individual pro profits from it is the one who operates the application behind the Hong Kong company. 
Yes, they indeed mention no result is guaranteed in the advert. But still, it suggests that there is least a chance of winning. 
But if that's true, where are the winners? How many people are receiving the unrealistic $1000 prize? 
I don't recommend you invest your time with Ello Jump. Otherwise you'll join the ranks of disillusioned gamers.
Just Play is one of the few applications that really pay users to play games. However, the cash reward is exceptionally small!
If you want to generate thousands of dollars per month, I highly recommend you build your own internet business as I did. 
Learn step-by-step how to succeed as a site owner here! 
Final Words
Thank you for visiting my Ello Jump review. I hope you found it helpful! 
If you want to share your thoughts on this application, please do so in the comments section below.
Peace!