Welcome to my Monkey Jumping review!
In today's article, I will expose another Android game that claims to pay you large sums of money.
You probably found Monkey Jumping through a compelling commercial on your phone.
A rich girl driving her expensive car says you may win $300 in a short time and withdraw to PayPal easily!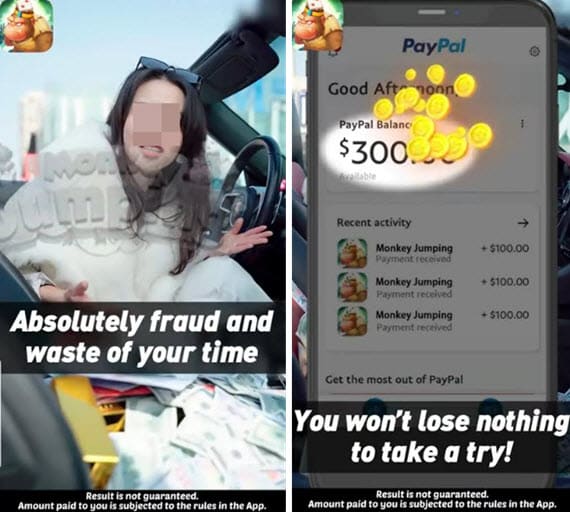 Then, you see a couple of PayPal cards on the screen worth $50 and $100.
What would your life be like if you could earn an easy income from this game? Pretty nice, right?
But is Monkey Jumping legit or fake? Does it pay or not? I put it to the test, so you don't have to spend hours only to find the answer.
Before leaving this page, don't forget to check out the step-by-step system that helped me to generate $2,000+ each month and quit my job in 2019.
Monkey Jumping Review
Name: Money Jumping
Developer: YY Happy
Availability: Worldwide
Price: Free
Payout threshold: $1000
Overall Rating: 0/5

This reward platform is going viral! Cash out via PayPal, Visa, Gift Cards, and in-game currencies - Click here to find out how to generate an extra $10+ per day! 
What Is Monkey Jumping? 
Money Jumping is a casual game where you throw dices to collect excellent cash rewards.
It's similar to many other board games I reviewed in the blog, such as Lucky for Happy and Bear Dice.
However, the number you get on the dice determines how many platforms the monkey will climb.
You will receive virtual dollars in the form of a PayPal card, depending on where your monkey lands.
Even though Monkey Jumping is a complete game that has been downloaded over 10,000 times, there are no reviews on Google Play.
If the app is excellent and pays well, why is the developer deleting or not accepting reviews? Don't you think this is very suspicious? Of course, it is!
How Does Monkey Jumping Work? 
Monkey Jumping can be downloaded for free on the Play Store and played without prior registration.

This is another red flag because every legit reward app requires some basic information from users to avoid abuse.
Right after launching the game, it entices you with the opportunity to withdraw cash by collecting $1000 PayPal cards.
If you tap the "Withdraw" button, it will prompt you to enter your account, email, or phone number.
What's even scarier is that they don't define which you should enter data into the form.
Therefore, many unwary people will provide their email and password, posing a severe risk to their PayPal account. 
How to Play Monkey Jumping
The game has many levels and different modes that you will unlock along your journey.
Simply hit "Start" and then roll the dice to make your monkey move upwards according to the number you receive.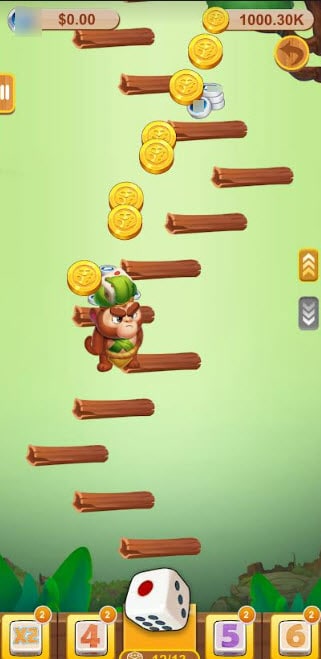 When your grumpy creature lands on coin-filled platforms, you will win a PayPal card worth anywhere between $10 – $110.
However, Monkey Jumping will only add the money to your account after you press the button and watch the commercial.
Some platforms will trigger gift cards and the round table, giving you a chance to win more rewards. But, again, you need to watch a video to flip each card.
Even though it states you have just 14 dices, you can play as many times as you want.
You can only complete the level once your monkey lands on the "End" platform. After completing each stage, you can unlock even more rewards, such as Airpods and the new iPhone 14.

Win an iPhone 14
Whenever you flip the four gift cards, you will get iPhone puzzles. Once you collect 150 fragments, you can supposedly redeem the new iPhone 14 Pro worth $1499.
How Do You Get Paid? 
Monkey Jumping claims that you need to reach $1000 before you can cash out. The money will supposedly be transferred to your PayPal account after you enter your email.
I already warned you about the risk of people entering their passwords there. So, be extra careful!
If you already did, I strongly advise changing your PayPal password to avoid surprises.
Is Monkey Jumping Legit? Does it Pay? 
No, it certainly doesn't! Monkey Jumping will not transfer any money to your account since each dollar you see on your screen is fake. 
People are led to play this game and watch many advertisements that only line the developer's pockets.
This game works just like countless board games I reviewed in the past regarding payouts.
You must first accumulate $1000 to cash out, but a new requirement is introduced after that goal is completed.

Now, you must meet another condition: watching another 5 videos. 
I knew I would never get paid, but I went ahead and completed this requirement just to prove that Monkey Jumping is a fake money game. 
So, after watching the videos, the order is under review, and then you need to watch 30 videos in 1 day.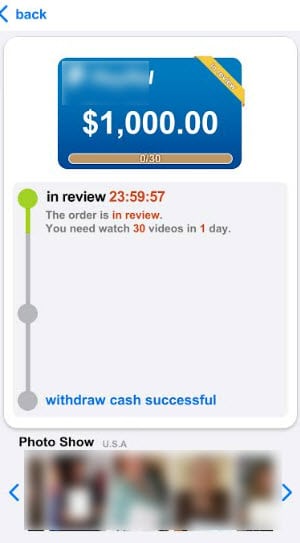 Here is a screenshot from the page, where you can notice there may be additional steps.
But make no mistake, you won't get paid even if you complete all the tasks!
The irony is that you are playing a monking jumping game when, in reality, you are the one jumping through hoops.
Conclusion 
Don't waste your precious time playing Monkey Jumping with the expectation of winning $1000 or expensive prizes. This will never happen!
Like hundreds of fake money games, the developer uses cash rewards as bait but is not committed to compensating participants.
This is only a marketing platform to get people to watch advertisements and, thus, maximize profits.
As you are playing Monkey Jumping, you will discover a couple of other apps trying pledging to offer a real money-making opportunity.
None of them pays, except Just Play and a few other reward applications! All those games that claim to pay hundreds of dollars per day with no cashout limit are fake! Read my Just Play review here! 
Final Words
Thank you for reading my Monkey Jumping review. I hope you found it valuable and interesting!
If you'd like to express your opinions on this application, please do so in the comment box below.
Peace!