Welcome to my SlotsCashHunt review!
SlotsCashHunt is a new mobile game where players have the opportunity to earn large sums of money by playing virtual slots.
Over 50,000 people have installed it on their mobile devices with the high hopes of making easy and risk-free money.
It's very suspicious because if you think carefully, why would anyone give away so much money for free? So there has to be a catch, right?
We decided to dig deeper to determine whether this was a real or fake money game. Will Slots Cash Hunt transfer the money to your PayPal account?
Let's find out!
Before leaving this page, don't forget to check out the step-by-step system that helped me to generate $2,000+ each month and quit my job in 2019.
SlotsCashHunt Review
Name: SlotsCashHunt
Developer: Game Fun Studio
Availability: Worldwide
Type: Entertainment with no financial risk
Price: Free
Payout threshold: $1000
Overall Rating: 0/5
What is SlotsCashHunt? 
SlotsCashHunt is a free slot game where you activate the machine to earn virtual dollars, coins, and gift puzzles. 
According to the game's instructions, you can redeem immediately via PayPal once you reach $1,000.
Your only "job" is to touch the spin button and collect rewards according to the symbols you get on the reels.
The pay table will inform you of the symbols you must combine to win a prize.
SlotsCashHunt has been installed over 50k times and rated 4.8 stars on Google Play, a remarkable achievement.
However, many app developers cheat the review system by purchasing positive comments or creating multiple bot accounts to boost their numbers.
That's why people cannot trust the app's overall rating anymore!
How Does SlotsCashHunt Work? 
SlotsCashHunt is available for free on Google Play for Android devices. So, you don't have to risk your money to collect virtual cash while playing the game.
Upon launching the game, you will see a progress bar with the $1000 target and the PayPal card on the top.
They encourage you to reach $100o during the event to redeem immediately.
SlotsCashHunt features a 5-reel slot machine that you can activate by hitting the Spin button as often as you want.
Spinning the slot machine will award you coins and virtual dollars depending on the Pay Line. You can check them out by clicking the exclamation mark.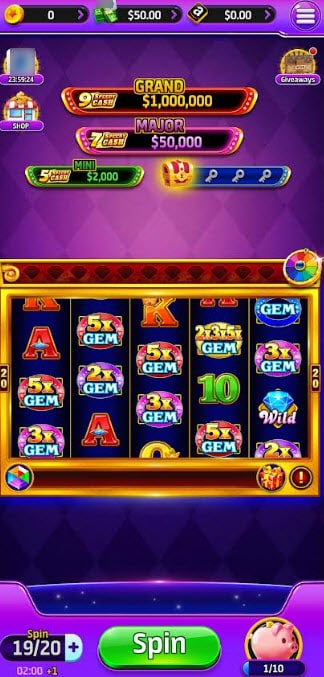 The progress bar will advance every time you activate the slots, and when it's complete, you will get the chance to open bonus chests.
It's important to mention the game is always enticing players to watch commercials to boost earnings.
That's a well-known tactic developers use to increase profits because the more views they get, the more money they make.
How do You Cash Out? 
You can withdraw the funds to your PayPal account after you have earned at least $1,000.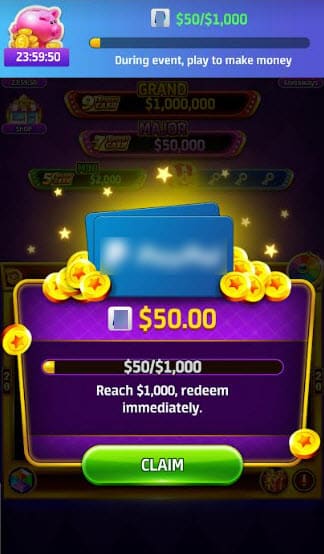 The cashout requirement for Amazon gift cards is a bit different. You must watch 50 videos and play SlotsCashHunt for eight days to be able to redeem your cash balance via gift cards.
The app also allows you to collect puzzles and redeem excellent gifts such as iPads, Louis Vuitton bags, Nintendo Switch, and more!
You must collect 50 fragments within the activity times, which is ten days, counting from when you log in to the game.
Is SlotsCashHunt Legit? Does it Pay?
No, it doesn't! SlotsCashHunt is nothing but a slot game simulation where all the virtual cash and items are worthless.
Therefore, you should not expect a single penny to be deposited into your account, whether by PayPal or Amazon.
What happens is that after you meet the first requirement, you will be required to watch more videos, but they will never pay you.

This is not something new! You can download any game that promises to pay vast sums of cash, and the outcome will be similar.
I have probably reviewed over 20 free slot games that basically copy and paste each other.
I believe hundreds of them are available out there, and it seems developers have found a comfortable position to operate for many years.
If the app gets banned,  they just launch a new one, advertise heavily, and cash in. Rinse and repeat!
Conclusion

This reward platform is going viral! Cash out via PayPal, Visa, Gift Cards, and in-game currencies - Click here to find out how to generate an extra $10+ per day! 
SlotsCashHunt makes money by convincing gamers that they can pay out thousands of dollars.
Unfortunately, they will have you jump through hoops and never transfer the funds to your PayPal account.

Also, forget about the expensive prizes you see in the giveaway section. It's completely fake too!
I hope people realize that the only person who benefits from this virtual theater is the developer, who is filling up his pockets with advertising revenue.
I highly recommend you uninstall SlotsCashHunt and focus your time and energy on well-established platforms like Prizerebel or Freecash. 
Earn a Full-Time Income Online
If you are trying to find an excellent opportunity to earn money online, look no further than content marketing.
You can attract and monetize a large audience by providing helpful articles that answer people's questions.
Thanks to technological advances, it has never been easier to set up and grow a website. You don't need technical knowledge or an undergraduate degree to make it happen!
However, it's important to learn from successful marketers and apply what has worked for them!
That's why I encourage everyone to join this excellent step-by-step program since it's jam-packed with experts who will guide you in this journey.
This website was created with the help of this fantastic platform in 2015, and it has been funding my travels and living expenses for many years.
Final Words
Thank you for taking the time to read my SlotsCashHunt review. I hope you found it interesting and valuable!
If you'd like to express your opinions on this app, please do so in the comments section below.
Peace!