Welcome to my Grass Mowing review!
I stumbled upon Grass Mowing, an Android game that claims to offer $300 per day for solving puzzles.
The advert seduces the audience by saying they will give you a $100 bonus and pay you directly to your Cash App.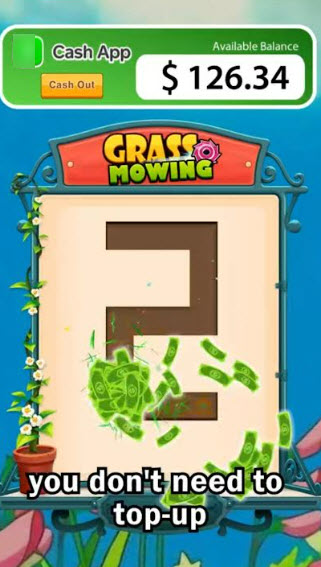 I was tempted to install this app and give it a try since over 100,000 people have already installed it on Google Play.
Even though I know what to expect from Grass Mowing, many people are still unaware of how this type of game works.
So I'll keep things simple for you and hopefully lead you the right way! So, is Grass Mowing legit or fake? Does it pay once the cash-out requirement is met? Let's find out!
Top recommendation: discover the step-by-step program that helped me reach 2,000 USD+ per month and quit my job in 2019. No special skills are required! 
Grass Mowing Review
Name: Grass Mowing
Developer: limestoneem
Availability: Worldwide
Payout Threshold: 
Price: Free (no purchase required)
Overall Rating: 1/5
What Is Grass Mowing?
Made with Unity, Grass Mowing is a game in which you move the revolving blade across the whole path to complete the level.
After clearing the entire path, you will get a decent amount of cash and the opportunity to multiply earnings by up to 5 times.
According to the app's instructions, you should collect enough dollars to redeem to your PayPal account.
Grass Mowing is almost identical to Cut Grass, except the latter is giving diamonds redeemable for Robux.
So, if what they claim is true, you may not only enjoy a relaxing game but also make enough money to cover all of your bills. Amazing, right?
How Does Grass Mowing Work? 
Grass Mowing is offered in all countries and is free to download and play on your Android device.
I highly recommend you check the Terms of Use before playing this game. I found no information on the advertised cash incentives, which is a major red flag!
Without any agreement on payouts, the developer has no responsibility to reward players who meet the requirements.
As soon as you launch the app, it will give you a generous welcome bonus of $100 and a countdown from 24 hours. Unfortunately, it means they are giving you a deadline to collect the cash incentives.
According to the developer, you can receive cash rewards if you complete the challenge within the specified time limit.
Grass Mowing claims you can redeem $100 if you complete the first 20 levels. A progress bar at the bottom of the screen lets you know how close you are to your first payout.

How to Play Grass Mowing? 
Each level features a different grass pattern on the ground. You must move your rotating blade in the direction you want it to go so that it cuts all the Grass along the line!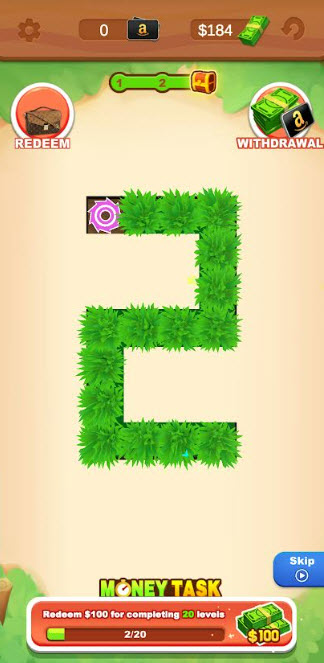 Continue dragging the blade over each land section to complete the level and uncover the cash prize.
As a result, you will earn a few dollars, which can be multiplied by up to five depending on where you hit the gauge.
After completing three levels, Grass Mowing will give you the chance to open bonus chests and win PayPal cash, Amazon cash, or tokens.
These tokens correspond to three products: iPhone 13, LV Pochete Metis, and Nintendo Switch. You can supposedly claim them by collecting 800 items for each prize!
Earn some extra cash online by joining this excellent GPT site. It's 100% legit! 
How Do You Get Paid? 
Grass Mowing gives the impression that you can generate income on demand.
If you click the Withdrawal icon, you will find three cash-out options:
Collect 500 dollars
Collect 800 dollars
Earn 1000 Amazon – I assume you need $1000 in your Amazon balance.
In addition, you can supposedly redeem once you complete 20 levels.
Is Grass Mowing Legit? Does it Pay? 

No, it doesn't! You will take ages to cash out because they will push an advert every time you complete the level and try to collect the reward.
Besides, the cash amount gets ver small as you approach the minimum cash-out requirement.
So, it feels like the developer is playing a dirty game with you just so you watch endless videos.
When you finally reach the 500 USD mark and try to withdraw, something very annoying will happen! The space where you should enter your PayPal email only accepts numbers instead of letters!
Yeah, right! Yes, this is most likely deliberately crafted to prevent you from entering your exact address and getting paid.
As for the Amazon balance, you will probably get stuck before reaching the required amount of $1000!

This reward platform is going viral! Cash out via PayPal, Visa, Gift Cards, and in-game currencies - Click here to find out how to generate an extra $10+ per day! 
Like hundreds of games, Grass Mowing will stop giving you money, you won't be able to withdraw.

Conclusion 
Graw Mowing gives virtual dollars with no intention to transfer actual money!
It's a shame these games are still breaking havoc on the Play Store, causing distress among millions of users.
If you are one of them, don't expect to receive any money in your PayPal account.
These apps are just bait and switch that benefit greedy developers. If one of these games gets banned, they launch a new one with a different name and keep business as usual.
I believe Google should monitor them closely to see if they are enticing people with unrealistic cash rewards.
But the problem is that developers can always get away with it by making changes. So it's a big issue!
What we can do is empower people by providing information about how these games work.
Unfortunately, many of them are unaware that they were intended to generate revenue for developers at the expense of their time.
Final Words
Thanks for reading my Grass Mowing review. If you want to share your opinions about this game, feel free to leave us a comment below.
Peace!