Welcome to my MoneyVid review!
There are several options available for making money with your smartphone.
In this blog, I have reviewed many apps that allow members to get paid for watching sponsored videos on their Android.
In this review, we will take a closer look at another option that went viral in the last couple of weeks: MoneyVid.
The advert entices the audience by using the PayPal logo and offering the opportunity to win thousands of dollars. 
This is a well-known persuasive tactic to get people to tap the screen and download the app without hesitation! Here is a screenshot I took from this commercial: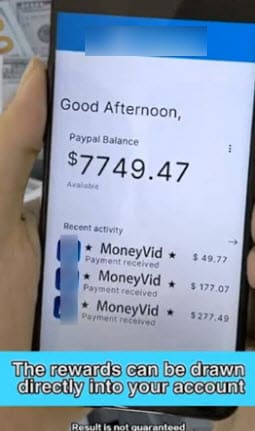 Crazy, right?
MoneyVid follows the same concept as legit apps like ClipClaps, but the cash reward is very unrealistic!
So, is MoneyVid legit or fake? Does it transfer the money to your PayPal account? Please stick with me until the end to find out!
Before you leave, discover the step-by-step program that helped me reach $2,000+ per month from my laptop, and quit my day job. No special skills are required!

This reward platform is going viral! Cash out via PayPal, Visa, Gift Cards, and in-game currencies - Click here to find out how to generate an extra $10+ per day! 
MoneyVid Review 
Name: MoneyVid
Developer: AI Carl
Eligibility: Worldwide
Prize: Free (no in-app purchases)
Payout Threshold: £1250
Overall rating: 0 stars
What Is MoneyVid?
MoneyVid is a mobile application where you supposedly watch videos in exchange for excellent cash rewards.
I am not talking about a few cents here and there! Instead, you will accumulate over 1000 USD in a very short time and cash out immediately on the same day.
Well, that's how they make it seem from the start!
Sounds better than your day job, right? Sadly, this looks like another clever tactic to get people to spend time watching lots of advertisements through the app.
MoneyVid is pulling up funny and viral videos from the internet and giving users virtual cash they can withdraw via PayPal.

How Does MoneyVid Work? 
MoneyVid is entirely free to download and use on your Android device.
After installing the application on your phone, you must accept the Privacy Policy, which explains how the company handles your personal data.
Next, a message encourages you to watch videos to increase progress. It also claims you can withdraw the money when it turns five circles.
Tap the button "start to make money," and you will be taken to the dashboard, where you can begin watching videos.
You'll see a round progress bar on the left side and a pink banknote symbol inside.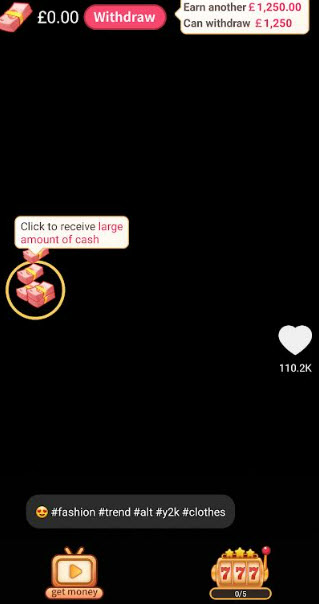 This bar is constantly moving clockwise while videos as streaming on your screen. When the progress is complete, tap the banknotes and watch the commercial to receive rewards.
They say you can earn up to £200, but the reality is that cash prizes diminish as you get closer to the payout threshold.
This is nothing new under the sun! I have reviewed countless fake games with the same fishy behavior!
You can collect more cash by clicking the "Get Money" icon or activating the slot machine.
How do You Get Paid? 
Your cash balance is displayed at the top of the screen, and you can only withdraw once you collect the equivalent of £1250.
Remember MoneyVid told you that you would be able to cash out after five turns? Unfortunately, they lied to you because it will probably take more than 20 videos to achieve the cashout limit.

PayPal is apparently the only way to receive your funds once you meet the requirement.
Is MoneyVid Legit? Does it Pay? 
No, it doesn't! MoneyVid will not pay you after meeting the requirements.
Instead, it will lure you into accomplishing more missions, which essentially consist of watching more videos.
After reaching £1250, you will be asked to watch 60 videos per day for seven days before receiving the reward. But it's all fake!
One person reported using MoneyVid for a month and cashing out multiple times. She waited for each payment review, but no money was transferred to her PayPal account.
Another user spent 2 hours per day to complete the 7-day challenge only to be told he needed to reach a higher level.
It's a complete joke of an app that will waste your time while the developer capitalizes on your views!
SHAME on them!

Conclusion 
MoneyVid is another application created purely to benefit the developer's banking account.
It starts giving lots of rewards to provide you with that dopamine boost and motivate you to meet the target.
However, they will not honor the agreement of paying users who accumulate the stated amount of cash.
Instead, they will impose even more conditions to increase their profits even further. It's outrageous, to say the least!
Many signals might aid you in detecting a fake reward app or game.
For example, if the platform is free and entirely funded by advertisements, it will never pay you more than $2 for watching videos!
The best approach to prevent falling for fake money apps is to trust your instincts and conduct proper research.
If it looks too good to be true, then it probably is!
Earn a Full-Time Income Online
Many people wish to spend their life without the limitations of a 9-to-5 job.
That vision became a reality for me when I created my own internet business and started making money online.
Over the last three years, I've been able to work and travel in seven different countries, thanks to my affiliate site.
You can make a decent income if you put in the work as I did and be patient. This is a long-term project that requires a significant level of commitment!
If you are willing to do what it takes to succeed, join this step-by-step program and take massive action!
Final Words
I hope my MoneyVid review helped clarify how this app operates. Please comment below if you have any questions or thoughts about it.
Peace!