Welcome to my Merge Money Ball review!
You may have found Merge Money Ball through an advert or while browsing the Play Store for some easy ways to earn money.
The developer is allowing players to cash out via PayPal and gift cards.
Many fake cash games deceive the public with the sole intention of maximizing profits for themselves.
People are told they need to collect a specific sum of cash before they can withdraw their funds.
But once the time comes, the developer adds additional conditions or just ignores the player's cashout requests.
So, can you trust Merge Money Ball? Is it legit, or what? Let's find out!
Top recommendation: This fantastic program helped me earn over USD 2,000 a month online and quit my work in 2019.
Merge Money Ball Review 
Name: Merge Money Ball – Real Cash
Developer: WI Game
Payout Threshold: N/A
Price: Free (no in-app purchases)
Overall Rating: 0 stars
What Is Merge Money Ball?
Merge Money Ball is a free casual game where you combine two balls of the same number to make them bigger.
The game allows you to collect virtual dollars and coins redeemable for real cash rewards.
The app's page on Google Play even shows a person with some cash notes in his hand and big gift card illustrations.
Although Merge Money Ball is not an incredible or innovative game, it has been downloaded more than 100k times and rated 4.9 stars.
Many people reported making hundreds of dollars with this application, but it's hard to believe without income proof.
I played the game and did some digging to find out the truth. So, please stick with me until the end as I uncover the facts!
How Does Merge Money Ball Work? 
After installing Merge Money Ball on your Android phone, you may begin playing without opening an account.
You simply tap where you want the balls and try to combine two balls of the same number.
When the two balls collide, they will merge to create a new ball with double the previous number. It follows the sequence: 2, 4, 8, 16, 32, 64…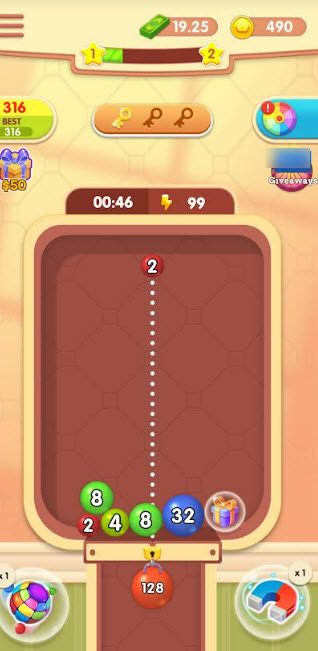 Continue to merge to unlock larger balls, and you will occasionally uncover gift or coin bubbles.

Whenever a ball hits the gift bubble, you will get a message saying you have a chance to earn cash rewards.
Click open, and you will be offered a few dollars with the condition of selecting "save in wallet" and watching the video.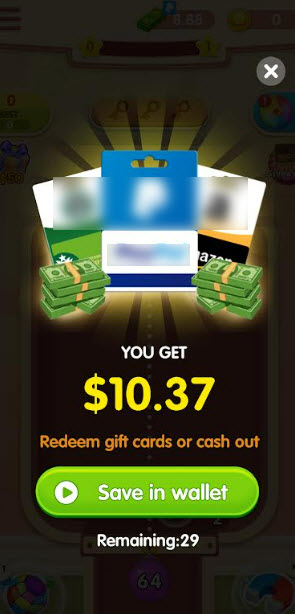 It's essential to understand this video is nothing more than a commercial that generates revenue for the app developer.
You can also collect coins and keys if you tap the bubbles with both symbols.
Like virtual dollars, you can exchange coins for cash rewards using popular withdrawal methods such as PayPal, Paytm, Cash App, and Alipay.
When you collect three keys, you will get the chance to open three chests to win extra coins and puzzle pieces corresponding to specific prizes.
Once you collect 10, 15, or 20 fragments, you can supposedly redeem expensive gifts such as Macbook Pro, Samsung Galaxy S20, Gucci Bloom, and more.
How Do You Get Paid? 
There is no minimum requirement to withdraw your money using your cash wallet. However, your balance can only be redeemed provided that two conditions are met:
You must watch 100 videos
You must be active for 7 days.
You can also exchange at least 1 million coins for $100 and cash out via Paypal, Paytm, Alipay, Cash App, and a few other methods.
Is Merge Money Ball Legit? Does it Pay?
No, it doesn't! Merge Money Ball only helps the developer generate passive income while you waste time merging balls and watching adverts.

At first, you start collecting substantial cash, but the rewards dwindle over time. You must watch 100 videos and play for seven days before cashing out. Fair enough!
However, once you have met both requirements, an update will ask you to reach $200 to cash out!
The drawback is that at that time, the game will only pay a few cents every hour, making it impractical to reach the target amount.
You will end up watching hundreds of videos for nothing because you will eventually quit!
Conclusion 

This reward platform is going viral! Cash out via PayPal, Visa, Gift Cards, and in-game currencies - Click here to find out how to generate an extra $10+ per day! 
Merge Money Ball is an addictive game that is good for passing the time.
However, individuals should not play it with the hope of winning actual money, as this is nothing more than a pipe dream.

It's a trap to make you waste your time watching hundreds of videos that only clearly benefit the owner.
Despite receiving 4.9 stars on Google Play, you cannot trust those reviews since they look unnatural!
Almost everyone is giving five stars as if Merge Money Balls were actually a real money-maker.
Please don't believe anyone that says you can make easy money through a simple game funded by advertisers.
Use your common sense and do proper research before installing applications on your device. Due diligence will save you time and avoid big headaches!
Earn A Full-Time Income Online
You can earn thousands of dollars each month as an affiliate by launching a content-based website!
I have used this strategy for many years to supplement my income and save money for my travels.
In 2019, I left my job and traveled to Southeast Asia with my wife, thanks to my online business.
If you wish greater flexibility to enjoy your life more while making good money, growing an online audience is a must!
This step-by-step program helped me set up and grow this successful affiliate site you are reading.
You can benefit tremendously from the training and helpful community of like-minded entrepreneurs!
Final Words
Thank you for reading my Merge Money Ball review. If you have any questions or want to share your results from playing the game, please leave them in the comments area below!
Peace!