Welcome to my Thumb Box review!
There has been an outbreak of mobile applications that offer users the chance to win crazy amounts of free Robux.
Many of them, such as Cut Grass, Knife King Party, and Evolutionary Tower Raiders, have been exposed on this blog.
I discovered Thumb Box a few days ago following an advertisement saying I could redeem my steps for free Robux. 
It suggested the opportunity to win 10,000 Robux, which costs $89.99 on the Roblox website.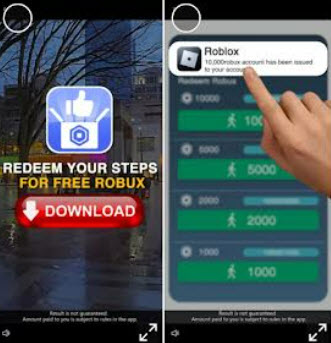 Of course, you don't want to waste your time, phone battery, and data to make others rich. Instead, you want to make sure you earn the rewards as advertised.
So, is Thumb Box legit or fake? Does it transfer the game currency to your Roblox account? Let's find out!
Stop chasing fake promises! Start earning your $10 Robux cards at Prizerebel today, a platform that values and rewards your online activities.
Thumb Box Review
Name: Thumb Box
Developer: Apollo Casual
Availability: Worldwide
Price: Free
Threshold: 10,000 Robux
Overall Rating: 0/5
What is Thumb Box? 
Thumb Box is an app that claims to send free Robux to users who accumulate enough Robux.
According to the app's description, Thumb Box is a fantastic app full of exciting things to discover, such as food and novels.
Well, it turns out this app is nothing more than a clone of Royal Coin Box, Wonder Time Box, and many others!
These platforms feature dozens of games but don't reward people for completing featured game offers.
Instead, you earn Robux tokens whenever you click the Robux bubble and watch the commercial.
Thumb Box has been installed over half a million times and rated 4.4 on the Play Store.
You'd assume that with such a good rating, the app delivers on its promises of free Robux. But, the reality of this application may surprise you!
Stick with me; you will find what is hidden behind the curtains!
How Does Thumb Box Work? 
Thumb Box can be downloaded and used for free on your Android device.
After launching the app, you will receive a notification asking if you would like to win 10,000 Robux.

Then, you will be prompted to enter your Roblox account so that the currency will be accurately distributed to your account.
It then encourages the users to collect enough Robux in the game with the promise of transferring Robux through the official website.
You will earn 2000 Robux for being a lucky user!
As I mentioned, Thumb Box features many games, but you won't get game currency for playing them!
Instead, you must tap the floating bubble to load the video and wait until it finishes to collect the Roblox currency.
Below each game, there is a considerable number, suggesting that if you play it, you will earn that amount of Robux.
But it's very misleading because Thumb Box shows a fake play button after you tap the game. That's a banner!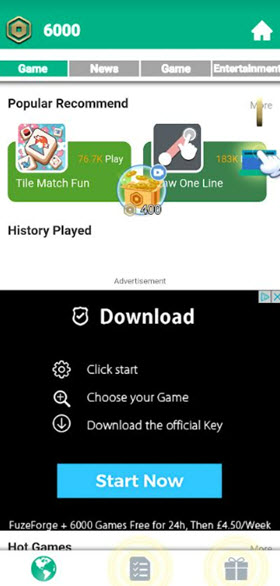 It will then activate another banner and put you on an endless loop!
Needless to say, the developer is earning money every time you touch your phone screen and watch the videos.
You can receive more Robux by opening the task section and tapping the Receive or sign-in buttons. You will then be enticed to tap "Get Double" and watch another commercial!
Is Thumb Box Legit? Does it Reward Roblox Gamers? 
No, it doesn't! Thumb Box claims that if your balance reaches 10,000 Robux, you can redeem the game currency through the official site. But this is fake!

As usual, the closer you approach 10,000 Robux, the fewer tokens you receive! It began with hundreds of Robux and gradually went down to fractions!
Almost all fake money games decrease rewards as you get closer to the target to maximize profits. This is just one red flag you should be aware of!
The application requires you to watch over 20 videos to reach the 10,000 mark, only to demand another 15 to supposedly "activate the order."
Then, you have to wait 24 hours, but the company will not transfer any Robux to your account.
I've read numerous reviews from disappointed individuals who had the same fate!
So, why does Thumb Box has been rated so high? Well, it may have seen a pop-up enticing you to rate the app five stars just by pressing a single button.

This reward platform is going viral! Cash out via PayPal, Visa, Gift Cards, and in-game currencies - Click here to find out how to generate an extra $10+ per day! 
There is no option to give fewer stars, so many people will just tap that button to keep using the app! I suspect that's how they collect so many 5-star reviews even though nobody gets rewards.

Conclusion 
Thumb Box will never send you actual Robux since doing so would require the developer to invest millions in Robux each month.
While trying to collect enough Robux, you will come across various games and apps offering huge payouts. Those are all fake!
Always remain vigilant, and never trust people selling you the dream of easy money.
The only ones who benefit are the owners, who generate revenue at the expense of people's time and gullibility.
Do you want to get free game currency? Then, check out this legit application and collect points by completing simple tasks on your phone. Then, redeem Roblox gift cards once you accumulate $10!
Final Words
Thank you for taking the time to check out my Thumb Box review. Please contribute by leaving a review in the space below.
Peace!