Welcome to my Wonder Time Box review!
Wonder Time Box's creator is following the herd to cash in on the money game frenzy!
He is promoting the application as an opportunity to win thousands of dollars by playing games on your phone.
The advert persuades the audience by saying, "I have only been playing for a month and made $2500 easily".
Of course, the PayPal logo is always at the top of the commercial to make it highly attractive!
Can users make real money with this app, or is it another fake one? I am here to help those who plan to spend their time hoping to receive the payment.
Top recommendation: This fantastic program helped me earn over USD 2,000 a month online and quit my job in 2019.
Wonder Time Box Review
Name: Wonder Time Box
Developer: Halo Inspires
Payout Threshold: $500
Price: Free (no in-app purchases)
Overall Rating: 0 stars
What Is Wonder Time Box? 
Wonder Time Box is an Android application that gives you coins while playing games through their platform.
They claim you can win a lot of cash and withdraw the money via several methods, including PayPal, Coinbase, Dana, and PicPay.
It's very similar to Huuge Box, a fake reward app I reviewed a week ago.
Wonder Time Box follows the same concept of countless applications that entices users with unrealistic cash prizes for doing simple tasks.
How Does Wonder Time Box Work? 
Wonder Time Box is available to Android users all around the world.
When you start the app, the developer will prompt you to select one of six payment options: PayPal, PicPay, Coinbase, Dana, OVO, and Mercado Pago.
But some of them are only available in certain countries.
Following that, you must link your email or phone number to presumably receive the money in your account.
They show you a list of cash amounts from 500 USD to 5,000 USD and entice you to collect enough coins.
You need to get 5000 coins to withdraw the minimum amount of 500 USD, and the developer promises to pay you within one working day.
The interface features a collection of games you can play right inside the app. So, unlike JustPlay, you don't need to install any other application on your phone.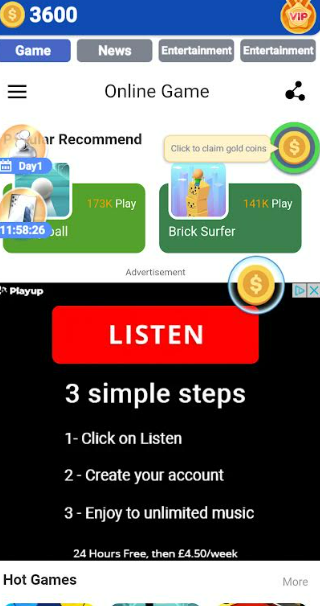 It should be noted that the Wonder Time Box interface is littered with adverts that generate cash for the company.
How do You Collect Coins? 
Contrary to what was advertised, Wonder Time Box doesn't give coins for playing games.
Instead, they entice you to click the coin button on the right side whenever the progress bar is fully loaded.
Then, you must click the "Claim" link or the "Claim x2" button. Both options will trigger a 30-second video you must watch until the end to get the coins reward.
Wait 10 seconds until the progress bar is completed again, and repeat.
You can collect more coins when you click the coin bubbles constantly floating on your screen.
How do You Get Paid? 
You can withdraw the money only once you've accumulated at least 5000 coins.
The redeem page suggests three stages: Collecting, Order Check and Order Transaction.
Mystery Chest
Wonder Time Box also has a magic spin section where you win fabulous prizes, such as a Sony TV, PS5, Gucci perfume, and more!
You must tap the spin button and watch two videos to get a free mystery box raffle +5, whatever that means!

VIP Membership
Believe it or not, Wonder Time Box entices users to purchase a VIP plan for 3.99 USD/week with great benefits.
According to the instructions in the app, acts in the game will generate cash rewards, and when you collect 1000 USD, you can repeatedly withdraw through PayPal.
Besides, in-game video viewing increases your earnings by 10 USD, and every 10 minutes of online time increase by 5 USD.
If you don't activate VIP, you can only collect 100 USD at most.
Please wait until you've finished reading this post before wasting money on this app.

This reward platform is going viral! Cash out via PayPal, Visa, Gift Cards, and in-game currencies - Click here to find out how to generate an extra $10+ per day! 
Is Wonder Time Box Legit? Does It Pay?
No, it doesn't! Instead, wonder Time Box will waste your time and leave you with that bitter taste in your mouth!
This is nothing more than a fake reward app that exposes users to an abusive amount of advertisements in exchange for nothing.

Thousands of individuals have downloaded this app with the wrong expectations and ended up bitterly disappointed.
However, most people will not find it and will learn the hard way!
Unfortunately, there are no screening processes before these applications are launched on the Play Store.
So, what happens if you try to cash out? After collecting 5000 coins, it says you need to activate the order by watching 15 videos in 24 hours. Otherwise, it will be invalid!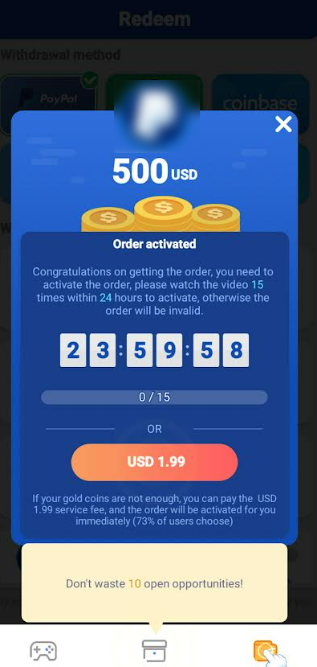 OR, you can pay the 1.99 USD "service fee," and the order will be activated immediately.
That's nonsense! You won't receive a dime even if you pay them this ridiculous fee.
Conclusion 
Wonder Time Box is another app meant to exploit your time to increase advertisers' profits.
As if this weren't bad enough, users are giving them money in hopes of getting paid. I don't need to tell you how wrong this is!
I hope this article has opened your eyes and saved your time.
Final Words
Thank you for reading my Wonder Time Box review!
So, what is your honest take on this app? Please leave a message below to share your thoughts and help others!
Peace!