Welcome to my TubeBox review!
TubeBox has gone viral recently amid claims that it will pay thousands of dollars for users who watch Youtube videos.
The advert says the application has no limit to withdraw, and you can get a $100 prize bonus directly.
It turns out TubeBox is identical to VidzBox, another popular app removed from the Play Store. Here is my honest VidzBox review! 
I firmly believe the developer rebranded the application and relaunched it with a new logo to make it seem like a new opportunity.
However, it provides the same UX (user experience), layout, and rewards. Heck, even the name is similar!
That's why I am very skeptical because if they are run by the same developer, we cannot expect a different outcome!
So, is TubeBox legit or fake? Does it pay? Keep reading to find out!
TubeBox Review
Name: TubeBox
Developer: jiajiamaji
Payout Threshold: $300
Price: Free (no in-app purchases)
Overall Rating: 0 stars
What Is TubeBox? 

This reward platform is going viral! Cash out via PayPal, Visa, Gift Cards, and in-game currencies - Click here to find out how to generate an extra $10+ per day! 
TubeBox is a simple app that supposedly pays you for browsing or watching YouTube Videos through its mobile platform.
You will earn virtual currency occasionally if you use this service and watch commercials.
The money accumulated in your account can be redeemed for PayPal and other payment methods once you meet the payout threshold.
TubeBox has crossed the 500K installation mark, and its popularity is continually growing thanks to its attractive cash prizes.
How Does TubeBox Work? 
TubeBox is available on Google Play for free and is optimized for most Android devices.
Unlike reputable reward apps, it will not require you to register before accessing the dashboard.
This, in my opinion, is a major red flag since developers always need some basic information to avoid abuse and fraudulent accounts.

Collecting Virtual Cash 
Upon launching TubeBox, the app will prompt you to tap the sign-in button to earn a welcome bonus of £80.
The interface is packed with YouTube videos you can watch on your phone or tablet.
But unlike other reward apps like ClipClaps and Bermi, you don't actually get points for streaming videos.
Instead, the progress bar constantly moves clockwise while the application is open. So whenever it completes a full circle, you earn between £1 and £2.
But that's now all. You also get the chance to claim up to 10 times the amount by clicking the button and watching a commercial.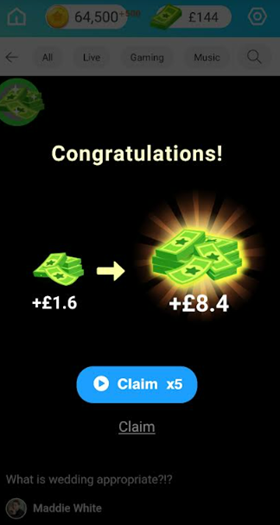 Besides,  500 Coins are added automatically to your account every second. They can be traded for cash rewards once you meet the minimum cashout requirement.
How Do You Get Paid? 
According to the app, you should be able to withdraw the funds after your cash balance exceeds £270, or your coin balance reaches 3 million.
Some payment options include PayPal, Cash App, Paytm, Coinbase, and Alipay.
If you click the question mark, you will find that TubeBox promises to transfer the money within 3 – 15 business days.
Mystery Box
I couldn't forget to mention the mystery box section where players collect puzzles corresponding to specific prizes such as
MacBook Pro 13
PS5
iPhone 13
Airpods
and more!
To collect the fragments, you must tap the "open" button and watch two videos.

Keep in mind that TubeBox doesn't mention anything about rewards in its Terms of Service, which is another major red flag!
Is TubeBox Legit? Does It Pay?
TubebBox is a clone of VidzBox, which entices people with money and prizes they cannot afford to give!
It's impossible to receive real money from this app since the developer would have to earn much more from advertisers. And this is far from reality!
The YouTube videos are simply used to fill up your screen with content. But you are not getting rewarded for watching them!
Otherwise, all YouTubers would retire and use TubeBox instead of posting their own videos on YouTube! It's utter nonsense!
In practice, they are only using cash rewards as bait to make you watch lots of commercials.
If you continue, you will ultimately push the cash-out button, only to discover that you must watch an additional 30 videos.
After meeting all the requirements, they may ask you to wait for six days, but no money will be transferred.

Conclusion 
Don't waste your time watching videos after videos on TubeBox because it doesn't pay a dime.
As always, you are just helping the creator maximize profits while selling you the illusion of easy money.
It works like countless fake money games I reviewed in the past four years. Well, at least they are games you can enjoy and kill time.
As for TubeBox, though, it doesn't provide any value because it simply features YouTube videos.
Earn A Full-Time Income Online 
If you want to make hundreds of dollars online, you need to provide value one way or the other.
That's because honest money is only created when you make someone else's life easier and happier!
You can do this by providing helpful or entertaining content, as well as providing excellent service.
In 2015, I decided to become a content creator and work from. I wanted the freedom to travel long-term while making money along my journey.
So, I worked hard and made it happen thanks to this excellent step-by-step program. 
During the past seven years, I've met numerous individuals who have also succeeded after joining this training and putting in the work.
Final Words
Thanks for reading my TubeBox review! Please use the comment box below if you have questions or want to express your opinions on this app.
Peace!