Welcome to my HabitNow review!
I was testing a mobile game when an advert caught my attention.
HabitNow pledged to help you build excellent health habits while somehow putting real money in your pockets!
They go as far as to say you can get paid for drinking water, sleeping, and exercising.
It immediately reminded me of the fake money app Lucky Habit, which also works as a daily tracker and planner.
As you probably know, the Play Store is filled with apps designed to exploit your time, with the promise of providing easy money.
So, does HabitNow pay? Is it legit? Please keep reading to discover, and don't forget to check out my top recommendation for making money online. 
This great platform helped me generate $2,000+ per month and cover expenses while providing value to the internet.
HabitNow Review
Name: HabitNow
Developer: ?
Payout Threshold:
Price: Free (no in-app purchases)
Overall Rating: 0/5
What is HabitNow? 

This reward platform is going viral! Cash out via PayPal, Visa, Gift Cards, and in-game currencies - Click here to find out how to generate an extra $10+ per day! 
HabitNow is a Habit tracker that reminds you to perform certain activities like walking, drinking water, eating fruit, and more.
It allows you to record your progress and keep motivated to accomplish your daily tasks.
However, the number one reason people are downloading HabitNow is to make money rather than become healthier.
Every time you press the clock-in button, you will get coins redeemable for cash rewards.
You can also multiply your earnings by pressing the button and watching the video. That's how free applications profit from your usage.
HabitNow has been installed over 100k times and works on any Android device.
How Does HabitNow Work? 
After installing HabitNow through the Play Store, you can start using it immediately without registration.
When you open the app, it will ask permission to make phone calls and access your photos and media files.

I don't trust this application with my personal data, so I clicked "deny" and proceeded to the dashboard.
Then, HabitNow offered me 50,000 coins provided I hit the button and watched a video.
I also collected 4,000 for my first check-in bonus, which I could multiply by four after watching another video.
The dashboard features a list of tasks you must complete during specific hours.
Here's an example of a full day's worth of suggestions:
6:00 – 8:00: Wake up
8:00 – 8:30: Go to the toilet
8:30 – 9:00: Wash and Brush
9:00 – 9:30: Drinking water
9:30 – 11:00: Watch news
11:00 – 11:30: Lunch Break
13:00 – 16:00: Working
16:00 – 17:00: Low tea
17:00 – 18:00: Sports
18:00 – 18:30: Meditation
18:30 – 19:00: Reading
19:00 – 19:30: Dinner
19:30 – 20:00: Fruits
20:00 – 20:30: Walking
20:30 – 21:00: Play with Pets
21:00 – 22:00: Play Games
22:00 – 22:30: Relax Eyes
22:30 – 24:00: Sleeping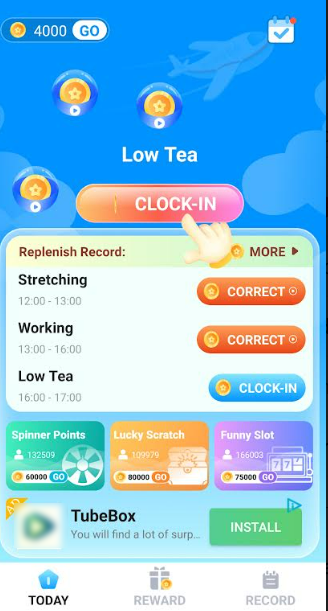 I don't know you, but I need to work a lot more than 3 hours a day to pay all my bills!
Come on! This schedule is a complete joke since most people cannot follow this fantasy lifestyle suggested by HabitNow.
You cannot even select the tasks that are most appropriate to your life. For example, if you work 8 hours a day and waste 1 hour in traffic, what are you supposed to do with all the recommendations?
It's completely useless and simply confirms that individuals are only using this app for money.
All you have to do is click "clock-in" in the center whenever a new task is available.
To earn more coins, tap the coin bubble and watch the advert, which will most likely seduce you with more cash rewards.
In addition to that, HabitNow features some in-app games like Spinner Points, Lucky Scratch and Funny Slot. You can earn extra coins by playing these games and watching more videos to boost your earnings.

How Much Money Can you Make With HabitNow?
If you open your cash wallet, you will find 10,000 coins equal to £1 or perhaps $1 in the US.
I made £4 after using HabitNow for one hour, which is just too good to be true, considering I only stream videos on my phone.
The catch is that the minimum payout is £200, meaning you will have to use this app for weeks before you can cash out.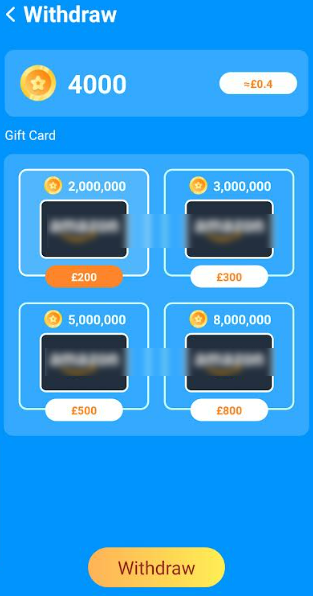 And the only payment option for me in the UK is an Amazon gift card.
Is HabitNow Legit? Does it Pay? 
No, it doesn't! HabitNow is another fake reward app designed as a marketing platform for other developers who don't pay.
Many people would like to give this app zero stars, but unfortunately, the minimum rating on Google Play is 1!
You cannot withdraw hundreds of dollars, and all your time will be wasted!
I read many reviews and only found one user who claimed to have made $1.

Is this person telling the truth? Well, I don't doubt HabitNow allows some people in certain countries to cash out $1.
But in that case, it is the most users can expect from this application!
I wouldn't bother watching so many videos to redeem a measly $1 because I know how much my time is worth, especially in London.
For example, in 1 hour, I can deliver a few orders on the gig economy and make over £15!
These developers know this, which is why they offer hundreds of pounds to suck you in.
Conclusion 
Habit now is a "copy and paste" of Lucky Habit! It persuades people to watch many videos under the pretense of living a healthy lifestyle.
They accomplish this by advertising unrealistic cash prizes that will never materialize in your bank account.
Don't waste your time using this app because even if you make $1, you could have earned even more completing other simple tasks online.
If you want to generate a steady online income stream, I highly suggest you launch an affiliate site as I did. 
You could make thousands of dollars a month by providing helpful information on a niche topic that interests you.
Thanks to this website, I could keep earning money while traveling to many countries from 2019 to 2022.
Click here to learn more and start today! 
Final Words
Thank you for taking the time to read my HabitNow review. I hope you found it interesting and valuable!
If you want to share your thoughts on this app, please leave them in the comments box below.
Peace!