Welcome to my Blast4Win review!
The creator is Blast4Win is encouraging players to install his game and eliminate blocks in return for excellent prizes!
Like most money games, it will give you virtual dollars you can withdraw via PayPal, gift cards, and other methods.
I am very skeptical about this game because it allows players to collect hundreds of dollars quickly and effortlessly.
The developer is generating revenue through the adverts you watch in the game. But is it enough to make a profit and still pay thousands worldwide?
Since nothing in this life is free, you might be wondering if Blast4Win is legit or fake! Does it pay or not?
Let's find out!
Top recommendation: This fantastic program helped me earn over USD 2,000 a month online and quit my work in 2019.
Blast4Win Review 
Name: Blast4Win: Pop to Win
Developer: Ive Star Studio
Payout Threshold: $300
Price: Free (no in-app purchases)
Overall Rating: 0 stars
What is Blast4Win?

This reward platform is going viral! Cash out via PayPal, Visa, Gift Cards, and in-game currencies - Click here to find out how to generate an extra $10+ per day! 
Blast4Win is another elimination game in which you can allegedly win cash, gift cards, MacBooks, and Smartphones, among other prizes.
It's similar to Rich Farmer, Village Saga, and many others! Check out my Village Saga review here! 
You have to tap the blocks of the same color to blast them and watch videos to accumulate the virtual rewards.
Once the minimum payout amount is fulfilled, you can redeem the funds using several payment options, such as PayPal and Paytm.
Despite the high overall rating, the Play Store is flooded with negative comments about this game.
Before I explain why people are so disappointed about it, it's essential to understand how it works!
How Does Blast4Win Work? 
After a quick installation from the Play Store, Blast4Win can be played on any Android device without registration.
After launching the game, a pop-up window persuades you to reach $300 to redeem immediately.

Note the PayPal and Amazon logo is used extensively throughout the gameplay to make it seem more appealing and trustworthy.
However, none of the companies are endorsing or sponsoring Blast4Win!
How to Play Blast4Win? 
Touch on any block bordered by at least one other block with the same color.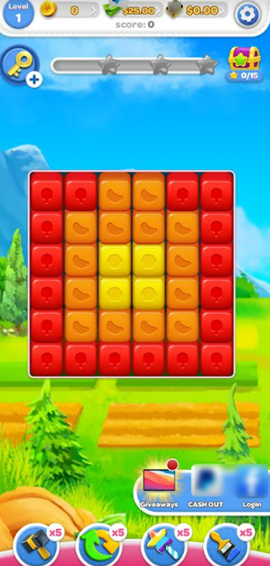 As you eliminate the cubes, virtual dollars will accumulate in your cash balance at the top of the screen.
Clear the stage by eliminating as many cubes as possible from the grid to activate the Lucky Wheel.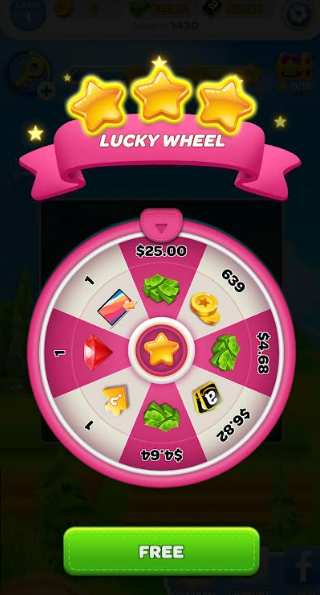 Then, tap the "Free" button to speed the wheel for a chance to win cash, coins, and puzzle pieces corresponding to specific products.
Most of the time, you have to watch a video after tapping the "free" button to activate the wheel.
You will also collect puzzle pieces whenever the progress bar hits the gift icon.
According to Blast4Win, you can redeem them for several rewards when you reach 50 fragments.
These include a MacBook Pro, a Samsung Galaxy S20, a Sony 75-inch television, and an Apple iPad.
Don't forget to use some props to change, break, reset, and clean squares with a single touch.

How do You Get Paid? 
You can withdraw the money via PayPal once your cash balance reaches $300.
Everything you collect in your Amazon balance can supposedly be redeemed by collecting 100 stars and playing Blast4Win for eight days.
As for coins, you can trade them for gift cards like Google Play, Steam, Walmart, and Playstation. The minimum requirement is 300,000 coins to cash out $300.
Is Blast4Win Legit? Does it Pay? 
No, it doesn't! Blast4Win is a big waste of time, just like hundreds of fake money games I exposed in the last five years!
Someone is so upset about this game that he is even taking screenshots to report to the Better Business Bureau (BBB).
It takes approximately two hours to collect $300 and press the redeem button only to be told you must collect 100 stars!
But of course, these are just empty words from a developer who seems to prioritize profits over ethics.
After collecting all the required stars, the game will ask you to watch 24 videos in 24 hours! 

One person who fulfilled this requirement stated that he was instructed to complete 200 quotas without knowing what they were.
In other words, the developer will have you jump through hoops only to maximize revenue for himself.
Conclusion 
Blast4Win is another joke of a game with fake cash prizes!
I urge everyone reading this post to stop and uninstall any game that claims to transfer lots of money! Blast4Win is one of them!
No game developer can afford to give hundreds of dollars in return for something as trivial as eliminating cubes and watching videos.
The only person who benefits from this illusion is the owner, who bombards you with ludicrous commercials every 5 – 10 seconds.
So, don't waste your time! Do proper reach before installing reward applications out of impulse. If it seems too good to be true, it probably is!
Verdict: Not Recommended 
Earn A Full-Time Income Online
If you want to make a good living online, you might consider creating an internet business just like I did.
I established a profitable site that pays all of my living expenses with the support of this excellent step-by-step program.
Making money online is a blessing since it allows me to travel and do whatever I want with my time.
This is a great opportunity for those who want to supplement their income and those who wish to work remotely full-time.
Click here to learn more and start today! 
Final Words
I hope my Blast4Win review was helpful. If you have any queries or comments about this game, please leave us a comment below.
Peace!