Welcome to my DailyCoin review!
DailyCoin allows players to win in-app currency to spend on popular games such as Roblox, Free Fire, and more.
The developer is clearly trying to attract the young audience that doesn't want or cannot afford to spend money on gaming!
Many will get sucked into DailyCoin after watching an advert about the chance of winning Free Robux!
And I don't mean the equivalent of a dollar or two! No, these people suggest you can redeem over $100 worth of game currency!
For example, the minimum redemption requirement for Robux is 10,000, which is available on the official Roblox website for $100.
It's hard not to believe somethiribly wrong with this program! So, is DailyCoin legit or fake? Does it reward gamers for their time and data? Let's find out!
Before leaving this blog, don't forget to check out the step-by-step program that helped me generate $2,000+ per month and quit my job in 2019.
DailyCoin Review
Name: DailyCoin
Developer: Wola Game
Price: Free
Payout threshold: 100,000 coins
Overall Rating: 0/5
What is DailyCoin? 

This reward platform is going viral! Cash out via PayPal, Visa, Gift Cards, and in-game currencies - Click here to find out how to generate an extra $10+ per day! 
DailyCoin is an Android application that claims to give away free game currency like Robux and FF diamonds.
Launched in July 2022, the app allows you to earn tokens by performing the easiest of tasks:
Touching the level-up button, watching videos, and playing games.
Once you've accumulated enough tokens, you may trade them for free game cash deposited in your Player account.
Over 100,000 people have installed DailyCoin with high hopes that it's a legit rewardInstead, howeverowever, it seems like another app trying to generate revenue by bombarding players with mobile commercials.
How Does DailyCoin Work? 
DailyCoin is a free app that can be downloaded and used anywhere on any Android device.
It works like Huuge Box, except it doesn't give virtual dollars!
Upon launching the program, you will receive a lucky user bonus of 20,000 coins.

In the same window, it claims that coins can be exchanged for in-game currencies for different games, including Free Fire, Roblox, and PUBG Mobile.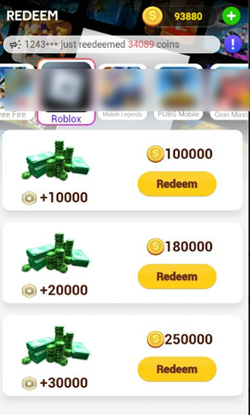 Next, it shows you the "redeem" page where you can trade your coins for rewFinally, yous. You must choose a game and gather the required number of coins to claim the prize.
For example, you must collect 100,000 tokens to redeem 10,000 Robux.
There are different ways to collect the coins, but they all require you to watch commercYous, you can always tap "Double" and watch another video to double the prize!
In the Lucky tab, tap the "level up" button and wait until the video finish to get rewarded. Here, you can also play the lucky spin and the slots to win more coins!
The "Trending" section is where you will find several games you can play on your device.
These games are readily available through the app, so you don't need to install anything from the Play Store.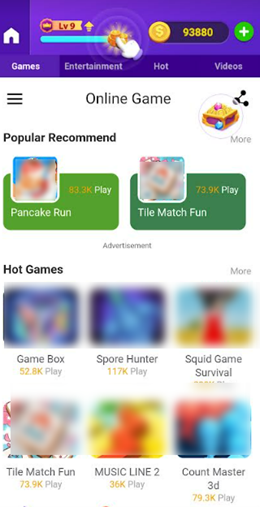 However, unlike Mistplay and JustDice apps, DailyCoin will not track your play time as a condition to give you the coins.
In fact, the developer couldn't care less about how long you are playing them!
All he wants is for you to tap the bpears on your screen while playing games and then see the advert.
Be careful with videos trying to lure you into installing apps that will somehow make you rich in no time.
That's nonsense! You won't make any money using these apps showing hundreds and thousands of dollars!

Is DailyCoin Legit? Does it Reward Users?  
No, it doesn't! DailyCoin won't transfer the currency to your Player ID after meeting the minimum requirement.
This fake reward app will bombard you with adverts that only benefit the owners at the expense of your time.
I am confident about it because I reviewed many similar apps enticing users with similar unrealistic prizes.
They all behave the same way!
In the beginning, you earn thousands of coins and achieve fast progress towards your goal!
However, the number of coins you receive diminishes as you approach the redemption criteria.
At some point, you will make less than 100 coins at a time and feel like they are playing a nasty game with you.
You will eventually reach 100,000 coins only to find you need to othertional videos to activate the order.
That's just a lame excuse to push more videos down your throat and make even more money off your time!

Conclusion
Unfortunately, apps like DailyCoin continue to wreak havoc on the Play Store, leading users to watch countless videos that exclusively favor developers.
You will not receive a single Robux or diamond for satisfying the app's requirements!
Sadly, all these reward applications are not held accountable for the aggravation inflicted upon millions of users.
Please, understand that none of them guarantee results as per their Terms of Service. So, they don't need to reward anyone despite their seductive claims!
Verdict: Not Recommended 
If you want to earn Robux or another gaming currency without spending money, the freecash app is the answer!
You can install it free and collect coins by completing offers and surveys. Then, you can withdraw skins for Roblox, League of Legends, Fortnite, and other games.
Alternatively, you can trade them for real money using PayPal, Visa, gift cards, and even crypto!
Click here to learn more about Freecash! 
Final Words
Thank you for reading my DailyCoin review!
So, what is your honest take on this app? Please leave a message below to help others!
Peace!