Welcome to my ShootingBall 2048 review!
Perhaps you found a ball shooting game in which players have the opportunity to win a lot of money.
The advert claims ShootingBall 2048 is a lucky game that allows you to receive real payments to your PayPal account.
Since the Play Store is rife with deceptive reward applications, it's crucial to be wary of anything that appears too good to be true.
And unfortunately, ShootingBall 2048 has all the red flags found in hundreds of fake money games.
You don't want to waste time watching adverts only to realize you cannot make a dime regardless of how many tasks you complete.
So, is ShootingBall 2048 legit? Does it pay or not? Let's find out!
Before leaving this page, don't forget to check out the step-by-step system that helped me to generate $2,000+ each month and quit my job in 2019.
ShootingBall 2048 Review 
Name: ShootingBall 2048: Drop Number
Developer: Ida Studio
Availability: Worldwide
Price: Free
Payout threshold: $1000
Overall Rating: 0/5
What is ShootingBall 2048? 
ShootingBall 2048 is another combination game like hundreds I already reviewed in this blog.
You just have to aim and shoot at balls of the same number so that they merge into a larger ball with double the number.
You will be rewarded with virtual dollars that accumulate in your game wallet as you combine balls.
However, you can only redeem the money if you meet specific conditions we will discuss later.
Although ShootingBall 2048 has been rated 4.5 out of 5, the game is receiving tons of complaints on the Play Store.
So, it does seem a bit sketchy, considering it's not difficult for developers to manipulate overall ratings.
How Does ShootingBall 2048 Work? 
ShootingBall 2048 is available for Android worldwide and is entirely free to play.
It also has no in-app purchases, meaning you won't lose any money if the reward turns out to be a lie!
That doesn't mean you shouldn't worry since time equals money, right?
As soon as you launch the game, the developer gives you a massive PayPal card worth $500 and entices you to reach $1000 to withdraw immediately.
You also need to achieve the goal within 24 hours. Yeah, right! That old scarcity tactic!

According to many studies, people are more likely to take action if they have a limited time to get a discount or win a prize.
How to Play ShootingBall 2048? 
It's as simple as ABC!
Simply slide left or right, aiming at another identical one with the same number. Then, tab to shoot it!
When two identical balls collide, they combine to form a bigger ball with double the number.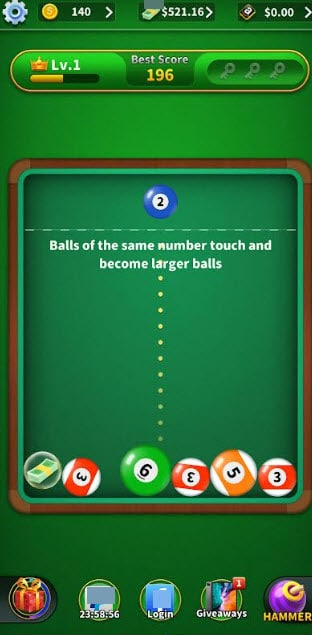 Every merge gives you a chance to win virtual dollars that you can multiply by up to 500% by watching a commercial.
Even if you decline the offer, the game may show a video that clearly generates income for the owner.
The "cash" comes via either PayPal or Amazon virtual coupons.
Click here to find legit sweepstake apps! 
Redeem Gifts 
As if $1000 was not enticing enough for people, ShootingBall 2048 also claims they can redeem expensive phones, video games, TVs, lipsticks, and more!
Just collect enough puzzle pieces by clicking the spin button and watching videos. Of course, it's all about them!
How do You Get Paid? 
In order to cash out, you must meet specific conditions depending on whether you want to withdraw via PayPal or Amazon gift cards.

You already know you need at least $1000 to withdraw the money via PayPal. But what about the gift cards?
You can cash out any amount once you meet two conditions: Watch 50 videos and play ShootingBall 2048 for eight days.
Is ShootingBall 2048 Legit? Does it Pay? 
No, it doesn't! Please, be aware ShootingBall 2048 or any other game that provides a ridiculous amount of cash prizes.
It's been proven repeatedly that none of them pays what was advertised!

This reward platform is going viral! Cash out via PayPal, Visa, Gift Cards, and in-game currencies - Click here to find out how to generate an extra $10+ per day! 
You will only waste time watching videos that benefit the developer while he is getting paid by advertisers.
So, what happens if you reach the first payment threshold, you may ask?

As I expected, the requirements will change, and they will ask you to watch 20 videos, followed by another 30 videos and even more.
Every time you reach the target, they throw cold water on your dreams by adding a new one!
If you believe these app devs, you will waste your life away watching videos that only make them money! That's the truth!
The review section of the Play Store is eye-opening! Despite having 4.5 stars, you will find complaints after complaints from gamers who feel cheated!
That is why it is critical to keep your feet on the ground and to be suspicious of anyone selling you the idea of easy money.
Conclusion 
ShootingBall 2048 is another fake money game that doesn't deserve your attention.
It doesn't pay a dime, and if you need a game to pass the time, there are plenty of similar options out there!
The developer will only have you jump through hoops so you can press a fake cash-out button.
At the end of the day, you are helping this app maximize profits because you will watch many videos in return for unreal prizes.
Earn a Full-Time Income Online
You can supplement your income or even generate a full-time income by becoming a content creator.
This proven business approach has served me well over the past seven years since I created this website.
It consists of writing and publishing helpful content that ranks on Google search results and attracts an audience.
I didn't have a clue about this strategy because traditional education will always teach people to be employees rather than business owners.
But that's why it's so amazing! If you do it right, you can benefit from the time and location freedom! Not to mention you will also be your own boss!
If you want to learn how I built this site from scratch, here is the training I personally used to succeed! 
Final Words
Thanks for reading my ShootingBall 2048 review. If you want to share your opinions on this game, feel free to do so in the comment box below.
Peace