Welcome to my Easy Bucks review!
I was browsing the Play Store the other day when I discovered another reward app called Easy Bucks by BitBurst.
The application allows you to earn coins by playing games, doing activities, or answering surveys.
You can then convert those coins to PayPal cash or your favorite gift cards!
It seems to be a fantastic opportunity to earn additional income while commuting to work or relaxing on your couch.
But does it actually deliver what it promises? Is Easy Bucks legit or fake?
I have installed this app and put it to the test. So, stick to me until the end of this review to find out!
Before leaving this page, don't forget to check out the step-by-step program that helped me to generate $2,000+ each month and quit my job in 2019.
Easy Bucks Review 
Name: Easy Bucks: Earn Money Rewards
Developer: BitBurst
Availability: Worldwide
Price: Free
Payout threshold: £10 (UK); $15 (USA)
Overall Rating:

3/5

Install Here!
What is Easy Bucks? 

This reward platform is going viral! Cash out via PayPal, Visa, Gift Cards, and in-game currencies - Click here to find out how to generate an extra $10+ per day! 
Easy Bucks is a free app that rewards users for simple activities they complete on their Android phone or tablet.
It provides a range of tasks, such as surveys and offers that, once completed, will earn you coins redeemable for cash rewards.
Coins can be redeemed via PayPal or gift cards, making it an easy alternative to monetize your spare time!
Easy Bucks is operated by BitBurst GmbH, a German company that operates other survey and reward apps like Poll Pay, CryptoBull, and Goopinion. Check out my Poll Pay review here! 
How Does Easy Bucks Work? 
Installation 
Easy Bucks is available to download on the Play Store and is completely free to join.
Anyone over 16 can quickly create an account and start completing simple tasks online.
Even though the app is available worldwide, users in the United States, Canada, and the UK will always be offered more opportunities.
Therefore, they can complete more tasks and earn more money for each survey or offer.

After launching Easy Bucks, you must first agree with their privacy policy and terms. The company promises never to collect or share your data without your consent.
Next, you must sign in with your Google account before accessing the dashboard. If you enter an invitation code, you will collect a starting bonus of 250 coins.
Don't miss out on free money by entering my code: SVHF4E3EPR
How Much Are Coins Worth?
The value of each coin depends on which payment option you choose and your currency.
However, you can expect to convert 13,000 coins to £10 or the equivalent in your country. So, for simplification purposes, you will get £0.03 or roughly $0.035 for every 10 coins.
How do You Collect Coins? 
Once you log in, you will immediately find an invitation to complete your first survey that only takes 3 minutes.
This quick profiling questionnaire is used for marketing research companies to send relevant surveys that match your demographics and interests.
You will earn 350 coins after completing this first survey.
Next, you can open the survey overview section to find a list of survey opportunities available in your country.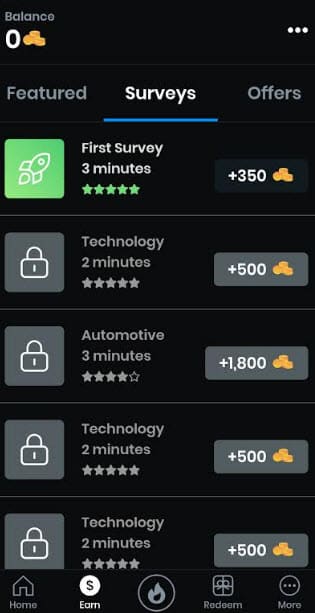 In the UK, surveys pay anywhere between 1000 and 3000 coins and take less than 10 minutes to complete. I think that's a pretty decent rate compared to other reputable survey apps. 
Just bear in mind that companies will ask you a few qualification questions to see if you are a good match for their study.

Otherwise, you will get disqualified and redirected to try another survey.
In the "featured" tab, you can find a list of offers that reward you for using third-party applications like games, reward apps, security apps, and more.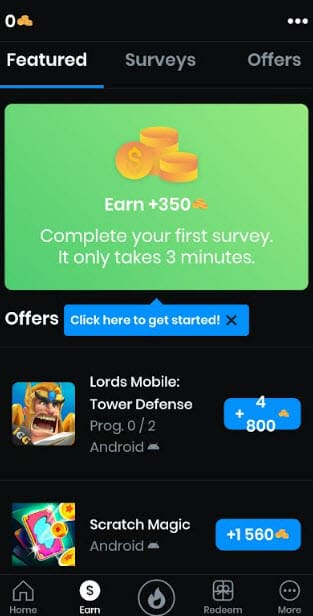 You just need to check the instructions, install the app on Google Play and complete all the tasks.
Some offers pay really well because they demand long hours of playtime. For example, the company behind Empire: Four Kingdoms offers over 18,000 coins for those who complete up to 30 levels.
It's important to note that all these offers are provided by advertising partners such as Bitlabs, adjoe, and Ayet.
You can browse each platform and find even more opportunities by browsing each offerwall through the "offer" section.
Invite friends
You can earn more money by inviting your friends to install and join Easy Bucks.
First, click the "more" button and select "refer." Then, copy your referral code and share it with anyone online, including your family, friends, and social media groups. Well, at least those that allow this type of promotion!
Once your friends enter your code, they will receive a 250 coins bonus, and you will get 15% of their survey rewards as a commission.

The fact that affiliates cannot earn a commission on offers is a bummer, in my honest opinion. This reward site pays up to 30% of any task completed by referrals. So, it's much more profitable!
How Do You Get Paid? 
Easy Bucks allows you to redeem your earnings for gift cards from popular retailers such as Starbucks, Amazon, Zalando, and Spotify.
You can convert your coins to PayPal cash if you prefer money in your pocket.
In the Uk, the minimum cashout amount is 13,000 coins redeemable for £10 or the equivalent in your currency.
As for residents in the US, they need to accumulate 15,000 coins to accrue their first $15.
Is Easy Bucks Legit? Does it Pay? 
Yes, absolutely! Easy Bucks is a legitimate application that seems committed to rewarding users who meet the cashout conditions.
However, some drawbacks to using this platform are putting many people off. Here are some of the most common complaints:
After finishing the survey, you may receive an error notice, resulting in the loss of your well-deserved coins.
Many app offers don't pay even after completing the target.
It takes a very long time to reach the required number of coins.
After withdrawing your fund, your reward will be put on hold for 16 – 21 days.
It claims to award coins per minute of playtime, but then it switches to coins per level.
That's not very encouraging, right? Well, although I must be honest and warn you about the pitfalls, there is a chance you will have a positive experience with Easy Bucks.
The key is not to set high expectations. If you are desperate for cash, I advise you to search for something else this doesn't even come close to the minimum wage.
Conclusion 
Easy Bucks is not different than hundreds of other rewards apps already available on the Play Store.
As a result, it clearly benefits the provider far more than the masses who spend their time accomplishing tedious tasks.
The fact that you must reach 13,000 – 15,000 coins and wait for more than two weeks is a massive disadvantage.
Personally, I favor applications or sites with low to no minimum cashout requirements, such as Freecash or Qmee.
I highly recommend you read my Freecash review here!
Earn a Full-Time Income Online
Are you tired of wasting time answering surveys only to get screened out or see your earnings vanish?
There is a much better option for people who can commit to building something big!
I am talking about growing a publishing business and earning thousands of dollars in advertising and affiliate commissions.
You know what I am talking about! The freedom to be an online entrepreneur and work whenever and wherever you want!

I have achieved great success using this business model thanks to the excellent training platform developed by Kyle and Carson.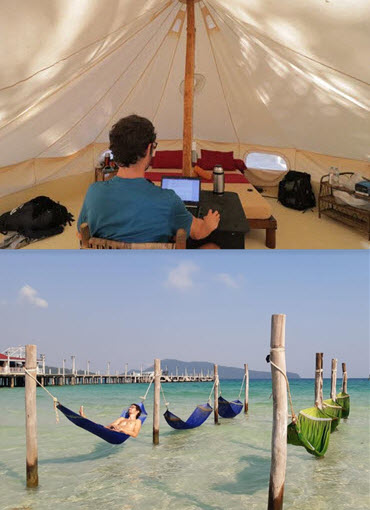 I follow their lessons and put in a lot of work to be able to quit my job and set out on a 3-year trip to southeast Asia! Despite having no experience in marketing or web design, I achieved my financial goals working from my laptop.
Your job is to provide helpful content on a topic of interest and target a specific group of people looking for information on products and services.
Interested? So, click this link to learn more! 
Final Words
Thanks for reading my Easy Bucks review. Please, use the comment box below to give your honest thoughts and experiences with this app!
Peace!