Welcome to my Coinage Blast Puzzle review!
Thousands of people are rushing to the Play Store to download this elimination game that supposedly transfers real money to PayPal.
The advert portrays a woman on a treadmill, inviting viewers to play and withdraw cash within 24 hours.
Of course, it also shows the PayPal logo along with big prizes like $50 and $80!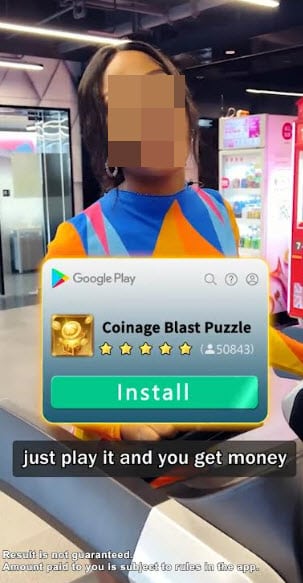 I am here to expose this application to those who won't accept being exploited by greedy app developers.
So, is the Coinage Blast Puzzle legit or fake? Does it pay once you fulfill their requirements? Let's dive in!
Before you leave this page, don't miss out on the step-by-step program that helped me to generate $2,000+ each month and quit my job in 2019.
Coinage Blast Puzzle Review 
Name: Coinage Blast Puzzle
Developer: Togo Studio
Availability: Worldwide
Price: Free
Payout threshold: $0.30
Overall Rating: 0 stars
What is Coinage Blast Puzzle? 
Coinage Blast Puzzle is another casual elimination game developed by the Togo Studio.
Other notable games by this developer include Sweet Blast Puzzle, Word Tiles, Wood Puzzle, and Candy Cube.
Like hundreds of other apps in this category, Coinage Blast Puzzle gives virtual dollars and tokens redeemable for real cash rewards.
All of that while being 100% free, meaning you don't have to risk your money to win incredible prizes.
That looks to be too good to be true if you ask me! Let's give it the benefit of the doubt and investigate further.
How Does Coinage Blast Puzzle Work? 
Coinage Blast Puzzle is available in all corners of this planet and can be easily installed on the Play Store.
This app is still in easy access, which indicates the developer is not open to criticism. Do you have any idea why? Well, I do…
Upon launching the game on your device, you will find a page with an empty balance and the cash-out button.
It's important to know there are two types of currency. Each accumulates in two separate balances and has specific withdrawal conditions.
The game consists of eliminating coins by tapping two or more of the same color. The goal is to leave as few coins as possible to complete the level with a high score.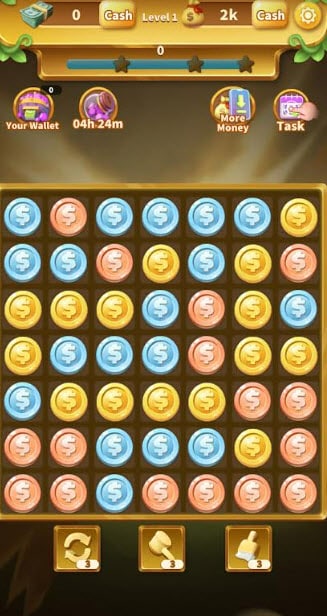 Once you clear the stage, you will receive a decent amount of cash. But the best part is that watching the video can double your reward.
For this type of currency, you will need to accumulate at least $2,000 to cash out through PayPal.
However, there is another method to make money, which I will discuss in the next section.
More Money 
If you click the "more Money" icon, it will direct you to a list of sponsored games promoted by a network called Adjoe.
But first, you will be prompted to allow usage tracking so that Coinage Blast Puzzle can track your playtime.
By activating this feature, you are granting the developer the ability to monitor which apps you install on your device and how long you use them.
They ask this because you will earn coins per minute of gameplay. However, coins are not credited forever, so the more you play, the less you make.
That's the exact opposite of what they claim!
If you want to earn money trying new games, check out my Mistplay review. It's one of the best apps of its kind!
There are four withdrawal conditions:
5k coins = $0.3
10k coins = $0.5
20k coins = $1
100k coins = 5
And, believe it or not, there is another method of earning money. Every time you watch a video, you will get diamonds, and you can supposedly withdraw them for cash.
Just open your diamond wallet to find all the withdrawal conditions.

Is Coinage Blast Puzzle Legit? Does it Pay? 
Coinage Blast Puzzle allows you to cash out $2,000, which is utter nonsense.
There is no way you will receive this ridiculous almost of money for playing this free game, and the reasoning behind this is simple.
Developers have designed the app to generate money for themselves instead of helping players with their financial struggles.
Giving $2,000 to everyone who exceeds the threshold is breaking basic economic principles!
When it comes to coins, I believe there is a chance you may be able to redeem them for the smaller cash incentives worth up to $1.

This reward platform is going viral! Cash out via PayPal, Visa, Gift Cards, and in-game currencies - Click here to find out how to generate an extra $10+ per day! 
But I wouldn't expect to make much more than that.
They pay you a few cents to build trust and motivate you to reach higher goals.

As a result, you'll wind up playing for much longer before realizing the bigger awards are fictitious!
You may be asked to watch extra videos to activate the order or wait for a few days until you receive the money.
But regardless of the message you see on your screen, the money won't be deposited in your PayPal account.
Conclusion 
Don't be the next person to waste hours on a game for the impossible prize of thousands of dollars. No free game can offer you such generous cash rewards!
Coinage Blast Puzzle is another marketing software designed to bombard players with advertisements.
This, of course, only benefits the developers, who generate revenue at the expense of people's time and data.
It's difficult to find reward platforms you can genuinely trust these days, which is why some people ignore them all and find other ways to make money.
I think that's the best approach because there are many strategies worth pursuing.
For example, you could try content marketing and achieve a full-time income within 1 or 2 years, depending on your living costs.
This step-by-step program helped me achieve over $2,000 per month by providing content through my website.
As a publisher, I can open my laptop and work independently from anywhere. I can't get my head around how liberating this is!
Interested? So, click this link to learn more! 
Final Words
Thanks for reading my Coinage Blast Puzzle review. Please provide your honest views and experiences with this app in the comment section below!
Peace!