Welcome to my Beauty Jumping review!
I am writing this review to expose another money game and warn thousands of people before they jump into the rabbit role.
The game is called Beauty Jumping and promotes the idea of making hundreds of dollars with your fingertips.
I discovered this app after seeing their commercial advising viewers stop playing fake money games.
It then continued by showing multiple payments of $100 via PayPal!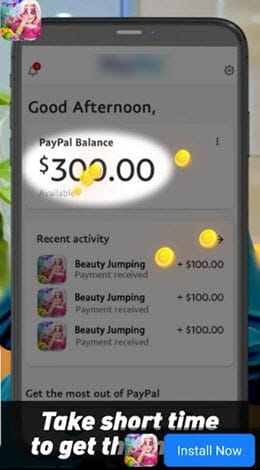 So, is Beauty Jumping another fake application designed to steal your time and dignity? Does it pay or simply disregard your presence after hours of dedication? Let's find out!
Before you leave this page, don't miss out on the step-by-step program that helped me to generate $2,000+ each month and quit my job in 2019.
Beauty Jumping Review 
Name: Beauty Jumping
Developer: YY Happy
Availability: Worldwide
Price: Free
Payout threshold: $1,000
Overall Rating: 0 stars
What is Beauty Jumping? 

This reward platform is going viral! Cash out via PayPal, Visa, Gift Cards, and in-game currencies - Click here to find out how to generate an extra $10+ per day! 
Beauty Jumping is a simple game in which you roll the dice to move the princess and collect fantastic cash rewards.
The Play Store is jam-packed with such board games that entice people with hundreds or even thousands of dollars.
They are all quite similar, with only minor differences, such as the theme and cash-out limits.
Monkey Jumping, for example, has identical payouts and is run by the same entity, YY Happy. The only difference is that you are moving a monkey instead of a princess.
How Does Beauty Jumping Work? 
Beauty Jumping is available for free download on the Google Play Store.
After launching the app and clicking the start button, you will see a tempting offer page with a PayPal logo and the withdraw cash message.
It says you will receive $1000 as a PayPal card by playing the game.
When you click the "fill account" box, you will be prompted to enter your account, email address, or phone number.

This worries me becausesome people may provide their PayPal password  since they don't specify the type of data to ented.
Please, be careful! Don't provide any information to app developers unless you know what you are doing.
How to Play Beauty Jumping 
You just need to click the dice to roll it and get a random number. Well, it was supposed to be random, but it's somewhat rigged!
Note that in the first round, the numbers you get on the dice will coincide with every cash reward on the board.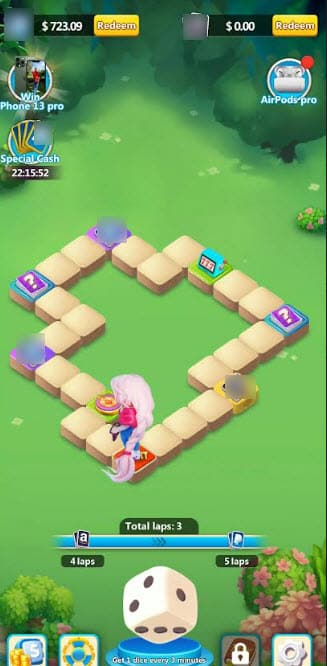 Each prize is worth over $100, so you will accumulate over $300 quickly. You can collect the first three rewards just by clicking the "Get" button.
However, the following prizes come with a movie symbol next to the "Get" button, triggering the infamous fake money game commercials.
That's how you will be exposed to all sorts of money-making applications that don't pay a dime!
The Beauty Jumping creator will graciously ask you to rate the app after the first two moves.
Of course, most people will give it five stars before even knowing whether or not they will be rewarded.
After reaching the finish line, you will unlock a new board with more reward opportunities.
For example, the second round comes with puzzle pieces for the chance to win an iPhone 13 Pro. You will need to collect 150 fragments to claim this incredible prize!Differentr levels come with Turntables, slots, and Amazon cash rewards. So, there are many possibilities to keep you staring at your phone while dreaming of making easy money.
But will it be worth it? You will get the answer to this question next!

Is Beauty Jumping Legit? Does it Pay? 
No, it doesn't! Instead, Beauty Jumping will make you roll the dice and watch countless adverts only to benefit the developer.
The outcome for those who play this game will be the same as for those who played Monkey Jumping since they are owned by the same developer.
You already know the minimum cashout requirement is $1000, but they fail to mention that you will also need to perform several additional tasks.
That's because they add a new one as soon as you meet the target! So, you never know when you will finally be entitled to the cash reward.
It's a flagrant disrespect for players who assume they're getting closer to a tangible reward at the end of the tunnel.
What happens is that after you reach $1000, you must watch five videos only to be told your order is under review.
How do you go about it? You must watch another 30 videos in 1 day without any guarantee that they will transfer the money.
But unfortunately, there is no money to be made with Beauty Jumping!

Conclusion
Beauty Jumping is nothing but a fantasy game with fantasy money. No wonder why they put a princess to move across the board.
The only real thing about this game is the revenue the developer generates whenever you watch sponsored videos.
Some fake money games are at least fun to play, but not Beauty Jumping. It's tedious because it's just a board game with no challenge.
Instead of trying to find a game that pays, you could use your time to build something that works for you.
I am talking about growing an online business where you are free to work at your own pace and have total control over your income. More on that in the next section!
Earn a Full-Time Income Online
In 2015, I created this website, where I publish reviews and earn revenue using different strategies.
It gives me the freedom to set my schedule, work from a coffee shop and make money even while traveling to a tropical country.
If you are interested and willing to put in the effort, I highly recommend trying this excellent program crafted by Kyle and Carson.
I joined this platform in 2015 when I was a complete newbie and achieved unimaginable results!
Click here to learn more about the training, community, and how it will help you create wealth from home.
Final Words
I appreciate you reading my review of Beauty Jumping. I sincerely hope you enjoyed and learned from it!
Please use the comment section below to share your thoughts on this application if you want.
Peace!